Articles | Volume 14, issue 5
https://doi.org/10.5194/essd-14-2501-2022
© Author(s) 2022. This work is distributed under
the Creative Commons Attribution 4.0 License.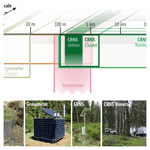 Soil moisture observation in a forested headwater catchment: combining a dense cosmic-ray neutron sensor network with roving and hydrogravimetry at the TERENO site Wüstebach
Cosmic-ray neutron sensing (CRNS) has become an effective method to measure soil moisture at a horizontal scale of hundreds of metres and a depth of decimetres. Recent studies proposed operating CRNS in a network with overlapping footprints in order to cover root-zone water dynamics at the small catchment scale and, at the same time, to represent spatial heterogeneity. In a joint field campaign from September to November 2020 (JFC-2020), five German research institutions deployed 15 CRNS sensors in the 0.4 km2 Wüstebach catchment (Eifel mountains, Germany). The catchment is dominantly forested (but includes a substantial fraction of open vegetation) and features a topographically distinct catchment boundary. In addition to the dense CRNS coverage, the campaign featured a unique combination of additional instruments and techniques: hydro-gravimetry (to detect water storage dynamics also below the root zone); ground-based and, for the first time, airborne CRNS roving; an extensive wireless soil sensor network, supplemented by manual measurements; and six weighable lysimeters. Together with comprehensive data from the long-term local research infrastructure, the published data set (available at https://doi.org/10.23728/b2share.756ca0485800474e9dc7f5949c63b872; Heistermann et al., 2022) will be a valuable asset in various research contexts: to advance the retrieval of landscape water storage from CRNS, wireless soil sensor networks, or hydrogravimetry; to identify scale-specific combinations of sensors and methods to represent soil moisture variability; to improve the understanding and simulation of land–atmosphere exchange as well as hydrological and hydrogeological processes at the hillslope and the catchment scale; and to support the retrieval of soil water content from airborne and spaceborne remote sensing platforms.
Received: 13 Dec 2021 – Discussion started: 23 Dec 2021 – Revised: 20 Apr 2022 – Accepted: 11 May 2022 – Published: 01 Jun 2022
1.1

 The estimation of soil water content by cosmic-ray neutron sensing

The spatial representativeness of conventional point-based soil moisture measurements is often limited by small-scale variability (Blöschl and Grayson, 2000). In situ point methods often use electromagnetic (EM) approaches, e.g. frequency domain reflectometry (FDR), time domain transmission (TDT), time domain reflectometry (TDR), or capacitance (Kojima et al., 2016) and impedance sensors (Wilson et al., 2020). Alternatively, remote sensing techniques can deliver area-integrated measurements; however, they are limited by low overpass frequencies, large spatial footprints, and shallow penetration depths, making root-zone soil moisture retrieval difficult (Peng et al., 2021). In that context, the presence of dense vegetation layers, such as forests, remains a major source of uncertainty (Li et al., 2021).

Over the past decade, various techniques have emerged to address such issues of vertical and horizontal representativeness and to close the scale gap between point measurements and large-scale soil moisture retrievals (Fig. 1). Of these techniques, cosmic-ray neutron sensing (CRNS) has attracted particular attention, and various application scenarios have been developed that target different spatial and temporal scales.

A single, stationary CRNS sensor can be used to obtain a volume-integrated measurement of soil moisture (Zreda et al., 2008) which is representative of a horizontal radius of 100–150 m with a vertical depth of 20–50 cm. Depending on the detector sensitivity, Schrön et al. (2018b) found the effective temporal resolution of such measurements to range from 3 to 12 h. The sensor measures the ambient above-ground density of epithermal neutrons (at energies of about 1–105 eV), which is inversely related to the abundance of hydrogen and, consequently, of soil moisture (Köhli et al., 2020). Water in the soils can be quantified from this epithermal neutron intensity by conversion functions (e.g. Desilets et al., 2010; Köhli et al., 2020), which usually require the calibration of a detector-specific scaling parameter (e.g. N0) on independent soil moisture measurements in the footprint of a neutron detector (see Schrön et al., 2017, for a recent synthesis).

Soon after the feasibility of soil moisture observation with stationary CRNS had been demonstrated, a mobile CRNS sensor ("CRNS roving") was established as a means to detect patterns of soil water content along transects across the landscape (see e.g. Desilets et al., 2010; Schrön et al., 2018a). To that end, the sensor is moved within the area of interest (e.g. by car or, as recently suggested, by train; see Schrön et al., 2021). This way, the technique could cover up to a few hundred square kilometres within a day. The corresponding spatial representativeness of the measurements depends on the accessible road network and travel speed, while road material itself may introduce bias (Schrön et al., 2018a). In contrast to stationary sensors, however, CRNS roving can explore the spatial distribution of soil moisture as a single snapshot in time, which is a an advantage when it comes to spatial coverage of a region.

Recently, a dense stationary CRNS network was explored as a means to resolve, continuously in time, the spatial heterogeneity within and between CRNS footprints (Heistermann et al., 2021). The first realization of such a dense CRNS network had been implemented in a joint field campaign from May to July 2019 during which 24 CRNS sensors were operated in the Rott headwater catchment, a pre-alpine area of 1 km2 in southern Germany. The corresponding CRNS data were published by Fersch et al. (2020), together with comprehensive additional data required to correct, calibrate, and validate CRNS-based soil moisture retrievals.
1.2

 The Cosmic Sense joint field campaign in 2020

From September to November 2020, the research unit Cosmic Sense, funded by the German Research Foundation (DFG), ventured a second massive effort to explore the potential of dense stationary CRNS networks for monitoring spatial and temporal soil moisture dynamics at the catchment scale. This effort is referred to as the "Joint Field Campaign 2020" (JFC-2020; while we refer to the first JFC in 2019, as published by Fersch et al. (2020), as JFC-2019). A graphical overview of the different instruments and their observational scales is provided in Fig. 1.

The JFC-2020 featured 15 stationary CRNS sensors in an area of 0.39 km2, the Wüstebach headwater catchment in the Eifel, a low mountain range in western Germany, and was motivated most importantly by the aim to
maximize coverage, to monitor water storage in the root zone of an entire catchment, and to possibly relate storage changes to the catchment's runoff response by means of hydrological modelling;

maximize resolution and use the overlap between CRNS sensor footprints to establish a spatio-temporal representation of soil moisture patterns at potentially higher resolutions than the footprint of a single sensor, e.g. by means of interpolation.
As in the earlier JFC in 2019, the campaign was integrated with long-term observational infrastructure provided by TERENO (Zacharias et al., 2011), and, again, the dense CRNS network was complemented by CRNS roving, manual ground truth measurements, and biomass and soil mapping – all in a study catchment that is characterized by pronounced soil moisture heterogeneity in space.
However, the JFC-2020 exhibited a number of important features which were new or essentially different in comparison to the JFC-2019 and which, in their entirety, make the JFC-2020 a unique contribution. These differences particularly emerge with regard to the properties of the study area and additional instrumental features, as elaborated in the following list.
Different season, different processes. The JFC-2019 observational period from late spring to midsummer started out from fully saturated conditions, followed by 2 months of marked drying. For the JFC-2020, we chose instead to monitor the re-wetting process from late summer to late autumn, which we expected to follow different vertical soil moisture dynamics (as compared to drying), with likely implications for the dynamics of the CRNS penetration depth.

Addressing a challenging land cover. In contrast to the JFC-2019, we chose a dominantly forested study area for the JFC-2020. With regard to CRNS, forests are a more challenging environment due to a lower epithermal neutron intensity and a typically large spatial heterogeneity of vegetation biomass and soil moisture.

More pronounced catchment boundaries. In comparison to JFC-2019, the study area is more topographically structured; hence the above-ground catchment is more pronounced. This should allow for a better closure of the catchment's water balance and thus an increased potential for hydrological applications and studies that relate the root-zone water balance to observed discharge.

Taking the CRNS rover to another dimension. For the first time, an experiment with an airborne CRNS roving platform was conducted that was mounted on an airship and repeatedly crossed the study area at altitudes between 10 and 170 m above the ground. We consider airborne CRNS roving to be an opportunity to reduce the influence of the near field (e.g. by roads), to decrease the dependency on transport networks on the ground, and to reshape the horizontal CRNS footprint.

Beyond near-surface soil moisture with hydrogravimetry. The JFC-2020 featured a gravimeter at the eastern hilltop of the catchment. That way, we expected to capture the dynamics of water storage below the vertical penetration depth of the CRNS technology, i.e. in the deeper unsaturated zone, including the entire root zone. In combination with CRNS, we hypothesize that gravimetry could provide vital information to detect vertical and horizontal water exchange and hence to help close the catchment's water balance.

Higher stationary CRNS density. With a catchment size of about 0.4 km2 (as compared to 1 km2 in 2019) and no access restrictions, the JFC-2020 could provide full CRNS coverage of the study area and, at the same time, operate with a higher overlap of CRNS footprints. That way, we provide strong support for both research aims: coverage and resolution.

Unique ground truth coverage in space and time. The TERENO infrastructure in the Wüstebach catchment features a local wireless soil sensor network (WSN; 101 active nodes during the campaign) as well as one location with six weighable lysimeters. These data are part of the published data set and provide substantial ground truth coverage in both space and time. This is a huge advantage as compared to JFC-2019, where the WSN only covered about 10 % of the study area.

Learning from the past. Learning from technical issues in sensor maintenance during JFC-2019 (specifically regarding power supply and real-time power monitoring) leads to a dramatic decrease in data gaps for the stationary CRNS network, which improves our ability to provide continuous sensor coverage over the whole campaign period.
1.3

 Structure of this paper

In this paper, we present the data set obtained in the JFC-2020. It is available via EUDAT (see Heistermann et al., 2022). Section 2 introduces the study area. In Sect. 3, we document the different subsets of data; the data collection; and, if applicable, the involved data processing. In Sect. 4, we highlight data that are expected to be relevant for the analysis of the published data but which are available from other providers and hence not included in this publication. Section 5 exemplarily illustrates properties of the obtained data with regard to the spatio-temporal representation of soil moisture and water storage. Section 7 concludes by highlighting perspectives for prospective research with the presented data set.
Different criteria were considered for the selection of the study site, some of which have already been touched upon in Sect. 1.2. Most importantly, the study area was required to
be predominantly forested: as forested areas turned out to be challenging environments for CRNS-based soil moisture retrieval (Bogena et al., 2013), we intended to demonstrate the feasibility of the dense CRNS network concept also in a dominantly forested area;

have a well-defined catchment boundary: this should help users of the data set to explore the added value of catchment-scale soil moisture retrieval for hydrological (namely rainfall runoff) modelling;

contain areas with sufficient distance to the groundwater table in order for the hydrogravimetric measurements to be sufficiently sensitive to changes in water content dynamics in the unsaturated zone;

feature long-term hydrological and hydrometeorological observation infrastructure, specifically with regard to continuous ground measurements of soil moisture;

have good accessibility by foot and car for installation, maintenance, CRNS roving, and manual measurements;

be sufficiently close to at least one of the participating research institutions to allow for instrument maintenance; this practical aspect was particularly critical since we targeted a forested catchment in autumn with the consequence that local insolation was not sufficient for solar power supply at all measurement locations, and batteries had to be regularly changed.
Based on these criteria, we selected the Wüstebach catchment (Fig. 2), a 0.39 km2 headwater catchment of the Rur river (Eifel mountains in western Germany, close to the Belgian border) which is part of the Terrestrial Environmental Observatory (TERENO-Rur; Bogena et al., 2018) of the Helmholtz Association.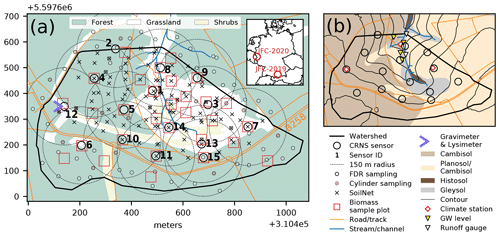 The Wüstebach experimental catchment was extensively investigated and documented by many studies: to name just a few, Bogena et al. (2018) provided a general overview of climate, (hydro-)geology, land use, and core instrumentation; Gottselig et al. (2017a) published a data set on physical and chemical soil properties; Bogena et al. (2013) and Baatz et al. (2015) investigated the estimation of soil moisture from three permanently installed CRNS sensors; and Bogena et al. (2010) and Graf et al. (2014) examined the potential of the wireless soil sensor network in the area to represent the distribution of soil moisture in space and time. Due to the comprehensive documentation of the Wüstebach catchment in the scientific literature, we keep the description of the study area very brief, quoting the overview on p. 9 of Bogena et al. (2018):
"The altitude [of the catchment ranges from] 595 to 628 m a.s.l. […]. The geology is dominated by Devonian shales [which are] covered by a 1–2 m deep periglacial solifluction layer in which Cambisols and Planosols have developed on the hillslopes while Gleysols and Histosols dominate under the influence of groundwater in the valley. The main soil texture is silty clay loam; mean annual precipitation is 1220 mm […], and the main vegetation is Norway spruce [Picea abies (L.) H. Karst.] planted in 1946. During the late summer of 2013, trees were almost completely removed in an area of 9 ha near the main Wüstebach stream to initiate the regeneration of near-natural beech (Fagus sylvatica L.) forest."
4
 Relevant data provided by third parties
This section highlights relevant data sets which are not included in this publication but were published before or provided by other organizations or channels.
5
 Examples of cross-scale soil moisture patterns in space and time
This paper is not about the scientific analysis of the presented data set. Still, we provide selected examples to convey an idea of spatial and temporal soil moisture patterns as well as of differences between sensors at different horizontal and vertical scales. To that end, we used standard procedures to convert neutron intensities (observed by the stationary dense CRNS cluster and CRNS roving) to soil moisture and to put these into context with observations from the SoilNet, the gravimeter, six weighable lysimeters, rainfall, and discharge. Furthermore, we provide, for the very first time, exemplary visualizations of the airborne CRNS roving observations. Please note that we only provide a short outline of required data processing steps. This is because we just give examples of how to put the different observations into context, while a comprehensive analysis is subject to future research.
6
 Code and data availability
For this data publication, we used EUDAT (https://eudat.eu, last access: 25 May 2022). Within this data infrastructure, the services B2SHARE and B2HANDLE allow users to share data, to manage identifiers, and to provide long-term persistence. Please see Heistermann et al. (2022) as a reference to the data repository at the B2SHARE service (https://doi.org/10.23728/b2share.756ca0485800474e9dc7f5 949c63b872). Table 3 links the data subsets in the repository to the corresponding subsections of this paper. Each subset of data is accompanied by a text file with metadata (JSON format), which will also provide further information on the data format in case this is different from the specifications in Sect. 3.2.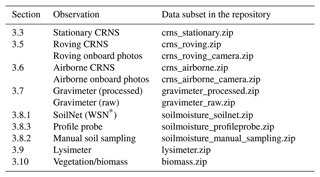 * Wireless soil moisture sensor network.
In the autumn of 2020, members of the DFG research group Cosmic Sense bundled their resources in instruments, expertise, and workforce to conduct a joint field campaign (JFC) in which 15 CRNS sensors were deployed for more than 2 months in the 39 ha headwater catchment of the Wüstebach in the Eifel mountains (western Germany) with a focus on retrieving root-zone soil moisture.
The resulting data set constitutes a unique contribution that should be useful to various research communities.
Why is this data set unique? In comparison to the earlier JFC-2019, the JFC-2020 covered a different landscape and season: the dominantly forested Wüstebach catchment is a more challenging environment for CRNS-based soil moisture retrieval, while the catchment boundary is topographically more pronounced, facilitating hydrological model applications; the campaign period covered the autumnal re-wetting instead of the drying in summer. Furthermore, the CRNS sensor density was even higher (average density of 38 sensors per square kilometre instead of 24 per square kilometre), with almost no gaps in time. Finally, the instrumentation featured a unique combination with an extensive wireless soil sensor network (for calibration and validation), a gravimeter, and weighable lysimeters as well as ground-based and, for the first time, airborne CRNS roving.
We are confident that this data set will be a useful resource for various scientific purposes: to advance the estimation of soil water content from CRNS, e.g. by considering the role of vegetation; to study water storage variations beyond the root zone by hydrogravimetry; to identify scale-specific combinations of sensors and methods in studying soil moisture variability across space and time (specifically by using overlapping CRNS together with inversion-like retrieval methods and auxiliary information from, for example, CRNS roving and hydrological modelling; see Heistermann et al., 2021); to improve the understanding and simulation of land–atmosphere exchange as well as hydrological and hydrogeological processes at the hillslope and the small catchment scale; and to support root-zone soil moisture retrieval from airborne and spaceborne remote sensing platforms by using CRNS-based soil moisture estimates at various temporal and spatial resolutions.
In summary, this data set should support those who are interested in advancing CRNS and hydrogravimetry at the level of single instruments as much as those who are interested in the broader picture of observation and simulation of soil moisture and hydrological processes from the point to the small catchment scale.
The lead authors MH, HB, TF, AG, JJ, DR, and MS designed and conducted the JFC, processed the data, and drafted the manuscript. MR processed the gravimeter data. AP, BF, CZ, DR, JJ, MS, SO, and TF participated in the JFC-2020 field work. TP and JG contributed and processed the lysimeter data for the campaign period. CZ and SZ supported the roving campaign and analysis. VD co-developed Fig. 1. SO suggested the idea to operate CRNS in a dense cluster and was the principal investigator in charge of the JFC-2020. All authors contributed to writing the manuscript.
The contact author has declared that neither they nor their co-authors have any competing interests.
Publisher's note: Copernicus Publications remains neutral with regard to jurisdictional claims in published maps and institutional affiliations.
Funding for the TERENO-Rur Hydrological Observatory infrastructure is provided by the BMBF (Bundesministerium für Bildung und Forschung) and the Helmholtz Association. We thank Christian Budach, Peter Biro, and Sophia Dobkowitz (University of Potsdam) and Daniel Dolfus (Research Center Jülich) for their contributions to fieldwork and sensor maintenance as well as Sandra Szulz-Seyfried for supporting the coordination of the campaign. We would also like to thank the EUDAT services for providing an excellent data management infrastructure.
This research has been supported by the Deutsche Forschungsgemeinschaft (research unit FOR 2694 Cosmic Sense).
This paper was edited by Sibylle K. Hassler and reviewed by two anonymous referees.
Andreasen, M., Jensen, K. H., Desilets, D., Franz, T. E., Zreda, M., Bogena, H. R., and Looms, M. C.: Status and Perspectives on the Cosmic-Ray Neutron Method for Soil Moisture Estimation and Other Environmental Science Applications, Vadose Zone J., 16, 1–11, https://doi.org/10.2136/vzj2017.04.0086, 2017. a, b
Baatz, R., Bogena, H. R., Hendricks-Franssen, H.-J., Huisman, J. A., Montzka, C., and Vereecken, H.: An empirical vegetation correction for soil water content quantification using cosmic ray probes, Water Resour. Res., 51, 2030–2046, https://doi.org/10.1002/2014WR016443, 2015. a, b
Baroni, G., Scheiffele, L. M., Schrön, M., Ingwersen, J., and Oswald, S. E.: Uncertainty, sensitivity and improvements in soil moisture estimation with cosmic-ray neutron sensing, J. Hydrol., 564, 873–887, https://doi.org/10.1016/j.jhydrol.2018.07.053, 2018. a
Blöschl, G. and Grayson, R.: Spatial Observations and Interpolation, in: Spatial Patterns in Catchment Hydrology – Observations and Modelling, edited by: Blöschl, G. and Grayson, R., 2, 17–50, Cambridge University Press, Cambridge, 2000. a
Bogena, H., Montzka, C., Huisman, J., Graf, A., Schmidt, M., Stockinger, M., von Hebel, C., Hendricks-Franssen, H., van der Kruk, J., Tappe, W., Lücke, A., Baatz, R., Bol, R., Groh, J., Pütz, T., Jakobi, J., Kunkel, R., Sorg, J., and Vereecken, H.: The TERENO-Rur Hydrological Observatory: A Multiscale Multi-Compartment Research Platform for the Advancement of Hydrological Science, Vadose Zone J., 17, 180055, https://doi.org/10.2136/vzj2018.03.0055, 2018. a, b, c, d, e, f, g
Bogena, H. R., Herbst, M., Huisman, J. A., Rosenbaum, U., Weuthen, A., and Vereecken, H.: Potential of Wireless Sensor Networks for Measuring Soil Water Content Variability, Vadose Zone J., 9, 1002–1013, https://doi.org/10.2136/vzj2009.0173, 2010. a, b, c, d
Bogena, H. R., Huisman, J. A., Baatz, R., Hendricks-Franssen, H.-J., and Vereecken, H.: Accuracy of the cosmic-ray soil water content probe in humid forest ecosystems: The worst case scenario, Water Resour. Res., 49, 5778–5791, https://doi.org/10.1002/wrcr.20463, 2013. a, b
Bolte, A.: Biomasse- und Elementvorräte der Bodenvegetation auf Flächen des Forstlichen Umweltmonitorings in Rheinland-Pfalz, Berichte des Forschungszentrums Waldökosysteme, Reihe B, 72, Forschungszentrum Waldökosysteme at the Universität Göttingen, ISSN 0939-1339, 2006. a
Crossley, D., Hinderer, J., and Riccardi, U.: The measurement of surface gravity, Reports on Progress in Physics, 76, https://doi.org/10.1088/0034-4885/76/4/046101, 2013. a
Desilets, D., Zreda, M., and Ferré, T. P. A.: Nature's neutron probe: Land surface hydrology at an elusive scale with cosmic rays, Water Resour. Res., 46, W11505, https://doi.org/10.1029/2009WR008726, 2010. a, b
Dobslaw, H., Bergmann-Wolf, I., Dill, R., Poropat, L., Thomas, M., Dahle, C., and Flechtner, F.: A new high-resolution model of non-tidal atmosphere and ocean mass variability for de-aliasing of satellite gravity observations: AOD1B RL06, Geophys. J. Int., 211, 263–269, https://doi.org/10.1093/gji/ggx302, 2017. a
Fersch, B., Francke, T., Heistermann, M., Schrön, M., Döpper, V., Jakobi, J., Baroni, G., Blume, T., Bogena, H., Budach, C., Gränzig, T., Förster, M., Güntner, A., Hendricks Franssen, H.-J., Kasner, M., Köhli, M., Kleinschmit, B., Kunstmann, H., Patil, A., Rasche, D., Scheiffele, L., Schmidt, U., Szulc-Seyfried, S., Weimar, J., Zacharias, S., Zreda, M., Heber, B., Kiese, R., Mares, V., Mollenhauer, H., Völksch, I., and Oswald, S.: A dense network of cosmic-ray neutron sensors for soil moisture observation in a highly instrumented pre-Alpine headwater catchment in Germany, Earth Syst. Sci. Data, 12, 2289–2309, https://doi.org/10.5194/essd-12-2289-2020, 2020. a, b, c, d, e, f, g
Francke, T., Heistermann, M., Köhli, M., Budach, C., Schrön, M., and Oswald, S. E.: Assessing the feasibility of a directional cosmic-ray neutron sensing sensor for estimating soil moisture, Geosci. Instrum. Method. Data Syst., 11, 75–92, https://doi.org/10.5194/gi-11-75-2022, 2022. a
Franz, T. E., Zreda, M., Rosolem, R., and Ferre, T.: Field Validation of a Cosmic-Ray Neutron Sensor Using a Distributed Sensor Network, Vadose Zone J., 11, vzj2012.0046, https://doi.org/10.2136/vzj2012.0046, 2012. a
Gottselig, N., Wiekenkamp, I., Weihermüller, L., Brüggemann, N., Berns, A. E., Bogena, H. R., Borchard, N., Klumpp, E., Lücke, A., Missong, A., Pütz, T., Vereecken, H., Huisman, J. A., and Bol, R.: A Three-Dimensional View on Soil Biogeochemistry: A Dataset for a Forested Headwater Catchment, J. Environ. Qual., 46, 210–218, https://doi.org/10.2134/jeq2016.07.0276, 2017a. a, b
Gottselig, N., Wiekenkamp, I., Weihermüller, L., Brüggemann, N., Berns, A. E., Bogena, H. R., Borchard, N., Klumpp, E., Lücke, A., Missong, A., Pütz, T., Vereecken, H., Huisman, J. A., and Bol, R.: A Three-Dimensional View on Soil Biogeochemistry: A Dataset for a Forested Headwater Catchment, TERENO Data Discovery Portal [data set], https://ddp.tereno.net/ddp/dispatch?metadata.detail.view.id=e3886301-7252-4142-b1a4-333dfe7f1ca4 (last access: 25 May 2022), 2017b. a
Graf, A., Bogena, H. R., Drüe, C., Hardelauf, H., Pütz, T., Heinemann, G., and Vereecken, H.: Spatiotemporal relations between water budget components and soil water content in a forested tributary catchment, Water Resour. Res., 50, 4837–4857, https://doi.org/10.1002/2013WR014516, 2014. a
Groh, J., Stumpp, C., Lücke, A., Pütz, T., Vanderborght, J., and Vereecken, H.: Inverse Estimation of Soil Hydraulic and Transport Parameters of Layered Soils from Water Stable Isotope and Lysimeter Data, Vadose Zone J., 17, 170168, https://doi.org/10.2136/vzj2017.09.0168, 2018. a
Groh, J., Pütz, T., Gerke, H., Vanderborght, J., and Vereecken, H.: Quantification and Prediction of Nighttime Evapotranspiration for Two Distinct Grassland Ecosystems, Water Resour. Res., 55, 2961–2975, https://doi.org/10.1029/2018WR024072, 2019. a
Güntner, A., Reich, M., Mikolaj, M., Creutzfeldt, B., Schroeder, S., and Wziontek, H.: Landscape-scale water balance monitoring with an iGrav superconducting gravimeter in a field enclosure, Hydrol. Earth Syst. Sci., 21, 3167–3182, https://doi.org/10.5194/hess-21-3167-2017, 2017. a
Hawdon, A., McJannet, D., and Wallace, J.: Calibration and correction procedures for cosmic-ray neutron soil moisture probes located across Australia, Water Resour. Res., 50, 5029–5043, https://doi.org/10.1002/2013WR015138, 2014. a
Heidbüchel, I., Güntner, A., and Blume, T.: Use of cosmic-ray neutron sensors for soil moisture monitoring in forests, Hydrol. Earth Syst. Sci., 20, 1269–1288, https://doi.org/10.5194/hess-20-1269-2016, 2016. a
Heistermann, M., Francke, T., Schrön, M., and Oswald, S. E.: Spatio-temporal soil moisture retrieval at the catchment scale using a dense network of cosmic-ray neutron sensors, Hydrol. Earth Syst. Sci., 25, 4807–4824, https://doi.org/10.5194/hess-25-4807-2021, 2021. a, b, c, d, e, f
Heistermann, M., Bogena, H., Francke, T., Güntner, A., Jakobi, J., Rasche, D., Schrön, M., Fersch, B., Groh, J., Patil, A., Pütz, T., Reich, M., Zacharias, S., Zengerle, C., and Oswald, S.: Soil moisture observation in a forested headwater catchment: combining a dense cosmic-ray neutron sensor network with (airborne) roving and hydrogravimetry at the TERENO site Wüstebach), B2SHARE [data set], https://doi.org/10.23728/b2share.756ca0485800474e9dc7f5949 c63b872, 2022. a, b, c
Hersbach, H., Bell, B., Berrisford, P., Hirahara, S., Horányi, A., Muñoz-Sabater, J., Nicolas, J., Peubey, C., Radu, R., Schepers, D., Simmons, A., Soci, C., Abdalla, S., Abellan, X., Balsamo, G., Bechtold, P., Biavati, G., Bidlot, J., Bonavita, M., De Chiara, G., Dahlgren, P., Dee, D., Diamantakis, M., Dragani, R., Flemming, J., Forbes, R., Fuentes, M., Geer, A., Haimberger, L., Healy, S., Hogan, R. J., Hólm, E., Janisková, M., Keeley, S., Laloyaux, P., Lopez, P., Lupu, C., Radnoti, G., de Rosnay, P., Rozum, I., Vamborg, F., Villaume, S., and Thépaut, J.-N.: The ERA5 global reanalysis, Q. J. Roy. Meteor. Soc., 146, 1999–2049, https://doi.org/10.1002/qj.3803, 2020. a
Iwema, J., Rosolem, R., Baatz, R., Wagener, T., and Bogena, H. R.: Investigating temporal field sampling strategies for site-specific calibration of three soil moisture–neutron intensity parameterisation methods, Hydrol. Earth Syst. Sci., 19, 3203–3216, https://doi.org/10.5194/hess-19-3203-2015, 2015. a
Iwema, J., Schrön, M., Koltermann Da Silva, J., Schweiser De Paiva Lopes, R., and Rosolem, R.: Accuracy and precision of the cosmic-ray neutron sensor for soil moisture estimation at humid environments, Hydrol. Process., 35, e14419, https://doi.org/10.1002/hyp.14419, 2021. a
Jakobi, J., Huisman, J. A., Schrön, M., Fiedler, J., Brogi, C., Vereecken, H., and Bogena, H. R.: Error Estimation for Soil Moisture Measurements With Cosmic Ray Neutron Sensing and Implications for Rover Surveys, Front. Water, 2, 10, https://doi.org/10.3389/frwa.2020.00010, 2020. a, b
Jakobi, J., Huisman, J. A., Vereecken, H., Diekkrueger, B., and Bogena, H. R.: Cosmic Ray Neutron Sensing for Simultaneous Soil Water Content and Biomass Quantification in Drought Conditions, Water Resour. Res., 54, 7383–7402, https://doi.org/10.1029/2018WR022692, 2018. a, b, c, d
Kahl, T.: Abbauraten von Fichtenholz (Picea abies (L.) Karst.): Bohrwiderstandsmessungen als neuer Ansatz zur Bestimmung des Totholzabbaus, einer wichtigen Größe im Kohlenstoffhaushalt mitteleuropäischer Wälder, Dissertation thesis, Friedrich-Schiller-Universität, Germany, 2003. a
Klügel, T. and Wziontek, H.: Correcting gravimeters and tiltmeters for atmospheric mass attraction using operational weather models, J. Geodynam., 48, 204–210, https://doi.org/10.1016/j.jog.2009.09.010, 2009. a
Köhli, M., Schrön, M., and Schmidt, U.: Response functions for detectors in cosmic ray neutron sensing, Nuclear Instruments and Methods in Physics Research Section A: Accelerators, Spectrometers, Detectors and Associated Equipment, 902, 184–189, https://doi.org/10.1016/j.nima.2018.06.052, 2018. a, b
Köhli, M., Weimar, J., Schrön, M., and Schmidt, U.: Moisture and humidity dependence of the above-ground cosmic-ray neutron intensity, Front. Water, 2, 66, https://doi.org/10.3389/frwa.2020.544847, 2020. a, b
Kojima, Y., Shigeta, R., Miyamoto, N., Shirahama, Y., Nishioka, K., Mizoguchi, M., and Kawahara, Y.: Low-Cost Soil Moisture Profile Probe Using Thin-Film Capacitors and a Capacitive Touch Sensor, Sensors, 16, 1292, https://doi.org/10.3390/s16081292, 2016. a
Li, Z.-L., Leng, P., Zhou, C., Chen, K.-S., Zhou, F.-C., and Shang, G.-F.: Soil moisture retrieval from remote sensing measurements: Current knowledge and directions for the future, Earth-Sci. Rev., 218, 103673, https://doi.org/10.1016/j.earscirev.2021.103673, 2021. a
Niebauer, T.: Gravimetric Methods – Absolute and Relative Gravity Meter: Instruments Concepts and Implementation, Treatise on Geophysics, 3, 37–57, https://doi.org/10.1016/B978-0-444-53802-4.00057-9, 2015. a
OpenStreetMap contributors: Planet dump retrieved from https://planet.osm.org, https://www.openstreetmap.org (last access: 1 December 2021), 2021. a, b, c
Peng, J., Albergel, C., Balenzano, A., Brocca, L., Cartus, O., Cosh, M. H., Crow, W. T., Dabrowska-Zielinska, K., Dadson, S., Davidson, M. W., de Rosnay, P., Dorigo, W., Gruber, A., Hagemann, S., Hirschi, M., Kerr, Y. H., Lovergine, F., Mahecha, M. D., Marzahn, P., Mattia, F., Musial, J. P., Preuschmann, S., Reichle, R. H., Satalino, G., Silgram, M., van Bodegom, P. M., Verhoest, N. E., Wagner, W., Walker, J. P., Wegmüller, U., and Loew, A.: A roadmap for high-resolution satellite soil moisture applications – confronting product characteristics with user requirements, Remote Sens. Environ., 252, 112–162, https://doi.org/10.1016/j.rse.2020.112162, 2021. a
Peters, A., Groh, J., Schrader, F., Durner, W., Vereecken, H., and Pütz, T.: Towards an unbiased filter routine to determine precipitation and evapotranspiration from high precision lysimeter measurements, J. Hydrol., 549, 731–740, https://doi.org/10.1016/j.jhydrol.2017.04.015, 2017. a
Pütz, T., Kiese, R., Wollschläger, U., Groh, J., Rupp, H., Zacharias, S., Priesack, E., Gerke, H. H., Gasche, R., Bens, O., Borg, E., Baessler, C., Kaiser, K., Herbrich, M., Munch, J.-C., Sommer, M., Vogel, H.-J., Vanderborght, J., and Vereecken, H.: TERENO-SOILCan: a lysimeter-network in Germany observing soil processes and plant diversity influenced by climate change, Environ. Earth Sci., 75, 1242, https://doi.org/10.1007/s12665-016-6031-5, 2016. a, b
Reich, M., Thoss, H., Schroeder, S., and Güntner, A.: The gPhone-solar-cube: an energy self-sufficient mobile container for monitoring gravity and climate parameters at remote field sites. Abstract H43H-2101, 2019 Fall Meeting, AGU, San Francisco, CA, 9–13 December, https://doi.org/10.1002/essoar.10502918.1, 2019. a
Richter, F.: Bodenkarte zur Standorterkundung. Verfahren Quellgebiet Wüstebach, NSG Forst, Geologischer Dienst Nordrhein-Westfalen, Krefeld, Germany, 2007. a, b
Riedel, T. and Kändler, G.: Nationale Treibhausgasberichterstattung: Neue Funktionen zur Schätzung der oberirdischen Biomasse am Einzelbaum, Forstarchiv: forstwissenschaftliche Fachzeitschrift, 88, 31–38, https://doi.org/10.4432/0300-4112-88-31, 2017. a
Rosenbaum, U., Huisman, J., Weuthen, A., Vereecken, H., and Bogena, H.: Sensor-to-Sensor Variability of the ECH2O EC-5, TE, and 5TE Sensors in Dielectric Liquids, Vadose Zone J., 9, 181–186, https://doi.org/10.2136/vzj2009.0036, 2010. a, b
Rosenbaum, U., Bogena, H. R., Herbst, M., Huisman, J. A., Peterson, T. J., Weuthen, A., Western, A. W., and Vereecken, H.: Seasonal and event dynamics of spatial soil moisture patterns at the small catchment scale, Water Resour. Res., 48, W10544, https://doi.org/10.1029/2011WR011518, 2012. a, b
Schmidt, M.: Biomassebestimmung im Wüstebachtal/Hocheifel mittels allometrischer Funktionen und direkter Messungen, Master thesis, University of Potsdam, Potsdam, Germany, 2021. a
Schrön, M.: Cosmic-ray neutron sensing and its applications to soil and land surface hydrology, Ph.D. thesis, Universität Potsdam, Germany, 223 pp., https://nbn-resolving.org/urn:nbn:de:kobv:517-opus4-395433 (last access: 22 June 2020), 2017. a
Schrön, M., Zacharias, S., Köhli, M., Weimar, J., and Dietrich, P.: Monitoring Environmental Water with Ground Albedo Neutrons from Cosmic Rays, in: The 34th International Cosmic Ray Conference, vol. 236, p. 231, SISSA Medialab, https://doi.org/10.22323/1.236.0231, 2016. a
Schrön, M., Köhli, M., Scheiffele, L., Iwema, J., Bogena, H. R., Lv, L., Martini, E., Baroni, G., Rosolem, R., Weimar, J., Mai, J., Cuntz, M., Rebmann, C., Oswald, S. E., Dietrich, P., Schmidt, U., and Zacharias, S.: Improving calibration and validation of cosmic-ray neutron sensors in the light of spatial sensitivity, Hydrol. Earth Syst. Sci., 21, 5009–5030, https://doi.org/10.5194/hess-21-5009-2017, 2017. a, b, c, d, e, f
Schrön, M., Rosolem, R., Köhli, M., Piussi, L., Schröter, I., Iwema, J., Kögler, S., Oswald, S. E., Wollschläger, U., Samaniego, L., Dietrich, P., and Zacharias, S.: Cosmic-ray Neutron Rover Surveys of Field Soil Moisture and the Influence of Roads, Water Resour. Res., 54, 6441–6459, https://doi.org/10.1029/2017WR021719, 2018a. a, b, c, d, e, f
Schrön, M., Zacharias, S., Womack, G., Köhli, M., Desilets, D., Oswald, S. E., Bumberger, J., Mollenhauer, H., Kögler, S., Remmler, P., Kasner, M., Denk, A., and Dietrich, P.: Intercomparison of cosmic-ray neutron sensors and water balance monitoring in an urban environment, Geosci. Instrum. Method. Data Syst., 7, 83–99, https://doi.org/10.5194/gi-7-83-2018, 2018b. a, b, c
Schrön, M., Oswald, S. E., Zacharias, S., Kasner, M., Dietrich, P., and Attinger, S.: Neutrons on Rails: Transregional Monitoring of Soil Moisture and Snow Water Equivalent, Geophys. Res. Lett., 48, e2021GL093924, https://doi.org/10.1029/2021GL093924, 2021. a, b
Tian, Z., Li, Z., Liu, G., Li, B., and Ren, T.: Soil water content determination with cosmic-ray neutron sensor: Correcting aboveground hydrogen effects with thermal/fast neutron ratio, J. Hydrol., 540, 923–933, https://doi.org/10.1016/j.jhydrol.2016.07.004, 2016.  a, b
Van Camp, M., de Viron, O., Watlet, A., Meurers, B., Francis, O., and Caudron, C.: Geophysics From Terrestrial Time-Variable Gravity Measurements, Rev. Geophys., 55, 938–992, https://doi.org/10.1002/2017rg000566, 2017. a, b
Weimar, J., Köhli, M., Budach, C., and Schmidt, U.: Large-Scale Boron-Lined Neutron Detection Systems as a 3He Alternative for Cosmic Ray Neutron Sensing, Front. Water, 2, 16, https://doi.org/10.3389/frwa.2020.00016, 2020. a, b, c
Wiekenkamp, I., Huisman, J., Bogena, H., Graf, A., Lin, H., Drüe, C., and Vereecken, H.: Changes in measured spatiotemporal patterns of hydrological response after partial deforestation in a headwater catchment, J. Hydrol., 542, 648–661, https://doi.org/10.1016/j.jhydrol.2016.09.037, 2016a. a, b
Wiekenkamp, I., Huisman, J., Bogena, H., Lin, H., and Vereecken, H.: Spatial and temporal occurrence of preferential flow in a forested headwater catchment, J. Hydrol., 534, 139–149, https://doi.org/10.1016/j.jhydrol.2015.12.050, 2016b. a, b
Wiekenkamp, I., Huisman, J. A., Bogena, H. R., and Vereecken, H.: Effects of Deforestation on Water Flow in the Vadose Zone, Water, 12, https://doi.org/10.3390/w12010035, 2020. a
Wilson, T. B., Diamond, H. J., Kochendorfer, J., Meyers, T. P., Hall, M., Casey, N. W., Baker, C. B., Leeper, R., and Palecki, M. A.: Evaluating time domain reflectometry and coaxial impedance sensors for soil observations by the U.S. Climate Reference Network, Vadose Zone J., 19, e20013, https://doi.org/10.1002/vzj2.20013, 2020. a
Zacharias, S., Bogena, H. R., Samaniego, L., Mauder, M., Fuß, R., Pütz, T., Frenzel, M., Schwank, M., Baessler, C., Butterbach-Bahl, K., Bens, O., Borg, E., Brauer, A., Dietrich, P., Hajnsek, I., Helle, G., Kiese, R., Kunstmann, H., Klotz, S., Munch, J. C., Papen, H., Priesack, E., Schmid, H. P., Steinbrecher, R., Rosenbaum, U., Teutsch, G., and Vereecken, H.: A Network of Terrestrial Environmental Observatories in Germany, Vadose Zone J., 10, 955–973, https://doi.org/10.2136/vzj2010.0139, 2011. a
Zell, J.: Abbauraten von Fichtenholz (Picea abies (L.) Karst.): Bohrwiderstandsmessungen als neuer Ansatz zur Bestimmung des Totholzabbaus, einer wichtigen Größe im Kohlenstoffhaushalt mitteleuropäischer Wälder, Master thesis, Albert-Ludwigs–Universität Freiburg, Germany, http://webdoc.sub.gwdg.de/ebook/dissts/Freiburg/Zell2008.pdf (last access: 25 May 2022), 2008. a
Zhao, Y., Ling, D.-s., Wang, Y.-l., Huang, B., and Wang, H.-l.: Study on a calibration equation for soil water content in field tests using time domain reflectometry, J. Zhejiang Univ.-Sc. A, 17, 240–252, https://doi.org/10.1631/jzus.A1500065, 2016. a
Zreda, M., Desilets, D., Ferré, T. P. A., and Scott, R. L.: Measuring soil moisture content non-invasively at intermediate spatial scale using cosmic-ray neutrons, Geophys. Res. Lett., 35, L21402, https://doi.org/10.1029/2008GL035655, 2008. a
Zreda, M., Shuttleworth, W. J., Zeng, X., Zweck, C., Desilets, D., Franz, T., and Rosolem, R.: COSMOS: the COsmic-ray Soil Moisture Observing System, Hydrol. Earth Syst. Sci., 16, 4079–4099, https://doi.org/10.5194/hess-16-4079-2012, 2012. a, b