Articles | Volume 13, issue 8
https://doi.org/10.5194/essd-13-4067-2021
© Author(s) 2021. This work is distributed under
the Creative Commons Attribution 4.0 License.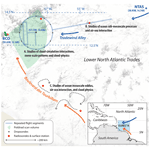 EUREC4A
The science guiding the EUREC4A campaign and its measurements is presented. EUREC4A comprised roughly 5 weeks of measurements in the downstream winter trades of the North Atlantic – eastward and southeastward of Barbados. Through its ability to characterize processes operating across a wide range of scales, EUREC4A marked a turning point in our ability to observationally study factors influencing clouds in the trades, how they will respond to warming, and their link to other components of the earth system, such as upper-ocean processes or the life cycle of particulate matter. This characterization was made possible by thousands (2500) of sondes distributed to measure circulations on meso- (200 km) and larger (500 km) scales, roughly 400 h of flight time by four heavily instrumented research aircraft; four global-class research vessels; an advanced ground-based cloud observatory; scores of autonomous observing platforms operating in the upper ocean (nearly 10 000 profiles), lower atmosphere (continuous profiling), and along the air–sea interface; a network of water stable isotopologue measurements; targeted tasking of satellite remote sensing; and modeling with a new generation of weather and climate models. In addition to providing an outline of the novel measurements and their composition into a unified and coordinated campaign, the six distinct scientific facets that EUREC4A explored – from North Brazil Current rings to turbulence-induced clustering of cloud droplets and its influence on warm-rain formation – are presented along with an overview of EUREC4A's outreach activities, environmental impact, and guidelines for scientific practice. Track data for all platforms are standardized and accessible at https://doi.org/10.25326/165 (Stevens, 2021), and a film documenting the campaign is provided as a video supplement.
Received: 20 Jan 2021 – Discussion started: 28 Jan 2021 – Revised: 20 May 2021 – Accepted: 26 May 2021 – Published: 25 Aug 2021
The clouds of the trades are curious creatures. On the one hand they are fleeting and sensitive to subtle shifts in the wind, to the presence and nature of particulate matter, and to small changes in radiant energy transfer, surface temperatures, or myriad other factors as they scud along the sky (Siebesma et al., 2020). On the other hand, they are immutable and substantial – like Magritte's suspended stone (Stevens and Schwartz, 2012). In terms of climate change, should even a small part of their sensible side express itself with warming, large effects could result. This realization has motivated a great deal of research in recent years (Bony et al., 2015), culminating in a recent field study named1 EUREC4A. The measurements made as part of EUREC4A, which this paper describes, express the most ambitious effort ever to quantify how cloud properties covary with their atmospheric and oceanic environment across an enormous (mm to Mm) range of scales.
Initially EUREC4A was proposed as a way to test hypothesized cloud-feedback mechanisms thought to explain large differences in model estimates of climate sensitivity, as well as to provide benchmark measurements for a new generation of models and satellite observations (Bony et al., 2017). To meet these objectives required quantifying different measures of clouds in the trade winds as a function of their large-scale environment. In the past, efforts to use measurements for this purpose – from Bannon (1949) to BOMEX2 (Holland and Rasmusson, 1973) and from ASTEX (Albrecht et al., 1995) to RICO (Rauber et al., 2007) – have been hampered by an inability to constrain the mean vertical motion over larger scales and by difficulties in quantifying something as multifaceted as a field of clouds (Bretherton et al., 1999; Stevens et al., 2001; Siebesma et al., 2003; vanZanten et al., 2011). EUREC4A was made possible by new methods to measure these quantities, many developed through experimentation over the past decade in and around the Barbados Cloud Observatory (Stevens et al., 2016, 2019a). To execute these measurements required a high-flying aircraft (HALO, High Altitude and Long Range Research Aircraft) to characterize the clouds and cloud environment from above, both with remote sensing and through the distribution of a large number of dropsondes around the perimeter of a mesoscale (ca. 200 km diameter) circle. A second low-flying aircraft (the ATR), with in situ cloud sensors and sidewards-staring active remote sensing, was necessary to ground truth the remote sensing from above, as well as to determine the distribution of cloudiness and aspects of the environment as seen from below. By making these measurements upwind of the Barbados Cloud Observatory (BCO), and by adding a research vessel (the R/V Meteor) for additional surface-based remote sensing and surface flux measurements, the environment and its clouds would be better constrained.
Quantifying day-to-day variations in both cloudiness and its environment opened the door to additional questions, greatly expanding EUREC4A's scope. In addition to testing hypothesized cloud-feedback mechanisms, EUREC4A's experimental plan was augmented to (i) quantify the relative role of micro- and macrophysical factors in rain formation; (ii) quantify different factors influencing the mass, energy, and momentum balances in the sub-cloud layer; (iii) identify processes influencing the evolution of ocean meso-scale eddies; (iv) measure the influence of ocean heterogeneity, i.e., fronts and eddies, on air–sea interaction and cloud formation; and (v) provide benchmark measurements for a new generation of both fine-scale coupled models and satellite retrievals. Complementing these scientific pursuits, EUREC4A developed outreach and capacity-building activities that allowed scientists coming from outside the Caribbean to benefit from local expertise and vice versa.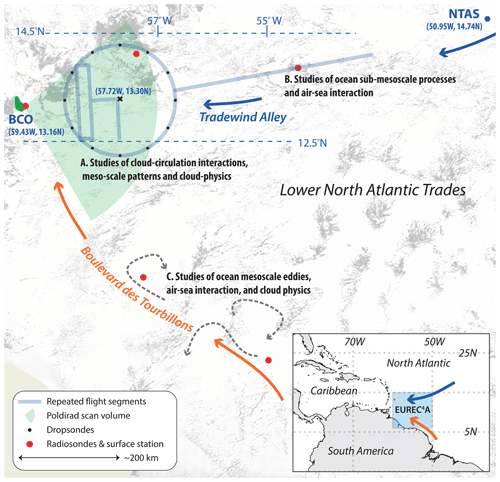 Addressing these additional questions required a substantial expansion of the activities initially planned by the Barbadian–French–German partnership that initiated EUREC4A. This was accomplished through a union of projects led by additional investigators. For instance, EUREC4A-UK (a UK project) brought a Twin Otter (TO for short) and ground-based facilities for aerosol measurements to advance cloud physics studies; EUREC4A-OA secured the service of two additional research vessels (the R/V L'Atalante and the R/V Maria Sibylla Merian) and various ocean-observing platforms to study ocean processes; and the Atlantic Tradewind Ocean–Atmosphere Mesoscale Interaction Campaign (ATOMIC) brought an additional research vessel (the R/V Ronald H. Brown), assorted autonomous systems, and the WP-3D Orion, "Miss Piggy", to help augment studies of air–sea and aerosol–cloud interactions. Additionally, nationally funded projects supported a large-scale sounding array, the installation of a scanning precipitation radar, the deployment of shipborne kite-stabilized helium balloons (CloudKites), a network of water stable isotopologue measurements, and a rich assortment of uncrewed aerial and seagoing systems, among them fixed-wing aircraft, quadcopters, drifters, buoys, underwater gliders, and Saildrones. Support within the region helped link activities to operational initiatives, such as a training program for forecasters, and fund scientific participation from around the Caribbean. The additional measurement platforms considerably increased EUREC4A's scientific scope and geographic footprint, as summarized in Fig. 1.
This article describes EUREC4A in terms of seven different facets as outlined above. To give structure to such a vast undertaking, we focus on EUREC4A's novel aspects but strive to describe these in a way that also informs and guides the use of EUREC4A data by those who did not have the good fortune to share in their collection. The presentation (Sect. 3) of these seven facets is framed by an overview of the general setting of the campaign in Sect. 2, as well as a discussion of more peripheral, but still important, aspects such as data access, good scientific practice, and the environmental impact of our activities in Sect. 4.
2
 General setting and novel measurements
EUREC4A deployed a wide diversity of measurement platforms over two theaters of action: the "Tradewind Alley" and the "Boulevard des Tourbillons", as illustrated schematically in Fig. 1. Tradewind Alley comprised an extended corridor with its downwind terminus defined by the BCO and extending upwind to the Northwest Tropical Atlantic Station (NTAS, 15∘ N, 51∘ W), an advanced open-ocean mooring (Weller, 2018; Bigorre and Plueddemann, 2020) that has been operated continuously since 2001. Measurements aimed at addressing the initial objectives of EUREC4A were situated near the western end of the corridor, within the range of low-level scans of a C-band radar installed on Barbados. The area of overlap between the radar and the (∼200 km diameter) EUREC4A-Circle (marked A in Fig. 1) defined a region of intensive measurements in support of studies of cloud–circulation interactions, cloud physics, and factors influencing the mesoscale patterning of clouds. Additional measurements between the NTAS and 55∘ W (Region B in Fig. 1) supported studies of air–sea interaction and provided complementary measurements of the upwind environment, including a characterization of its clouds and aerosols.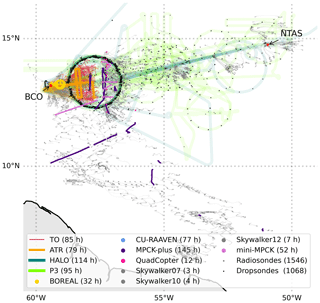 The Boulevard des Tourbillons describes the geographic region that hosted intensive measurements to study how air–sea interaction is influenced by mesoscale eddies, sub-mesoscale fronts, and filaments in the ocean (Region C in Fig. 1). Large (ca. 300 km) warm eddies – which migrate northwestward and often envelope Barbados, advecting large freshwater filaments stripped from the shore of South America – created a laboratory well suited to this purpose. These eddies, known as North Brazil Current (NBC) rings, form when the retroflecting NBC pinches off around 7∘ N. Characterizing these eddies further offered the possibility to expand the upper-air network of radiosondes and to make contrasting cloud measurements in a potentially different large-scale environment. This situation led EUREC4A to develop its measurements following the path of the NBC rings toward Barbados from their place of formation near the point of the NBC retroflection, with a center of action near Region C in Fig. 1. Measurements in the Boulevard des Tourbillons extended the upper-air measurement network and provided cloud measurements to contrast with similar measurements being made in Tradewind Alley.
2.1

 Platforms for measuring the lower atmosphere

Aerial measurements were made by research aircraft, uncrewed (i.e., remotely piloted) aerial systems (UASs), and from balloon- or parachute-borne soundings. These were mostly distributed along Tradewind Alley. Figure 2 shows the realization of the EUREC4A strategy: the EUREC4A-Circle (teal) and box L (orange) stand out, indicative of the number of times HALO and the ATR flew these patterns. The very large number of dropsondes deployed by HALO (black dots) gives further emphasis to the EUREC4A-Circle. Excursions by HALO and flights by the P-3 extended the area of measurements upwind toward the NTAS. The TO intensively sampled clouds in the area of ATR operations in the western half of the EUREC4A-Circle. UASs provided extensive measurements of the lower atmosphere, mostly in the area between the EUREC4A-Circle and Barbados. Due to their limited range many (Skywalkers, CU-RAAVEN, and quadcopter) only appear as dots on Fig. 2.

Different clusters of radiosonde soundings (evident as short traces, or whiskers, of gray dots) can also be discerned in Fig. 2. Those soundings originating from the BCO (342) and from the R/V Meteor (362) were launched from relatively fixed positions, with the R/V Meteor operating between 12.5 and 14.5∘ N along the 57.25∘ W meridian. East of the EUREC4A-Circle, sondes were launched by the R/V Ronald H. Brown (Ron Brown), which mostly measured air masses in coordination with the P-3 measurements between the NTAS and the EUREC4A-Circle. The R/V Maria Sibylla Merian (MS-Merian) and R/V L'Atalante (Atalante) combined to launch 424 sondes in total, as they worked water masses up and down the Boulevard. For most sondes, measurements were recorded for both the ascent and descent, with descending sondes falling by parachute for all platforms except the R/V Ron Brown. The synoptic environment encountered during EUREC4A, the radiosonde measurement strategy, and an analysis of the sonde data are described in more detail by Stephan et al. (2021).

HALO, the ATR, and most of the UASs emphasized statistical sampling. Hence flight plans did not target specific conditions, except to adjust the ATR flight levels relative to the height of the sub-cloud layer – but this varied relatively little. During planned excursions from its circling flight pattern, HALO also positioned its track for satellite overpasses – one by MISR (5 February 2021) and another by the core GPM satellite (11 February 2020). Measurements from the MPCK+ (a large CloudKite tethered to the R/V MS-Merian) emphasized the lower cloud layer, selecting conditions when clouds seemed favorable. The mini-MPCK was used more for profiling the boundary layer and the cloud-base region and was deployed when conditions allowed. The Twin Otter targeted cloud fields, often flying repeated samples through cloud clusters identified visibly, but also sampled the sub-cloud layer. The P-3 strategy was more mixed; some flights targeted specific conditions, and others were more statistically oriented (for example, to fill gaps in the HALO and ATR sampling strategy). The different sampling strategies are reflected in Fig. 3, where the measurements of HALO are concentrated near 10.2 km and those of the ATR at about 800 m, with relative uniform sampling of the trade wind moist layer by the Twin Otter. Figure 3 also shows the strong emphasis on sampling the lower atmosphere, with relatively uniform coverage of the lower 3 km. Except for the Twin Otter, which was limited to daytime operations, takeoff and landing times of the aircraft were staggered, with three night flights by the P-3, to better sample the diurnal cycle. Data papers for the individual platforms are being prepared and will describe their activities in greater detail.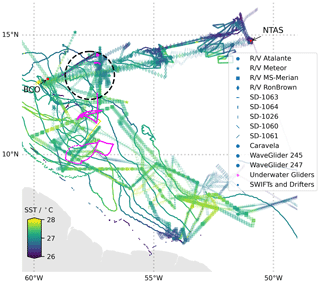 2.2

 Airborne platforms for measuring the upper ocean and air–sea interface

Four global-class research vessels – all equipped with surface meteorological measurements and underway temperature/salinity sampling devices – and scores of autonomous ocean-observing platforms (AOOPs) were deployed along Tradewind Alley and the Boulevard des Tourbillons. The tracks of the surface vessels are shown in Fig. 4. These tracks, colored by measurements of the near-surface water temperature, show slightly more variability in water temperatures along the Boulevard des Tourbillons, in contrast with more steady westward warming of surface temperatures following the trades along Tradewind Alley. The more dynamic situation along the Boulevard des Tourbillons, as compared to the situation on the Tradewind Alley, required a different measurement strategy. For the former, research vessels actively tracked and surveyed mesoscale features, and for the latter the sampling was more statistical so as to better support the airborne measurements and cloud characterization.

Along Tradewind Alley, the R/V Meteor mostly worked along the line of longitude at 57.25∘ W between 12.4 and 14.2∘ N. The R/V Ron Brown, coordinating its measurements with the P-3, was stationed between the NTAS and the MOVE3 moorings in January and in the region upwind of the EUREC4A-Circle, near 55∘ W in February. For both positions, SWIFT buoys were deployed and recovered in coordination with P-3 airborne expendable bathythermograph (AXBT) soundings. A Saildrone, two Wave Gliders, an AutoNaut (Caravela), four underwater gliders, and extensive conductivity–temperature–depth (CTD) casts from the two ships profiled the upper ocean Fig. 5.

Along the Boulevard des Tourbillons the R/V MS-Merian and the R/V Atalante studied the meso- and submesoscale dynamics. Both research vessels extensively profiled the ocean's upper kilometer using a wide assortment of instruments, including underway CTDs, moving vessel profilers, vertical microstructure profilers (VMP and MSS), expendable bathythermographs (XBTs), and expendable CTDs (XCTDs). Three ocean gliders (one SeaExplorer and two Slocum electric gliders) provided dense sampling (more than 1300 profiles, most to at least 700 m, Fig. 5) of subsurface structures associated with mesoscale eddies. Of the roughly 8000 upper-ocean profiles performed during EUREC4A, nearly three-fourths were performed in coordination with the eddy sampling along the Boulevard des Tourbillons. Four Saildrones, 22 drifters and four deployments of two air–sea fluxes observing prototypes, OCARINA and PICCOLO, substantially expanded the observations at the ocean–atmosphere interface. Five Argo floats equipped with a dissolved-oxygen sensor were deployed to allow a Lagrangian monitoring of the ocean surface and subsurface dynamics during and after the campaign.

To effectively survey features in the active waters of the Boulevard des Tourbillons, the sampling strategy and cruise plan were assessed daily, using information from the previous day's measurements, updates from satellite products, weather forecasts, and ocean predictions. Tailored satellite products and model predictions were provided by a variety of groups4 to help track and follow surface features in near real time.
2.3

 Instrument clusters

EUREC4A set itself apart from past field studies both through new types of measurements, as performed by individual platforms, but also through the quantity or clustering of certain instruments. Instrument clustering means using similar instruments across a number of platforms so as to improve the statistical characterization of air masses and their evolution. The ability to make such measurements enables estimates of systematic and random measurement errors, giving rise to a different quality of measurement as compared to those made previously, especially in marine environments. Examples are described below and include the use of remote sensing, instruments for measuring stable water isotopologues, and drones. A platform-by-platform listing of the EUREC4A instrumentation is provided in Appendix B.
2.3.1

 Remote sensing

EUREC4A included eight cloud-sensitive Doppler (W- and Ka-band) radars. Four zenith-staring instruments were installed at surface sites (BCO, R/V MS-Merian, R/V Meteor, and R/V Ron Brown) and three on aircraft (nadir, zenith on the ATR, HALO, and the P-3). The ATR flew a second, horizontally staring, Doppler system. Two scanning radars (a C-band system installed on Barbados and a P-3 X-band tail radar) and three profiling rain radars (one at the BCO, another at the Caribbean Institute for Meteorology and Hydrology (CIMH), and a third on the R/V MS-Merian) measured precipitation. The R/V MS-Merian additionally had an X-Band radar installed for wave characteristics and surface currents over a roughly 2 km footprint around the ship. Fourteen lidars were operated, four of which were advanced (high-spectral-resolution, multi-wavelength) Raman or DIAL (differential absorption lidar) systems for profiling water vapor and aerosol/cloud properties. The Raman systems (at the BCO, on the R/V MS-Merian, and on the R/V Meteor) were upward-staring surface-mounted systems, and the DIAL aboard HALO operated in a nadir-staring mode (Wirth et al., 2009). On the ATR a backscatter UV lidar operated alongside the horizontally staring radar, looking horizontally to provide an innovative planform view of cloudiness near cloud base. In total, six wind lidars and three ceilometers were operated from the BCO and all research vessels except for the R/V Atalante. As an example of the sensor synergy arising from the multitude of sensors, Fig. 6 shows water vapor flux profiles (Behrendt et al., 2020) estimated from co-located vertically staring Doppler wind lidar and Raman (water vapor) lidar measurements from the ARTHUS system (Lange et al., 2019) aboard the R/V MS-Merian. This type of measurement strategy, employing a dense network of remote sensors to both improve sampling and realize synergies, is increasingly emphasized for land–atmosphere interaction studies (e.g., Wulfmeyer et al., 2018), but it is more difficult to realize, and thus uncommon, over the ocean.

More standard, but still unprecedented by virtue of its space–time–frequency coverage, was the contribution of airborne, surface, and space-based passive remote sensing to EUREC4A. Three 14-channel microwave radiometers operated from surface platforms, and a 25 channel nadir-staring system operated from HALO (Mech et al., 2014; Schnitt et al., 2017). Handheld sun-photometer measurements were made on all four research vessels, and an automated system operated from Ragged Point, near the BCO, provided additional constraints on estimates of aerosol loading (from lidars) and column water vapor (from radiometers). Infrared radiometers for measuring the surface skin temperature were operated on the ATR, HALO, the R/V Ron Brown, the BOREAL, and CU-RAAVEN UASs, as well as on the five Saildrones. For estimating fluxes of radiant energy, broadband longwave and shortwave radiometers were installed on three of the airborne (zenith and nadir) and surface (zenith) platforms. In addition, HALO and the R/V Meteor hosted high-spectral-resolution systems measuring shortwave and near-infrared down- and upwelling radiances (Wendisch et al., 2001). Near-real-time geostationary GOES-East satellite imagery and cloud product retrievals between 19∘ N–5∘ S and 49–66∘ W were collected, with finer temporal resolution every minute (between 14 January and 14 February, with a few data gaps from diversions to support hazardous weather forecasting in other domains) archived over most of this domain. ASTER's high-resolution (15 m visible and near-infrared, and 90 m thermal) imager on board TERRA was activated between 7–17∘ N and 41–61∘ W. It recorded 412 images of 60 km × 60 km in 25 overpasses between 11 January and 15 February. These images are complemented by Sentinel-2 data with images at 10 m resolution in some visible–near-infrared bands and 20 m resolution in shortwave-infrared bands relevant for cloud microphysical retrievals.

The intensity of remote sensing instrumentation in the vicinity of the EUREC4A-Circle will support efforts to, for the first time, observationally close the column energy budget over the ocean, as well as efforts to test hypotheses that link precipitation to processes across very different time and space scales.
2.3.2

 Stable water isotopologues

EUREC4A benefited from an unusually complete and spatially extensive network of stable water isotopologue measurements (HO, HO, and HDO) distributed across multiple platforms. Seven laser spectrometers and five precipitation sampling systems especially designed to avoid post-sampling re-evaporation were deployed. At the BCO, two laser spectrometers provided robust high-frequency measurements of isotopologues in water vapor and 46 event-based precipitation samples were collected. Three ships – the R/V Atalante, the R/V Meteor, and the R/V Ron Brown – were similarly equipped and in addition collected ocean water samples (340 in total) from the underway water line and the CTDs. These samples have been analyzed in the laboratory together with 50 shipboard rainfall samples. Two of the high-frequency laser spectrometers were mounted on the ATR and P-3 to measure the vertical distribution of water isotopologues. The airborne measurements also added continuity, sampling air masses between the BCO and R/V Meteor stations and between the R/V Meteor and the upwind R/V Ron Brown. The measurements provided very good coverage through the lower (3 km) atmosphere. Air-parcel backward trajectories based on three-dimensional wind fields from the operational ECMWF analyses indicate that boundary layer air came almost exclusively from the east, with a more heterogeneous origin of air masses sampled above 2500 m (Fig. 7; see also Aemisegger et al., 2021). Large-scale context for the in situ measurements will be provided by retrievals of atmospheric HDO and HO from spaceborne instruments.

The size of the network of isotopologue measurements and the degree of coordination among the different measurement sites will enable investigations of the variability of the stable water isotopologues – in space and time, in ocean water, atmospheric vapor, and precipitation following the trades – that were previously not possible.
2.3.3

 Drones and tethered platforms

A diversity of tethered and remotely piloted platforms provided measurements in the lower atmosphere and upper ocean. Many of these had been used in past field studies, but what set EUREC4A apart was its coordinated use of so many platforms. Five fixed-wing systems and a quadcopter provided approximately 200 h of open-ocean atmospheric profiling, while seven underwater gliders profiled the underlying ocean well over a thousand times, mostly between the surface and 700 m. Figure 8 presents measurements from one of the underwater gliders and the CU-RAAVEN – which along with the other fixed-wing systems (BOREAL and Skywalkers) was flown from Morgan Lewis Beach, a windward beach about 20 km north of the BCO. The measurements highlight the boundary layers on either side of the air–sea interface – one (in the atmosphere) extending to about 700 m and capped by a layer that is stably stratified with respect to unsaturated, but unstable with respect to saturated, convection. The typical ocean mixed layer was as impressively well mixed, but over a layer about 10 times shallower. Here the measurements document the peculiar situation of salinity maintaining the stratification that caps the downward growth of the ocean mixed layer. Ship-based measurements of the air–sea interface were greatly extended by 5 Saildrones, 3 wave gliders, 6 SWIFT drifters, 2 autonomous prototype drifters (OCARINA and PICCOLO), and 22 drifters. In Fig. 8 the air–sea temperature difference of about 0.8 K is based on Saildrone data, which also quantifies the role of moisture in driving density differences. During EUREC4A more than half of the density difference between the near-surface air and air saturated at the skin temperature of the underlying ocean can be attributed to variations in the specific humidity.

Kite-stabilized helium balloons, known as Max Planck CloudKites (MPCKs), made their campaign debut during EUREC4A. Three instrument systems were flown. One large MPCK+ instrument was flown on the R/V MS-Merian, suspended from the larger aerostat (115 kg lift, 1.5 km ceiling) to sample clouds. Two smaller mini-MPCK instruments were flown both on the same aerostat and the smaller aerostat on the R/V Meteor (30 kg lift, 1 km ceiling), which focused on boundary layer and cloud-base profiling. Measurements from the CloudKites are used to quantify the cloud coverage in Fig. 8.
3
 EUREC
4
A's seven science facets
In this section we elaborate on topics that motivated EUREC4A and how this influenced the measurement strategy. The presentation aims to emphasize novel contributions without loosing sight of the need to also provide a clear sketch of the campaign as a whole. Additional details describing the activities of specific platforms, or groups of platforms, are being described in complementary data papers, and a full listing of the deployed instrumentation is presented in Appendix B.
EUREC4A advanced a culture of open and collaborative use of data. It did so by initiating a series of discussions, starting well before the field campaign and culminating in a document outlining principles of good scientific practice. In arriving at these principles emphasis was placed on understanding the differing cultural contexts in which data are collected. For instance, the degree to which measurements are made by individual investigators, or made for investigators by institutions, were often colored by different national practice. Differences in how measurements are made lead to differences in expectations as to how the resultant data should be made available and used and thus reflect this national coloring. EUREC4A defined "good scientific practice" in terms of four principles, summarized below:
To actively support the initial dispersal of data by making (even preliminary) data available to everyone as quickly as possible through the AERIS archive.

To publish finalized data in ways that ensure open and long-term availability and bestow appropriate credit on those who collected it.

To actively attempt to meaningfully involve those who collected data in their analysis at the early stages of their use.

To provide clear, timely, and unprompted feedback on the use of the data, both by the analysis community for the instrument groups and vice versa.
Most of the data collected during EUREC4A are already available on the AERIS archive, much of them are described by data papers published, or being published, as part of this ESSD special issue.
Examples of "bad practice" were also outlined – for example (i) in the first years after the campaign using data for specific analysis without asking the data provider whether/how this analysis overlaps with his/her current analysis efforts, (ii) using someone's data to write a paper and then sending the paper to the data providers only as it is about to be submitted and offering authorship, or (iii) by assigning co-authorship on the basis of someone's status rather than through substantive contributions. "Good practice" would have been to intellectually involve the data provider at an early stage of the study. "Good practice" also recognized the importance of providing intellectual space for young scientists to independently develop their ideas – giving them a bit more time to recognize and reach what a more experienced colleague might more immediately recognize as low-hanging fruit.
Authorship of the present paper recognizes all technical/scientific contributions to the data collection. The ways in which each author contributed to EUREC4A are summarized in the Supplement on author contributions.
4.1

 Data

The data collected during EUREC4A will, in different stages of development, be uploaded and archived on the AERIS data center. The AERIS data center is part of the French Data Terra research infrastructure, which has the objective to facilitate and enhance the use of atmospheric data, whether from satellite, aircraft, balloon, or ground observations, or from laboratory experiments. It generates advanced products and provides services to facilitate data use, to prepare campaigns, and to interface with modeling activities.

In addition, emphasis is being placed on the publishing of datasets through a special collection of articles in Earth System Science Data. Many of these data papers will involve the construction of cross-platform datasets, for instance for the upper-air network, or dropsondes, isotope measurements, or classes of remote sensors. At the end of the data collection phase, all data on AERIS will be mirrored by the Caribbean Institute for Meteorology and Hydrology in Barbados.
4.2

 Environmental impact

EUREC4A was motivated by an interest to better anticipate how Earth's climate will change with warming. This makes it all the more relevant to ask how EUREC4A exacerbates the problems it attempts to understand, or more pertinently, whether it made appropriate use of scarce resources. The first step in answering this question is to estimate the magnitude of its environmental impact. We do so here mostly in terms of EUREC4A's carbon footprint, which we estimate (see Appendix A for details) to be 5000 t of CO2. The marginal increase – EUREC4A took place at the expense of other campaigns – is of course much less. The main contribution to the carbon footprint was from fossil fuels (kerosene and diesel) used to power the research platforms. The travel of the participating scientists contributed non-negligibly (5 %) to EUREC4A's carbon footprint and provides context for the total emissions.

When learning about EUREC4A many people become concerned about the environmental impact of the dropsondes – a concern shared by some of the present authors. The sondes have been designed to sink to the ocean floor after descending to the sea surface. As elaborated upon in Appendix A, this along with the choice of materials (including batteries), and their small size (which with planned modifications may be reduced by a further factor of 2), results in the environmental impact of the use of even a very large number of sondes themselves being minimal. One hesitates to call any environmental impact negligible, but compared to many of the other activities – let alone the initial emotional response to the idea of throwing objects out of an aircraft – this is probably an apt description.

The potential of using yet smaller sondes, or smaller platforms in general, to further reduce environmental impacts was vividly illustrated by EUREC4A's extensive use of robotic sensors (uncrewed aerial systems, UASs; autonomous ocean-observing platforms, AOOPs). In many cases these provided more agile and less energy intensive ways of sampling the environment. For instance, the Saildrones, Wave Gliders, and AutoNaut (Caravela) make use of renewable energy sources for their propulsion (e.g., wind for Saildrones, waves for the Wave Gliders and AutoNaut), and for their scientific sensors (solar panels).

Validation for EUREC4A's use of the resources was experienced not just through the data collected, but also through the social interactions that the campaign enabled. These, as discussed in Sect. 3.7, were expressed in bonds of friendship that were established and through the many opportunities that were presented through the outreach and capacity building activities (Fig. 22). Further validation of EUREC4A's use of resources depends on how the gained data advances scientific understanding to help humanity. This ultimately depends on what is done with the data – something over which we, the authors, have considerable influence and responsibility. We very much hope this realization will motivate a determination to learn as much as possible from the EUREC4A measurements and that the importance of supporting such efforts is recognized by funding agencies. We also acknowledge the imperative this creates to make the hard-won data easy to access and use, e.g., through data papers, and to also communicate what we learned from our efforts, as widely and freely as possible.
A standardized (CF-1.8 compliant) track data set provides the trajectory data for the 59 mobile platforms deployed during EUREC4A. Trajectories are described by the latitude and longitude (and altitude or depth as applicable) of each platform as a function of time. Airborne platforms are segmented by flight. The data are freely available on the AERIS archive (https://doi.org/10.25326/165, Stevens, 2021). The EUREC4A film is freely available on the AERIS archive (https://doi.org/10.25326/224, Lena et al., 2021).
Field studies are commonplace, and each – by virtue of taking a snapshot of nature at a given point in time and space – is unique and unprecedented. This is in itself not particularly remarkable. Field studies involving such a large number of investigators and such a large degree of coordination, as was the case in EUREC4A, are uncommon, but also this represents little more than an organizational achievement. Moreover, many of the questions EUREC4A attempted to address have been the focus of past field studies. For instance, air–sea interaction was at the heart of the original Barbados field study, BOMEX (Holland and Rasmusson, 1973). Likewise a great number of studies, most recently the Convective Precipitation Experiment (Leon et al., 2016) and Rain in Cumulus over the Ocean (RICO Rauber et al., 2007), had warm-rain formation processes as a central focus. The influence of boundary layer processes on cloud formation was already extensively studied by Malkus (1958) and again more recently by Albrecht et al. (2019). Field studies to measure aerosol–cloud interactions are myriad and include very large international efforts such as the Indian Ocean Experiment (Ramanathan et al., 2001). And with new insights from modeling, an increasing number of studies have begun to focus on ocean meso- and submesoscale dynamics (Shcherbina et al., 2013; Buckingham et al., 2016; D'Asaro et al., 2018). What made EUREC4A an improvement was neither its size nor many of its specific questions – rather it was EUREC4A's ability to quantify a specific process: the link between circulation and cloudiness. Doing so opened the door to characterizing the totality of processes believed to influence the structure of the lower atmosphere and upper ocean in the region of the trades. This is what made EUREC4A special.
The execution of EUREC4A was successful. All of the measurements we set out to make have been made. For some key quantities, such as the mean mesoscale vertical motion field, preliminary analyses (e.g., Fig. 9) suggest that the measurements sampled substantial variability, which bodes well for testing the hypothesized link between cloudiness and cloud-based mass fluxes. The analysis of other measurements, such as those that aim to quantify clouds, is more delicate and ongoing. We anticipate that each step of the subsequent analysis of the EUREC4A data will teach us a great deal more about the ways of clouds, how they couple to circulation systems on different scales, how they influence and are influenced by the upper ocean, the extent to which they are susceptible to perturbations in the aerosol environment, and how precipitation links processes across scales. At the very least a better quantification of these sensitivities should help us understand to what extent a warmer world will express the majesty of the clouds in the trades less markedly.
Appendix A:
 Estimates of environmental impact
With a specific density of 0.82 kg L−1 we can compute the total CO2 emissions from aircraft operations as 629 497 L ×3 kg CO2 kg-fuel ×0.82 kg-fuel L 548 562 kg of CO2 emissions, or roughly 1500 t.
Estimates of the fuel consumption for the research vessels are larger as they operate around the clock and support the life of a community of scientists and their laboratories at sea. They are also more roughly estimated. We begin with numbers from the R/V Meteor, which burns sulfate-reduced diesel. Its burn rate is estimated as 5000 L d−1 when stationary and as much as twice that much when under way. Given that the ships were generally steaming but with station work mixed in, we adopt a burn rate of 8000 L d−1. Diesel is denser than kerosene and produces more CO2 per kilogram. We adopt a conversion of 3.15 kg of CO2 for every kilogram of diesel and a density of 0.85 kg L−1. Based on this we estimated that the R/V Meteor burned 21 420 kg d−1. The reported fuel use for the R/V Ron Brown was 79 922 gallons or 363 333 L, which included the ferry to and from a home port. This fuel burn corresponds to 972 823 kg of CO2. Assuming 35 d of operations, this corresponds to a burn rate of 10 380 L d−1. For our estimates we adopt the 8000 L d−1 burn rate for all the ships and estimate 5 d of ship ferry time, so for four ships each with 30 d−1 of ship time we end up with a total emission of 3000 t of CO2, which is about twice the direct emissions from the research aircraft. The ship numbers are not offset by the reduced personal emissions of those on the ship, i.e., who do not need hotels, or rental cars, or the operation of their home labs, and often have reduced travel, but this is likely minor.
We estimated that 200 people traveled to EUREC4A. If each is further assumed to have flown 15 000 km (about the round-trip distance from Frankfurt to Grantley Adams International Airport in Barbados) in economy class, then we can adopt an emission estimate of 75 gCO2km−1 per passenger (from Atmosfair for a non-stop flight with an Airbus 340–500). This 200×15 000 km ×75 gCO2km 000 kg of CO2 emissions. More modern aircraft have substantially reduced emissions (60 g km−1), then again carbon-offsetting schemes often estimate a 3-fold larger equivalent emission due to the inclusion of other factors.
The environmental impact of the sondes is informed by life cycle analyses that Vaisala has commissioned for their radiosondes, as well as our own analysis. The life cycle analysis identified "the production of the printed circuit board and the electricity used during the assembly [as having] the most significant effect on the environmental impacts". But this analysis did not consider the impact of the waste, beyond issues of things like battery toxicity. In this regard the lithium batteries used by the sondes had the least environmental impact of all available choices, i.e., alkaline or water-activated batteries. We estimated that 1.2 kg of lithium was deposited with the sondes in the ocean – which is roughly equivalent to what would be found naturally in the seawater displaced by one of the EUREC4A research vessels. Plastic sensor casings, parachutes, and/or remainders of the latex balloon add an additional impact. This is minimized by designing the sondes to sink to the ocean floor. Efforts are ongoing to identify different materials to further reduce the environmental impact of the sondes. One also questions whether the potential energy loss by the sonde could be used to power the instrumentation and whether a different and smaller sonde could forgo the use of a parachute.
Author contributions are grouped (alphabetically) in different categories of contribution. BS and SB conceived of and led EUREC4A and the preparation and writing of this paper. DF co-led the coordination as the local lead principal investigator (PI). FA, AB, CF, JK, PKQ, and SaS conceived of and led a major component of EUREC4A. AB, DF, and SaS additionally contributed substantially to the preparation of the paper. The next grouping of authors, beginning with CA, made major contributions to the broader coordination and execution of scientific and/or dissemination activities. The final group of authors, beginning with NA, served as instrument PIs and/or made substantial contributions to the scientific preparation, execution, and/or dissemination activities. The groupings are subjective and imperfect but were motivated in part by the desire to better highlight the initiative of early career scientists in taking on responsibility and contributing to both the intellectual and organizational foundations of EUREC4A. Specific contributions, as self statements, are recorded as part of the scientific documentation.
The authors declare that they have no conflict of interest.
Publisher's note: Copernicus Publications remains neutral with regard to jurisdictional claims in published maps and institutional affiliations.
This article is part of the special issue "Elucidating the role of clouds–circulation coupling in climate: datasets from the 2020 (EUREC4A) field campaign". It is not associated with a conference.
The authors thank the people and government of Barbados for their support of EUREC4A. Without the hospita