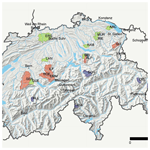 1

Hydrology and Climate Unit, Department of Geography, University of Zurich, 8057 Zürich, Switzerland

2

Chair of Hydrology, University of Freiburg, 79098 Freiburg, Germany

3

Chair of Environmental Hydrological Systems, University of Freiburg, 79098 Freiburg, Germany
Correspondence: Maria Staudinger (maria.staudinger@geo.uzh.ch)
Received: 08 Feb 2020 – Discussion started: 04 May 2020 – Revised: 30 Sep 2020 – Accepted: 14 Oct 2020 – Published: 25 Nov 2020
The stable isotopes of oxygen and hydrogen, 18O and 2H, provide information on water flow pathways and hydrologic catchment functioning. Here a data set of time series data on precipitation and streamflow isotope composition in medium-sized Swiss catchments, CH-IRP, is presented that is unique in terms of its long-term multi-catchment coverage along an alpine to pre-alpine gradient. The data set comprises fortnightly time series of both δ2H and δ18O as well as deuterium excess from streamflow for 23 sites in Switzerland, together with summary statistics of the sampling at each station. Furthermore, time series of δ18O and δ2H in precipitation are provided for each catchment derived from interpolated data sets from the ISOT, GNIP and ANIP networks. For each station we compiled relevant metadata describing both the sampling conditions and catchment characteristics and climate information. Lab standards and errors are provided, and potentially problematic measurements are indicated to help the user decide on the applicability for individual study purposes. For the future, the measurements are planned to be continued at 14 stations as a long-term isotopic measurement network, and the CH-IRP data set will, thus, continuously be extended. The data set can be downloaded from data repository Zenodo at https://doi.org/10.5281/zenodo.4057967 (Staudinger et al., 2020).
There are significant differences in the isotopic contents of seawater, freshwater (Gilfillan, 1934), rain and snow. The isotopic composition in precipitation further depends on meteorological influences such as air temperature, rainfall amount and rainfall intensity, and location parameters such as altitude, latitude and distance from the coast (Dansgaard, 1953, 1964; Epstein, 1956; Friedman, 1953).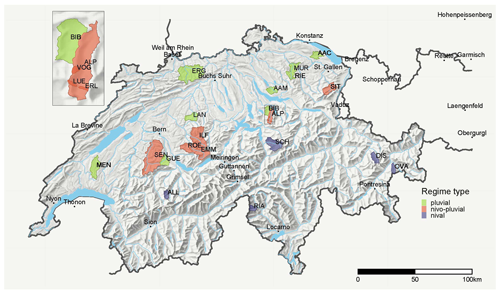 When tracing the path of water through a hydrological system such as a catchment, the composition of the stable water isotopes δ18O and δ2H of precipitation changes by the time it reaches the stream. The isotopic signal in the precipitation is changed along the water flow pathways through a catchment, resulting in a temporal delay and a dampened amplitude of the signal in the streamflow. This signal change can be modelled using water transit time distributions or other approaches to consider water ages and, hence, can help improve the understanding of hydrological functioning of catchments. Event-based isotope sampling has long been the basis for hydrograph separation in hydrological research and allows quantifying pre-event and event water contributions to soil water, streamflow or groundwater (Christophersen et al., 1990; Klaus and McDonnell, 2013; Sprenger et al., 2019). More extended time series of the isotopic composition of catchment discharge – i.e., streamflow – allow the estimation of water transit times and storage of catchments (McGuire and McDonnell, 2006). Besides their value in the development, calibration and validation of a wide variety of catchment hydrological models, these data sets also have a demonstrated value for catchment intercomparisons in, for instance, Sweden (Lyon et al., 2010), Oregon (McGuire et al., 2005) and different northern regions (Tetzlaff et al., 2009). McGuire et al. (2005) used isotopic data for a 3-year period to quantify mean transit times for seven partly nested catchments in the Cascades, Oregon, USA, and found good relations to topographic indices such as the catchment average of L ∕ G, where L is the distance from the stream and G is the gradient to the stream. In a similar study in northern Sweden based on 15 snow-dominated subcatchments of the Krycklan catchment, Lyon et al. (2010) found wetlands to be a controlling factor for catchment transit times. Tetzlaff et al. (2009) compiled a data set of 55 catchments in different regions in the northern temperate zone. Their analysis showed that topography is an essential control in catchments with a pronounced topography, whereas the topographic influences are smaller in regions with a flatter topography. In the latter, hydrological soil characteristics become relatively more important.
Here, we present a long-term data set consisting of δ2H and δ18O values for streamflow and precipitation for 23 catchments in Switzerland and discuss the applicability of the data. The collection of this data set started in 2010 as part of the DROUGHT-CH project (Seneviratne et al., 2013) and is still continuing.
2.1

 δ2H and δ18O for streamflow
2.2

 δ2H and δ18O for precipitation

For isotopes in precipitation, data from the National Network for the Observation of Isotopes in the Water Cycle (ISOT; see Schotterer, 2010) were used to predict precipitation isotopes for the selected catchments. For the catchments close to the Swiss border, data from the Austrian network (ANIP) as well as the global network (GNIP) were also used to allow for a better interpolation. Average gradients for each month were calculated from a representative gradient based on three ISOT stations (Fig. 1). Monthly δ18O and δ2H values corrected to sea level elevation were computed for every measurement site of the original network by multiplying the respective average gradient for the month with the elevation of the respective ISOT station and adding it to the isotopic signal measured at this site. The corrected average monthly δ18O and δ2H values were interpolated in space by Kriging (Delhomme, 1978; implemented for R in the gstat package by Pebesma, 2004), resulting in continuous monthly maps (example for δ18O in Fig. 8). In order to obtain an estimate of precipitation isotopic signature for any desired location, the deviation of the closest available measurement site from its long-term average value of the respective month was combined with the interpolated map of corrected average values for the respective month. A more detailed description of the interpolation method can be found in Seeger and Weiler (2014).

Due to limited availability of precipitation isotope data time series with an appropriate length, the data were only validated qualitatively (Seeger and Weiler, 2014), by comparing the predicted isotope values to limited time series of sites situated in northeastern and central Switzerland. The comparison between the interpolated data and validation data suggested good agreement. However, explorative simulations by Seeger and Weiler (2014) also showed a bias of up to 2 ‰ for δ18O between the interpolated precipitation values and the measured discharge values. This suggests that the interpolated values are well suited to predict the amplitudes of the temporal variations of the precipitation isotopes, while the steep topography of the Swiss Alps might lead to regional inhomogeneities that are not fully captured by the data underlying the interpolation procedure.
2.3

 Data file format

δ2H and δ18O in streamflow are provided as one ASCII.txt file for each station. Additionally to these time series each of the files contains the deuterium excess, the streamflow conditions preceding the sampling (Q sampling index and streamflow percentiles) and the z scores indicating if a sample might be a statistical outlier, assuming the data are normally distributed. All files contain further information for each sample regarding whether double measurement was performed in the lab, indicating for instance special sampling conditions (e.g., ice) or storage-related issues that could alter the isotopic composition due to fractionation (e.g., sample bottle not closed tightly).

For each data file for streamflow data there is a corresponding ASCII.txt file for catchment precipitation. These contain the interpolated δ2H and δ18O in precipitation for the catchment as well as the source data that were used to derive the interpolated values.
2.4

 Associated data

The data set is complemented by daily precipitation and air temperature for each catchment as well as the shapefiles for the topographical catchment boundaries. The underlaying data for the areal precipitation sums and the areal air temperature averages were extracted from the gridded data products "Rhires" and "Tabs" from MeteoSwiss, respectively. The gridded data were masked with the shapefile of the catchment, and the arithmetic mean of each grid cell value for each day was calculated to obtain mean areal air temperature and precipitation. For grid cells that were only partially within the catchment boundaries their value was included in the mean, assigning a weight according to the percentage intersecting the mask. These data are provided together with the isotopic data as separate ASCII.txt files. The shapefiles of the catchment boundaries are also provided. These were extracted from a data set comprising the topographic catchment boundaries of gauged federal stations (FOEN, https://data.geo.admin.ch/ch.bafu.hydrologie-hydromessstationen/ch.bafu.hydrologie-hydromessstationen_einzugsgebiete.zip, last access: 14 October 2020).
3
 Data application and outlook
This data set with isotope data from precipitation and streamflow allows the estimation of mean transit times. With these, catchment water storage (mobile storage) can be estimated and may be related to the sensitivity to droughts (Staudinger et al., 2017). From this data set, young water fractions can also be calculated; for instance, using the data presented here, Von Freyberg et al. (2018b) assessed how sensitive the young water fraction is to both hydro-climatic forcing and catchment properties. Using the δ18O values in precipitation and streamflow for 12 catchments of the presented data set, Allen et al. (2019) assessed whether summer or winter precipitation is overrepresented in streamflow, relative to its proportion of total precipitation. Parts of this data set (composition of isotopes in precipitation) were also used to re-investigate the relationship between transit times and catchment topography (Seeger and Weiler, 2014).
In 2019 we were still collecting data for 14 sites, and it is planned to continue these observations. A long-term sampling will allow for more robust estimations of storages and young water, and hence for a more robust reassessment of the mentioned studies. The growing data set will also provide opportunities for a closer look at catchment transit times and storages. The data set will, for instance, allow us to compare different conditions such as dry or wet years or the effects of extreme events.
Additional data that may be useful for potential applications are time series of streamflow and shapefiles of the catchments, which are both provided by the Swiss FOEN; meteorological time series, which are provided by MeteoSwiss; and a digital elevation model of Switzerland, which is provided by Swisstopo.
MS, JS, KS and MW designed the sampling net; BH and MS did the lab analysis and maintained the data bank. SS interpolated the isotopes in precipitation. MS wrote the first draft of the manuscript. All authors contributed to the discussion and revised the submitted manuscript.
The authors declare that they have no conflict of interest.
We thank all the people who went out to take samples, many of them starting in 2010 and continuing until today. We want to explicitly mention Martin Altermatt, Tiefbauamt Basel-Land, Heinz Aschwanden and Roland Gamma (Tiefbauamt Kanton Uri) and Kari Steiner (WSL). Financial support for this long-term sampling campaign came from the Swiss National Science Foundation (NFP61 "Drought-CH", 2010–2016), the Swiss Federal Office for the Environment (FOEN) (project "Auswirkungen der Klimaveränderung auf das Grundwasser und Niedrigwasser, November 2013–December 2016, contract 13.0055.PJ/M372-1682) and the University of Zurich. The basic data for the interpolation of isotopic compositions in precipitation came from ISOT provided by FOEN, the National Groundwater Monitoring (NAQUA) from GNIP provided by IAEA and ANIP from the Environment Agency Austria. The streamflow data were provided by FOEN and the Office of Waste, Water, Energy and Air, WWEA, Kanton Zürich.
We further thank the two anonymous reviewers for their valuable comments on the manuscript and the data set.
This research has been supported by the Swiss National Science Foundation (grant no. 406140_125925).
This paper was edited by David Carlson and reviewed by two anonymous referees.
Allen, S. T., Von Freyberg, J., and Kirchner, J. W.: The Seasonal Origins of Streamwater in Switzerland Geophysical Research Letters, 46, 425–434, https://doi.org/10.1029/2019GL084552, 2019. 
Bitterli, T., George, M., Matousek, F., Christe, R., Aviolat, P., Fracheboud, S., Brändli, R., and Frey, D.: Grundwasservorkommen, Hydrologischer Atlas der Schweiz, Tafel 8.4, Bern, 2004. 
Christophersen, N., Neal, C., Hooper, R. P., Vogt, R. D., and Andersen, S.: Modelling streamwater chemistry as a mixture of soilwater end-members – A step towards second-generation acidification models, J. Hydrol., 116, 307–320, https://doi.org/10.1016/0022-1694(90)90130-P, 1990. 
Craig, H.: Isotopic Variations in Meteoric Waters, Science, 133, 1702–1703, https://doi.org/10.1126/science.133.3465.1702, 1961. 
Dansgaard, W.: The Abundance of O18 in Atmospheric Water and Water Vapour, Tellus, 5, 461–469, 1953. 
Dansgaard, W.: Stable isotopes in precipitation, Tellus, 16, 436–468, https://doi.org/10.3402/tellusa.v16i4.8993, 1964. 
Delhomme, J. P.: Kriging in the hydrosciences, Adv. Water Resour., 1, 251–266, https://doi.org/10.1016/0309-1708(78)90039-8, 1978. 
Epstein, S.: Variations of the 18O/16 O Ratios of Freshwater and Ice. Report No. 19, 1956. 
Fischer, B. M. C., Stahli, M., and Seibert, J.: Pre-event water contributions to runoff events of different magnitude in pre-alpine headwaters, Hydrol. Res., 48, 28–47, https://doi.org/10.2166/nh.2016.176, 2016. 
Fischer, B. M. C., van Meerveld, H. J., and Seibert, J.: Spatial variability in the isotopic composition of rainfall in a small headwater catchment and its effect on hydrograph separation, J. Hydrol., 547, 755–769, https://doi.org/10.1016/j.jhydrol.2017.01.045, 2017. 
Friedman, I.: Deuterium content of natural waters and other substances, Geochim. Cosmochim., 4, 89–103, 1953. 
Gilfillan, E. S.: The Isotopic Composition of Sea Water, J. Am. Chem. Soc., 56, 406–408, https://doi.org/10.1021/ja01317a037, 1934. 
Gonfiantini, R.: The d-notation and the mass-spectrometric measurement techniques, in: Stable Isotope Hydrology, Deuterium and Oxygen-18 in the Water Cycle, edited by: Gat, J. R. and Gonfiantini, R., Technical Reports Series No. 210, IAEA, 35–84, Vienna, 1981. 
Gourcy, L. L., Groening, M., and Aggarwal, P. K.: Stable Oxygen and Hydrogen Isotopes in Precipitation, in: Isotopes in the Water Cycle, Springer-Verlag, Berlin/Heidelberg, 39–51, 2005. 
Kiewiet, L., van Meerveld, I., and Seibert, J.: Effects of spatial variability in the groundwater isotopic composition on hydrograph separation results for a pre‐alpine headwater catchment, Water Resour. Res., 56, e2019WR026855, https://doi.org/10.1029/2019WR026855, 2020. 
Klaus, J. and McDonnell, J. J.: Hydrograph separation using stable isotopes: Review and evaluation, J. Hydrol., 505, 47–64, https://doi.org/10.1016/j.jhydrol.2013.09.006, 2013. 
Knapp, J. L. A., Neal, C., Schlumpf, A., Neal, M., and Kirchner, J. W.: New water fractions and transit time distributions at Plynlimon, Wales, estimated from stable water isotopes in precipitation and streamflow, Hydrol. Earth Syst. Sci., 23, 4367–4388, https://doi.org/10.5194/hess-23-4367-2019, 2019. 
Lyon, S. W., Laudon, H., Seibert, J., Mörth, M., Tetzlaff, D., and Bishop, K. H.: Controls on snowmelt water mean transit times in northern boreal catchments, Hydrol. Process., 24, 1672–1684, https://doi.org/10.1002/hyp.7577, 2010. 
Marti, P. and Kan, C.: NQStat: Vergleich der Trockenjahre 1947 und 2003 – ein Anwendungsbeispiel der Niedrigwasser-Datenbank NQStat, Wasser Energ. Luft 95, 333–336, 2003. 
McGuire, K. J. and McDonnell, J. J.: A review and evaluation of catchment transit time modeling, J. Hydrol., 330, 543–563, https://doi.org/10.1016/j.jhydrol.2006.04.020, 2006. 
McGuire, K. J., McDonnell, J. J., Weiler, M., Kendall, C., McGlynn, B. L., Welker, J. M., and Seibert, J.: The role of topography on catchment-scale water residence time, Water Resour. Res., 41, W05002, https://doi.org/10.1029/2004WR003657, 2005. 
Pebesma, E. J.: Multivariable geostatistics in S: the gstat package, Comput. Geosci., 30, 683–691, https://doi.org/10.1016/J.CAGEO.2004.03.012, 2004. 
Rücker, A., Boss, S., Kirchner, J. W., and von Freyberg, J.: Monitoring snowpack outflow volumes and their isotopic composition to better understand streamflow generation during rain-on-snow events, Hydrol. Earth Syst. Sci., 23, 2983–3005, https://doi.org/10.5194/hess-23-2983-2019, 2019. 
Schotterer, U.: Wasserisotope in der Schweiz – Neue Ergebnisse und Erfahrungen aus dem nationalen Messnetz ISOT, Wasser – EAUX, 12, 1073–1081, 2010. 
Seeger, S. and Weiler, M.: Reevaluation of transit time distributions, mean transit times and their relation to catchment topography, Hydrol. Earth Syst. Sci., 18, 4751–4771, https://doi.org/10.5194/hess-18-4751-2014, 2014. 
Seneviratne, S. I., Orth, R., Jörg-hess, S., Kruse, S., Seidl, I., Stähli, M., Zappa, M., Seibert, J., Staudinger, M., Stahl, K., and Weiler, M.: Trockenheit in der Schweiz, Aqua Gas, 9, 38–47, 2013. 
Staudinger, M., Stoelzle, M., Seeger, S., Seibert, J., Weiler, M., and Stahl, K.: Catchment water storage variation with elevation, Hydrol. Process., 31, 2000–2015, https://doi.org/10.1002/hyp.11158, 2017. 
Staudinger, M., Seeger, S., Herbstritt, B., Stoelzle, M., Seibert, J., Stahl, K., and Weiler, M., The CH-IRP data set: fortnightly data of δ2H and δ18O in streamflow and precipitation in Switzerland (Version Version 1) [Data set], Zenodo, https://doi.org/10.5281/zenodo.4057967, 2020. 
Sprenger, M., Stumpp, C., Weiler, M., Aeschbach, W., Allen, S. T., Benettin, P., Dubbert, M., Hartmann, A., Hrachowitz, M., Kirchner, J. W., McDonnell, J. J., Orlowski, N., Penna, D., Pfahl, S., Rinderer, M., Rodriguez, N., Schmidt, M., and Werner, C.: The Demographics of Water: A Review of Water Ages in the Critical Zone, Rev. Geophys., 57, 800–834, https://doi.org/10.1029/2018RG000633, 2019. 
Tetzlaff, D., Seibert, J., McGuire, K. J., Laudon, H., Burns, D. A., Dunn, S. M., and Soulsby, C.: How does landscape structure influence catchment transit time across different geomorphic provinces, Hydrol. Process., 23, 945–953, 2009. 
van Meerveld, H. J., Fischer, B. M. C., Rinderer, M., Stähli, M., and Seibert, J.: Runoff generation in a pre-alpine catchment: A discussion between a tracer and a shallow groundwater hydrologist, Geogr. Res. Lett., 44, 429–452, https://doi.org/10.18172/cig.3349, 2018. 
von Freyberg, J., Studer, B., Rinderer, M., and Kirchner, J. W.: Studying catchment storm response using event- and pre-event-water volumes as fractions of precipitation rather than discharge, Hydrol. Earth Syst. Sci., 22, 5847–5865, https://doi.org/10.5194/hess-22-5847-2018, 2018a. 
von Freyberg, J., Allen, S. T., Seeger, S., Weiler, M., and Kirchner, J. W.: Sensitivity of young water fractions to hydro-climatic forcing and landscape properties across 22 Swiss catchments, Hydrol. Earth Syst. Sci., 22, 3841–3861, https://doi.org/10.5194/hess-22-3841-2018, 2018b. 
Wassenaar, L. I., Terzer-Wassmuth, S., Douence, C., Araguas-Araguas, L., Aggarwal, P. K., and Coplen, T. B.: Seeking excellence: An evaluation of 235 international laboratories conducting water isotope analyses by isotope-ratio and laser-absorption spectrometry, Rapid Commun. Mass Spectrom., 32, 393–406, https://doi.org/10.1002/rcm.8052, 2018.