Articles | Volume 15, issue 7
https://doi.org/10.5194/essd-15-3263-2023
© Author(s) 2023. This work is distributed under
the Creative Commons Attribution 4.0 License.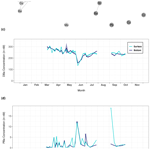 HIPPO environmental monitoring: impact of phytoplankton dynamics on water column chemistry and the sclerochronology of the king scallop (Pecten maximus) as a biogenic archive for past primary production reconstructions
As part of the HIPPO (HIgh-resolution Primary Production multi-prOxy archives) project, environmental monitoring was carried out between March and October 2021 in the Bay of Brest. The aim of this survey was to better understand the processes which drive the incorporation of chemical elements into scallop shells and their links with phytoplankton dynamics. For this purpose, biological samples (scallops and phytoplankton) as well as water samples were collected in order to analyze various environmental parameters (element chemical properties, nutrients, chlorophyll a, etc.). Given the large number of parameters that were measured, only the major results are presented and discussed here. However, the whole dataset, which has been made available, is much larger and can potentially be very useful for other scientists performing sclerochronological investigations, studying biogeochemical cycles or conducting various ecological research projects. The dataset is available at https://doi.org/10.17882/92043 (Siebert et al., 2023).
Received: 30 Jan 2023 – Discussion started: 02 Feb 2023 – Revised: 19 Jun 2023 – Accepted: 23 Jun 2023 – Published: 27 Jul 2023
Primary producers form the foundation of marine food webs, control population sizes at higher trophic levels and influence fish stock recruitment (Chassot at al., 2010). Marine photoautotrophic organisms are responsible for nearly half of global net primary production and fix substantial amounts of carbon (Field et al., 1998). Despite their key role in the functioning of marine ecosystems and the global climate, past primary production dynamics and mechanisms controlling them have not been well characterized (Boyce et al., 2010), especially for time intervals prior to instrumental recording and significant anthropological disturbances of biogeochemical cycles. Available data sources on changes in marine primary production do not provide the necessary temporal resolution, are too short to determine long-term trends and do not cover the entirety of photoautotroph taxa. To compensate for this lack of past data, biogenic archives have been interrogated, such as bivalve shells, to track the past dynamics of primary production. It has already been shown that some bivalve species incorporate trace elements into their skeletal structures (made of calcite or aragonite) and that the observed trends follow the patterns of the dynamics of primary producers in the water column (e.g., Stecher et al., 1996; Barats et al., 2009; Thébault et al., 2009; Doré et al., 2020). In particular, the king scallop, Pecten maximus can record these signals at a daily scale, allowing high-resolution temporal reconstructions (Chauvaud et al., 1998; Thébault and Chauvaud, 2013; Fröhlich et al., 2022a). The research project HIPPO aims to better understand these environmental proxies and to develop new tracers and integrate them in a multi-proxy approach. For this purpose, environmental monitoring with a high temporal resolution was set up in 2021 in the Bay of Brest (France). Here, an overview of the physical, biological and chemical parameters of the seawater is presented along with geochemical data of king scallop shells. All data were obtained during the HIPPO survey.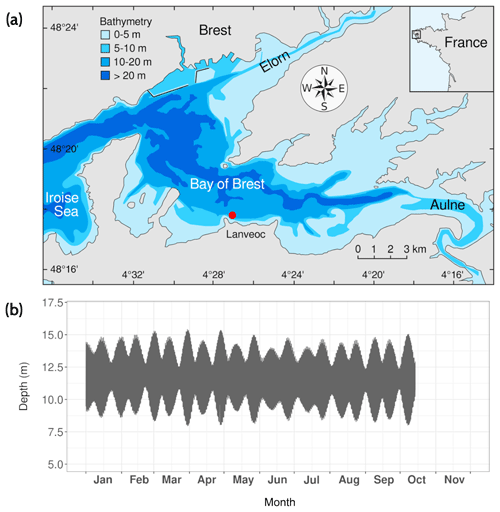 2
 Study site and sampling strategy
The Bay of Brest is a semi-enclosed, macrotidal marine ecosystem of 180 km2 with a westward connection to the Iroise Sea via a deep (40 m max. depth) and narrow (2 km width) strait. Freshwater inputs are brought from the east via two main rivers, the Aulne in the south and the Élorn in the north of the bay (Fig. 1a). The study was carried out between early March and mid-October 2021, with a total of 38 cruises off Lanvéoc (48∘17′39′′ N, 4∘27′12′′ W), a site located in the southern part of the Bay of Brest (France, Fig. 1a). This site was chosen for its status as a no-fishing and no-hunting zone, allowing for undisturbed monitoring. Moreover, this site has been the subject of scientific surveys in the past conducted by the Laboratory of Marine Environmental Sciences (LEMAR – UMR 6539) and the observatory service of the European Institute for Marine Studies (IUEM). Lanvéoc is characterized by shallow waters (from approx. 8 to 15 m depending on the tide, with a mean depth of approx. 11.5 m recorded at mid-tide) and a seafloor made up of sandy and silty sediment, with significant amounts of large-sized biogenic detritus (shells, maerl).
Water samples from the surface (1 m deep) and bottom (approx. 20 cm above the sediment) were collected twice a week between 16 March and the end of June 2021 and once a week thereafter until mid-October 2021. No sampling was conducted during August, leading to a lack of data for this month. Several biological, chemical and physical parameters were measured in these seawater samples; an exhaustive list is given in Table 1, which can be found at the end of this article. For samples dedicated to trace element measurement, a 5 L Teflon-coated GO-FLO sampling bottle was used. For the measurements of all other parameters, seawater was collected in a 5 L or an 8 L Niskin bottle. In addition to seawater sampling, two NKE/Sambat probes were alternately deployed to track high-frequency physical parameters (CTDO2FluoTurbpH; measurements every 20 min). For example, tidal dynamics were assessed in the Bay of Brest by recording the water depth at Lanvéoc (Fig. 1b). The two major episodes of near-maximum tidal range occurred around 30 March (tidal range: 7.15 m) and 28 April (tidal range: 7.00 m). Two other instruments were deployed to track particle dynamics and chemistry: an imaging sensor, the Underwater Vision Profiler 6 (UVP6) and a sediment trap. The settings used, specific to each instrument, will be described further below.
In addition to seawater sampling, 2640 age-class 1 specimens of the king scallop, Pecten maximus (whose growth ceases only during the winter season), were placed on the sediment surface on 21 February 2021, before the beginning of the HIPPO monitoring phase. These individuals came from the Tinduff hatchery (located in Plougastel-Daoulas, in the eastern part of the Bay of Brest) and were derived from a very limited number of spawners, and were thus genetically closely related. To assess the impact of the sediment on the incorporation of the different trace elements into their shells (calcite), 360 specimens were placed in a cage located 1 m above the seafloor, devoid of any sediment. During each cruise, five shells were collected directly from the sediment (when possible) and five others from the cage to analyze the soft tissues (gills, mantles, digestive glands and muscles) for element chemical composition. At the end of the monitoring interval (on 11 October 2021), a larger number of bivalves was collected to establish a growth and element chemical time series for 2021.
In this article, only an overview of the results gathered during the HIPPO monitoring conducted at Lanvéoc during 2021 is presented. The dataset helps in better understanding the links between phytoplankton dynamics, water column chemistry and the incorporation of trace elements into the shells of P. maximus. However, the dataset also contains information useful for other topics of interest. Tables 1 and 2 compile all variables that have been made available for other scientists on the SEANOE platform (https://doi.org/10.17882/92043 – Siebert et al., 2023). Moreover, the hypotheses and assumptions given in this paper, as well as other topics that have not been mentioned, will be the focus of several articles that are currently in preparation.
The HIPPO monitoring was initially designed by JT and BRS, the leader of the project. VS, BM and JT performed the preparation of the environmental survey, with the help of several authors of this publication. During the monitoring, EA, TLB, IB, EG, JT and VS dived at Lanvéoc to collect seawater samples as well as shell materials. For several parameters, filtration prior to measurement was conducted by VS and GD. POC and PON analyses were performed by JD. Nutrients were measured by MLG, with the exception of ammonium, which was measured by EG. Finally, chlorophyll a and pheophytin were measured by IB and biogenic silica by MG and KB. AL is in charge of the Lanvéoc observatory, where several environmental parameters have been recorded twice monthly for a few years. In the framework of this observatory's work, GD performed phytoplankton identification and counting. BB calculated the specific biovolume of phytoplankton cells. Trace element measurement was performed by VS, accompanied by MW in sample preparation, and by MLR, YG and CL in the ICP-MS and ICP-OES analysis sessions. LF prepared the shells for LA-ICP-MS measurement, performed the measurement with KPJ and processed the data. LF also acquired the daily growth rate data on the P. maximus specimens. The deployment of the UVP6 was made possible thanks to the work of MP, who designed the instrument and kindly lent it to the team for this monitoring activity. MP also helped process the data alongside CM. PRM prepared and set up the Sambat/NKE probes and discharged and processed the data. Finally, VS gathered all the data that were obtained for all parameters. VS led the writing of the article. All authors contributed critically to the drafts and gave final approval for publication.
The contact author has declared that none of the authors has any competing interests.
Publisher's note: Copernicus Publications remains neutral with regard to jurisdictional claims in published maps and institutional affiliations.
We warmly thank Brigitte Stoll from the Max Planck Institute (Mainz) for help with the LA-ICP-MS analyses. We are also very grateful to the crew of the Albert Lucas for their involvement in this environmental monitoring activity and their support during the cruises. Moreover, we wish to thank the Plateau d'analyse chimique des paramètres de base de l'environnement marin (PACHIDERM) as well as the Pôle Spectrométrie Océan (PSO) for the measurements of the various chemical parameters.
This survey has been performed within the framework of the French–German collaborative project HIPPO (HIgh-resolution Primary Production multi-prOxy archives).
This research has been supported by the Agence Nationale de la Recherche (grant no. ANR-18-CE92-0036-01), the Deutsche Forschungsgemeinschaft (grant no. SCHO 793/21) and the Région Bretagne.
This paper was edited by Giuseppe M. R. Manzella and reviewed by Andrew Johnson and Niels de Winter.
Alldredge, A., Passow, U., and Logan, B.: The abundance and significance of a class of large, transparent organic particles in the ocean, Deep-Sea Res. Pt. I, 40, 1131–1140, https://doi.org/10.1016/0967-0637(93)90129-Q, 1993. a
Aminot, A. and Kérouel, R.: Hydrologie des écosystèmes marins: paramètres et analyses, Editions Quae and Ifremer, ISBN 2844331335, 2004. a
Aminot, A. and Kérouel, R.: Dosage automatique des nutriments dans les eaux marines: méthodes en flux continu, Editions Quae and Ifremer, ISBN 978-2-7592-0023-8, 2007. a
Band-Schmidt, C., Zumaya-Higuera, M., López-Cortés, D., Leyva-Valencia, I., Quijano-Scheggia, S., and Hernández-Guerrero, C.: Allelopathic effects of Margalefidinium polykrikoides and Gymnodinium impudicum in the growth of Gymnodinium catenatum, Harmful algae, 96, 101846, https://doi.org/10.1016/j.hal.2020.101846, 2020. a
Barats, A., Amouroux, D., Chauvaud, L., Pécheyran, C., Lorrain, A., Thébault, J., Church, T. M., and Donard, O. F. X.: High frequency Barium profiles in shells of the Great Scallop Pecten maximus: a methodical long-term and multi-site survey in Western Europe, Biogeosciences, 6, 157–170, https://doi.org/10.5194/bg-6-157-2009, 2009. a, b
Bernstein, R., Byrne, R., Betzer, P., and Greco, A.: Morphologies and transformations of celestite in seawater: The role of acantharians in strontium and barium geochemistry, Geochim. Cosmochim. Ac., 56, 3273–3279, https://doi.org/10.1016/0016-7037(92)90304-2, 1992. a
Boyce, D., Lewis, M., and Worm, B.: Global phytoplankton decline over the past century, Nature, 466, 591–596, https://doi.org/10.1038/nature09268, 2010. a
Chassot, E., Bonhommeau, S., Dulvy, N., Mélin, F., Watson, R., Gascuel, D., and Le Pape, O.: Global marine primary production constrains fisheries catches, Ecol. Lett., 13, 495–505, https://doi.org/10.1111/j.1461-0248.2010.01443.x, 2010. a
Chauvaud, L., Thouzeau, G., and Paulet, Y.M.: Effects of environmental factors on the daily growth rate of Pecten maximus juveniles in the Bay of Brest (France), J. Exp. Mar. Biol. Ecol., 227, 83–111, https://doi.org/10.1016/S0022-0981(97)00263-3, 1998. a, b, c
Daranas, A., Norte, M., and Fernández, J.: Toxic marine microalgae, Toxicon (Oxford), 39, 1101–1132, https://doi.org/10.1016/S0041-0101(00)00255-5, 2001. a
Dehairs, F., Chesselet, R., and Jedwab, J.: Discrete suspended particles of barite and the barium cycle in the open ocean, Earth Planet. Sc. Lett., 49, 528–550, https://doi.org/10.1016/0012-821X(80)90094-1, 1980. a
Del Amo, Y., Le Pape, O., Tréguer, P., Quéguiner, B., Ménesguen, A., and Aminot, A.: Impacts of high-nitrate freshwater inputs on macrotidal ecosystems. I. Seasonal evolution of nutrient limitation for the diatom-dominated phytoplankton of the Bay of Brest (France), Mar. Ecol. Prog. Ser., 161, 213–224, https://doi.org/10.3354/meps161213, 1997. a, b
Doré, J., Chaillou, G., Poitevin, P., Lazure, P., Poirier, A., Chauvaud, L., Archambault, P., and Thébault, J.: Assessment of in Arctica islandica shells as a proxy for phytoplankton dynamics in the Northwestern Atlantic Ocean, Estuar. Coast. Shelf Sci., 237, 106628, https://doi.org/10.1016/j.ecss.2020.106628, 2020. a
Edler, L. and Elbrächter, M.: The Utermöhl method for quantitative phytoplankton analysis, Microscopic and molecular methods for quantitative phytoplankton analysis, 110, 13–20, 2010. a
Field, C., Behrenfeld, M., Randerson, J., and Falkowski, P.: Primary production of the biosphere: integrating terrestrial and oceanic components, Science, 281, 237–240, https://doi.org/10.1126/science.281.5374.237, 1998 a
Fisher, N., Guillard, R., and Bankston, D.: The accumulation of barium by marine phytoplankton grown in culture, J. Mar. Res., 49, 339–354, https://doi.org/10.1357/002224091784995882, 1991. a
Fröhlich, L., Siebert, V., Huang, Q., Thébault, J., Jochum, K., and Schöne, B. R.: Deciphering the potential of , Mo/Ca and Li/Ca profiles in the bivalve shell Pecten maximus as proxies for the reconstruction of phytoplankton dynamics, Ecol. Indic., 141, 109121, https://doi.org/10.1016/j.ecolind.2022.109121, 2022a. a, b, c
Fröhlich, L., Siebert, V., Walliser, E., Thébault, J., Jochum, K. P., Chauvaud, L., and Schöne, B. R.: profiles in shells of Pecten maximus – A proxy for specific primary producers rather than bulk phytoplankton, Chem. Geol., 593, 120743, https://doi.org/10.1016/j.chemgeo.2022.120743, 2022b. a, b, c, d, e
Langer, G., Nehrke, G., Thoms, S., and Stoll, H.: Barium partitioning in coccoliths of Emiliania huxleyi, Geochim. Cosmochim. Ac., 73, 2899–2906, https://doi.org/10.1016/j.gca.2009.02.025, 2009. a
Legrand, C., Rengefors, K., Fistarol, G., and Graneli, E.: Allelopathy in phytoplankton-biochemical, ecological and evolutionary aspects, Phycologia, 42, 406–419, https://doi.org/10.2216/i0031-8884-42-4-406.1, 2003. a
Lorenzen, C.: A method for the continuous measurement of in vivo chlorophyll concentration, Deep-Sea Res., 13, 223–227, https://doi.org/10.1016/0011-7471(66)91102-8, 1966. a
Lorrain, A., Paulet, Y., Chauvaud, L., Savoye, N., Nézan, E., and Guérin, L.: Growth anomalies in Pecten maximus from coastal waters (Bay of Brest, France): relationship with diatom blooms, J. Mar. Biolog. Assoc. U.K., 80, 667–673, https://doi.org/10.1017/S0025315400002496, 2000. a
Michaels, A.: Acantharian abundance and symbiont productivity at the VERTEX seasonal station, J. Plankton Res., 13, 399–418, https://doi.org/10.1093/plankt/13.2.399, 1991. a
Moore, R., Webb, M., Tokarczyk, R., and Wever, R.: Bromoperoxidase and iodoperoxidase enzymes and production of halogenated methanes in marine diatom cultures, J. Geophys. Res.-Oceans, 101, 20899–20908, https://doi.org/10.1029/96JC01248, 1996. a
Passow, U.: Transparent exopolymer particles (TEP) in aquatic environments, Prog. Oceanogr., 55, 287–333, https://doi.org/10.1016/S0079-6611(02)00138-6, 2002a. a
Picheral, M., Catalano, C., Brousseau, D., Claustre, H., Coppola, L., Leymarie, E., Coindat, J., Dias, F., Fevre, S., Guidi, L., Irisson, J.O., Legendre, L., Lombard, F., Mortier, L., Penkerch, C., Rogge, A., Schmechtig, C., Thibault, S., Tixier., T., Waite., A., Stemmann, L.: The Underwater Vision Profiler 6: an imaging sensor of particle size spectra and plankton, for autonomous and cabled platforms, Limnol. Oceanogr.-Methods, 20, 115–129, https://doi.org/10.1002/lom3.10475, 2021. a
Ragueneau, O. and Tréguer, P.: Determination of biogenic silica in coastal waters: applicability and limits of the alkaline digestion method, Mar. Chem., 45, 43–51, https://doi.org/10.1016/0304-4203(94)90090-6, 1994. a
Savoye, N.: Origine et transfert de matière organique particulaire dans les écosystèmes littoraux macrotidaux (PhD), Université de Bretagne Occidentale, France, 324 pp., 2001. a
Siebert, V., Moriceau, B., Fröhlich, L., Schöne, B. R., Amice, E., Beker, B., Bihannic, K., Bihannic, I., Delebecq, G., Devesa, J., Gallinari, M., Germain, Y., Grossteffan, É., Jochum, K. P., Lebec, T., Le Goff, M., Leynaert, A., Liorzou, C., Marec, C., Picheral, M., Rimmelin-Maury, P., Rouget, M. L., Waeles, M., and Thébault, J.: HIPPO environmental monitoring: Impact of phytoplankton dynamics on water column chemistry and the sclerochronology of the king scallop (Pecten maximus) as a biogenic archive for past primary production reconstructions, SEANOE [data set], https://doi.org/10.17882/92043, 2023. a, b
Smayda, T.: A quantitative analysis of the phytoplankton of the Gulf of Panama II. On the relationship between C14 assimilation and the diatom standing crop, Inter-American Tropical Tuna Commission Bulletin, 9, 465–531, 1965. a
Stecher, H., Krantz, D., Lord, C., Luther, G., and Bock, K.: Profiles of strontium and barium in Mercenaria mercenaria and Spisula solidissima shells, Geochim. Cosmochim. Ac., 60, 3445–3456, https://doi.org/10.1016/0016-7037(96)00179-2, 1996. a
Sternberg, E., Tang, D., Ho, T., Jeandel, C., and Morel, F.: Barium uptake and adsorption in diatoms, Geochim. Cosmochim. Ac., 69, 2745–2752, https://doi.org/10.1016/j.gca.2004.11.026, 2005. a
Thébault, J. and Chauvaud, L.: Li/Ca enrichments in great scallop shells (Pecten maximus) and their relationship with phytoplankton blooms, Palaeogeogr. Palaeoclimatol., 373, 108–122, https://doi.org/10.1016/j.palaeo.2011.12.014, 2013.  a
Thébault, J., Chauvaud, L., L'Helguen, S., Clavier, J., Barats, A., Jacquet, S., Pécheyran, C., and Amouroux, D.: Barium and molybdenum records in bivalve shells: Geochemical proxies for phytoplankton dynamics in coastal environments?, Limnol. Oceanogr., 54, 1002–1014, https://doi.org/10.4319/lo.2009.54.3.1002, 2009. a
Thébault, J., Jolivet, A., Waeles, M., Tabouret, H., Sabarot, S., Pécheyran, C., Leynaert, A., Jochum, K., Schöne, B., Fröhlich, L., Siebert, V., Amice, E., and Chauvaud, L.: Scallop shells as geochemical archives of phytoplankton-related ecological processes in a temperate coastal ecosystem, Limnol. Oceanogr., 67, 187–202, https://doi.org/10.1002/lno.11985, 2022. a, b
Whitfield, M.: Interactions between phytoplankton and trace metals in the ocean: Adv. Mar. Biol., 41, 3–128, https://doi.org/10.1016/S0065-2881(01)41002-9, 2001. a