Articles | Volume 15, issue 5
https://doi.org/10.5194/essd-15-2139-2023
© Author(s) 2023. This work is distributed under
the Creative Commons Attribution 4.0 License.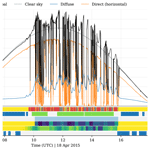 Ten years of 1 Hz solar irradiance observations at Cabauw, the Netherlands, with cloud observations, variability classifications, and statistics
Surface solar irradiance varies on scales down to seconds, and detailed long-term observational datasets of this variable are rare but in high demand. Here, we present an observational dataset of global, direct, and diffuse solar irradiance sampled at 1 Hz as well as fully resolved variability until at least 0.1 Hz over a period of 10 years from the Baseline Surface Radiation Network (BSRN) station at Cabauw, the Netherlands. The dataset is complemented with irradiance variability classifications, clear-sky irradiance and aerosol reanalysis, information about the solar position, observations of clouds and sky type, and wind measurements up to 200 m above ground level. Statistics of variability derived from all time series include approximately 185 000 detected events of both cloud enhancement and cloud shadows. Additional observations from the Cabauw measurement site are freely available from the open-data platform of the Royal Netherlands Meteorological Institute. This paper describes the observational site, quality control, classification algorithm with validation, and the processing method of complementary products. Additionally, we discuss and showcase (potential) applications, including limitations due to sensor response time. These observations and derived statistics provide detailed information to aid research into how clouds and atmospheric composition influence solar irradiance variability as well as information to help validate models that are starting to resolve variability at higher fidelity. The main datasets are available at https://doi.org/10.5281/zenodo.7093164 (Knap and Mol, 2022) and https://doi.org/10.5281/zenodo.7462362 (Mol et al., 2022); the reader is referred to the "Code and data availability" section of this paper for the complete list.
Received: 22 Dec 2022 – Discussion started: 30 Jan 2023 – Revised: 21 Apr 2023 – Accepted: 21 Apr 2023 – Published: 25 May 2023
Clouds generate large intra-day surface solar irradiance variability, the spatiotemporal scales of which reach down to seconds or less (Yordanov et al., 2013; Tabar et al., 2014; Gueymard, 2017; Kivalov and Fitzjarrald, 2018), or tens of meters (Lohmann et al., 2016; Mol et al., 2023). Observing, understanding, and forecasting irradiance variability at these scales is important for a range of applications. Solar energy production and electricity grid stability is negatively affected by fast and local irradiance variability (Liang, 2017; Yang et al., 2022). Numerical weather prediction models are incapable of forecasting variability at these short scales; however, as the resolution of these models keeps increasing and sub-grid-scale irradiance variability parameterizations are developed, they require more detailed observations for validation. Cloud-resolving models and the development of more accurate 3D radiative transfer calculations in academic setups (e.g., Jakub and Mayer, 2015; Gristey et al., 2020; Veerman et al., 2022) likewise require detailed and accurate observations of solar irradiance. The heterogeneity of solar irradiance and the resulting surface fluxes is also an increasingly important topic in the field of land–atmosphere interaction (Helbig et al., 2021), with a nonlinear response of vegetation's photosynthesis for varying light intensities (Pearcy and Way, 2012) or diffuse irradiance penetration into canopies (Mercado et al., 2009; Durand et al., 2021).
Existing observational datasets of surface solar irradiance at the sub-minute scale are rare, in particular for multiple years or longer and with separate direct and diffuse irradiance measurements. Notable examples of such datasets include those used in previously mentioned studies (Tabar et al., 2014; Gueymard, 2017; Kivalov and Fitzjarrald, 2018; Lohmann, 2018; Gristey et al., 2020). In this work, we present such a dataset, which consists of 10 years of 1 Hz resolution global, direct, and diffuse irradiance, supplemented with meteorological observations for interpretation and data analysis. To the best of our knowledge, this is a unique observational dataset given its time span, temporal resolution, and multicomponent measurements. The separation of global horizontal irradiance (GHI) into direct and diffuse components is important for distinguishing and characterizing the different types of atmospheric conditions and specific conditions under which irradiance variability is generated. Most notably, the phenomenon of cloud enhancement, where clouds scatter additional sunlight to cloud-free spots on the surface to significantly increase total irradiance (Gueymard, 2017; Yordanov, 2015; Mol et al., 2023), is, by definition, a combination of direct and diffuse irradiance and cannot be understood with only GHI observations.
In this work, we will describe the 10-year observational dataset of solar irradiance, all supplementary meteorological observations and related processing, the time series variability classification algorithm, statistical datasets derived from all time series and classifications, and examples of how the data can be used. Sections 2 and 3 are a complete and more elaborate version of the condensed dataset description published in the Journal of Geophysical Research: Atmospheres (Mol et al., 2023).
2
 Observational data description
All in situ observations in this dataset were taken at the Ruisdael Observatory in Cabauw (previously known as CESAR; https://ruisdael-observatory.nl/cabauw/, last access: 16 May 2023) of the Royal Netherlands Meteorological Institute (KNMI). The observatory, hereafter referred to as Cabauw, is located in a rural area in the southwest of the Netherlands (51.97∘ N, 4.92∘ E; Fig. 1a). The climate in the Netherlands is a typical ocean-influenced west coast climate, with relative mild and wet winters, despite the country's high latitude, and milder summers than further inland. KNMI provides an overview of the current Dutch climate and trends on their website (https://www.knmi.nl/klimaat, last access: 16 May 2023), including the long-term increasing trend in incoming solar radiation and recent extremes (e.g., that of spring 2020; van Heerwaarden et al., 2021). The following section describes all of the observational data that we used from Cabauw, the supplementary modeled clear-sky irradiance, the atmospheric composition reanalysis, the calculated solar positions, the satellite-derived cloud types, and the ground-based cloud cover.

2.1

 Surface solar irradiance observations

The surface solar irradiance station at Cabauw is part of the Baseline Surface Radiation Network (BSRN; Driemel et al., 2018), which has been operational since 2005. The BSRN station measures all components of the surface radiation balance. Observations are logged at a 1 Hz frequency, reprocessed to 1 min quality-controlled and validated data, and made available publicly on the PANGAEA data repository (Knap, 2022) along with instrument metadata; the station is maintained by station scientist Wouter Knap (KNMI). While a 1 min resolution is enough for many applications, in particular those concerned with the surface net radiation balance at longer timescales, much of the cloud-driven irradiance variability occurs at sub-minute scales. For the purpose of research into cloud-driven irradiance variability at these short timescales, a separate 10-year subset of solar irradiance at a 1 Hz resolution has been released (Knap and Mol, 2022) and is described here. This subset spans from February 2011 to December 2020. The three components are global horizontal irradiance (GHI) and diffuse irradiance (DIF), measured with Kipp & Zonen CM22 pyranometers, and direct normal irradiance (DNI), measured with a Kipp & Zonen CH1 pyrheliometer.
2.1.1

 Sensor response time and resolved variability

The pyranometer and pyrheliometer instruments are thermopiles, meaning that there is a nonzero response time to variations in incoming radiation, i.e., the time it takes for the thermopile to adjust to changes in irradiance signal. Thus, the true resolved resolution is not 1 Hz, although whether or not this impact is noticeable depends on the magnitude and rate of change in irradiance variability. According to the manufacturer's specifications, the CH1 pyrheliometer has a 7 s (95 %) or 10 s (99 %) response time (Kipp & Zonen, 2001), whereas these values are 1.66 s (66 %) or 5 s (95 %) for the CM22 pyranometers (Kipp & Zonen, 2004). This results in a likely underestimation of variability at 1 Hz, but the exact extent of this underestimation is hard to quantify given the absence of solar irradiance measurements with fast-responding sensors at a similar location as well as the lack of measurements that are long enough to sample diverse weather conditions. Figure 2 illustrates the power spectral density (PSD) of a year of BSRN 1 Hz data. Tabar et al. (2014) present spectra (their Fig. 2) for 1 year of data from a semiconductor pyranometer (with a >1 Hz response time) that show an order of magnitude higher PSD at 1 Hz compared with 0.1 Hz, as in our Fig. 2. However, these data were collected in Hawaii, which is a very different geographical location and climate compared with Cabauw. Alternatively, 2 weeks of summer time 10 Hz irradiance observations from fast radiometers (Mol and Heusinkveld, 2022) show a steeper decline between 0.1 and 1 Hz than the BSRN data. This supports the idea that the true cloud-driven irradiance variability does not always extend towards 1 Hz and higher frequencies and that the slow response time often has no noticeable effect.

Based on the technical specifications of the pyranometer and pyrheliometer, we are at least confident that variability is resolved up to 0.1 Hz (10 s). This is also supported by van Stratum et al. (2023), who showed agreement between the BSRN dataset presented in this paper and irradiance spectra from semi-realistic large-eddy simulation up to 0.1 Hz (their Fig. 6). Given the uncertainty regarding how much of the true variability is resolved between 0.1 and 1 Hz, we advise analyses at 1 Hz only in combination with additional constraints, such as knowledge of cloud properties and their velocity, to estimate the fastest possible changes in irradiance. For example, in Mol et al. (2023), knowledge of wind speed, cloud size distributions, and cloud edge transparency were combined to utilize the data down to 1 Hz.

One last implication is that the slow response time slightly reduces the contrast in data. Ehrlich and Wendisch (2015) demonstrated a reconstruction technique of the true 1 Hz signal through deconvolution, essentially a sharpening technique, which is not a trivial exercise. We have not applied this here, as we cannot validate if it works reliably for our dataset, but we mention it as an option to anyone who might want to attempt to apply the method despite its challenges. The only preprocessing that we apply to the data, namely gap filling and quality control, is discussed in Sect. 3.1.
2.2

 Supplementary irradiance data
2.2.1

 Solar position and direct horizontal irradiance

Information about the Sun's position is important for quality control, data analysis, and interpretation of results. Calculations of the Sun's position (elevation and azimuth angle) are done using the Pysolar (https://github.com/pingswept/pysolar, last access: 16 May 2023) Python package at a 1 min resolution, linearly interpolated to 1 s. For the purposes of this research, the calculations are indistinguishable from highly accurate peer-reviewed code such as the Solar Position Algorithm (SPA; https://midcdmz.nrel.gov/spa/, last access: 16 May 2023). Using the solar elevation angle α (degrees above horizon, or as a zenith angle), we calculate the horizontal component of direct irradiance: DHI = DNI ⋅ sin(α). An alternative calculation is DHI = GHI − DIF, which (in the case of a good measurement setup) should be equal to DNI ⋅ sin(α) and is the basis for one of the checks in data quality control (discussed in Sect. 3.1).
2.2.2

 Clear-sky irradiance and atmospheric composition

Clear-sky global horizontal irradiance (GHIcs) is the total downwelling horizontal solar irradiance in the absence of clouds. We use Copernicus Atmosphere Monitoring Service (CAMS) McClear version 3.5 (released in September 2022; Gschwind et al., 2019) as the GHIcs reference for our dataset. CAMS McClear includes corrections based on atmospheric composition reanalysis, such as aerosols and total column atmospheric water vapor. This allows us to define times when GHI exceeds GHIcs only through the effect of clouds as best we can, as opposed to simpler techniques that do not correct for aerosols and chemical composition. Atmospheric composition input for McClear is included in their publicly available dataset (https://www.soda-pro.com/web-services/radiation/cams-mcclear, last access: 16 May 2023), which we add to our dataset for context. The only further processing applied to these data is linear interpolation from 1 min to 1 s to match the irradiance observations.
2.3

 Additional in situ measurements
2.3.1

 Wind profiles from Cabauw

A 213 m high tower provides wind speed and direction measurements at 2, 10, 20, 40, 80, 140, and 200 m above ground level at a 10 min intervals (Wauben et al., 2010). Figure 1b shows the tower with respect to the BSRN site, which is a few hundred meters to the south. We apply no further processing to these data, apart from creating daily files from the monthly files. The original tower data (including temperature, visibility, and humidity) are shared publicly by the KNMI on their open-data platform: https://dataplatform.knmi.nl/dataset/cesar-tower-meteo-lb1-t10-v1-2 (last access: 16 May 2023​​​​​​​).
2.3.2

 NubiScope

To obtain detailed cloud cover observations for analysis, validation of satellite observations (Sect. 2.4), and irradiance-based sky-type classification (Sect. 3.3.2), we use the NubiScope located within a few meters of the BSRN instrumentation (Wauben et al., 2010). In 10 min, this instruments makes a hemispherical scan of the sky using infrared sensors to determine the cloud fraction and various categories of sky type. For validation and analyses purposes, we focused on a 3-year subset (2014–2016) of NubiScope data. If necessary, additional data (May 2008 to April 2017) are publicly available at https://dataplatform.knmi.nl/dataset/cesar-nubiscope-cldcov-la1-t10-v1-0 (last access: 16 May 2023​​​​​​​). Again, we applied no further processing, apart from turning monthly files into daily files.
2.4

 Satellite observations

The CLAAS-2 (CLoud property dAtAset using SEVIRI, Edition 2; Benas et al., 2017) satellite product provides cloud cover, cloud-top pressure (CTP), and cloud optical thickness (COT) every 15 min during daytime at an approximate spatial resolution of 20 km2 over Cabauw. We provide 3 years of satellite data (2014–2016) for both validation and cloud-type analyses, and the post-processing steps for these data are described in Sect. 3.2.1.
The following section provides some examples and (potential) use cases of the dataset, including previously completed work. Veerman et al. (2022) and Tijhuis et al. (2022) research 3D radiative transfer modeling approaches for cumulus case studies, where 1 Hz irradiance time series and statistics are used as validation. In Mol et al. (2023), we show how the spatiotemporal scales of cloud shadows and enhancements are described by power laws and driven by cloud size distributions, using the event statistics as described in Sect. 3.4.
Figures 9 and 10 give an overview of the seasonal and yearly variability in solar irradiance and its classifications that characterize the midlatitude climate of Cabauw. Figure 9 also partially serves as validation of the BSRN instrumentation, with the direct and diffuse components summing to the GHI, as should be the case. Figure 10 illustrates the typically overcast conditions during winter and the highly variable irradiance conditions during summer, with significant year-to-year variability.
In order to find specific types of case studies for analysis, one can use either the event statistics or daily statistics to query and filter specific conditions. As an example, we use the daily statistics file and Python's Xarray to find case studies of the most variable irradiance throughout the day or specific cases where overcast conditions transition to clear sky (or vice versa), which have the potential for brief periods of strong variability and cloud enhancement. These example are shown in Table 2, and the code is publicly available (Sect. 5).
5
 Code and data availability
The 1 Hz GHI, DIF, and DNI observations of the BSRN station at Cabauw are published on Zenodo (https://doi.org/10.5281/zenodo.7093164, Knap and Mol, 2022), Irradiance time series classifications, supplementary data, quality control, event and daily statistics, and satellite data are published as a separate, complementary dataset on Zenodo (https://doi.org/10.5281/zenodo.7462362, Mol et al., 2022). Satellite data for an area around Cabauw are taken from the CLAAS-2 open-access dataset described in Benas et al. (2017) (DOI: https://doi.org/10.5676/EUM_SAF_CM/CLAAS/V002, Finkensieper et al., 2016) and included in the previous dataset for 2014 to 2016. Moreover, the NubiScope data (Wauben et al., 2010), taken from the KNMI Data Platform (https://dataplatform.knmi.nl/dataset/cesar-nubiscope-cldcov-la1-t10-v1-0, KNMI, 2023), for the years 2014 to 2016 are also included. All code to reproduce the classifications from the irradiance observations, event and daily statistics, and figures presented in this paper is archived at https://doi.org/10.5281/zenodo.7851741 (Mol, 2023).
In this paper, we describe a high-resolution, 10-year-long observational dataset of detailed surface solar irradiance that is complemented with meteorological data. Using time series classification algorithms, we derive statistics about sky type and irradiance variability. We provide examples and use cases of this dataset to illustrate its potential, ranging from case study selection and model validation to fundamental insight into drivers of irradiance variability. With all data and processing code publicly available, the user is free to modify our classification algorithm to their liking and validate it against independent observations or to expand upon the large set of statistics already provided. Quicklooks for all available days from February 2011 to December 2020 are provided in order for the user to become familiar with the dataset contents and to get an impression of the many different types of weather conditions at Cabauw. We believe that this dataset is of great use in research into cloud-driven irradiance variability, and it provides a necessary validation reference for models that are starting to resolve the full spectrum of variability.
WBM performed the data analysis, produced the public datasets, and wrote the manuscript. WHK is the BSRN Cabauw station scientist and maintained and produced the original 1 Hz irradiance dataset. CCvH helped shape the manuscript and is the project PI. All authors contributed to the final paper.
The contact author has declared that none of the authors has any competing interests.
Publisher's note: Copernicus Publications remains neutral with regard to jurisdictional claims in published maps and institutional affiliations.
Wouter B. Mol and Chiel C. van Heerwaarden have received funding from the Dutch Research Council (NWO; grant no. VI.Vidi.192.068).
This paper was edited by Tobias Gerken and reviewed by Tobias Gerken and one anonymous referee.
Benas, N., Finkensieper, S., Stengel, M., van Zadelhoff, G.-J., Hanschmann, T., Hollmann, R., and Meirink, J. F.: The MSG-SEVIRI-based cloud property data record CLAAS-2, Earth Syst. Sci. Data, 9, 415–434, https://doi.org/10.5194/essd-9-415-2017, 2017. a, b
Driemel, A., Augustine, J., Behrens, K., Colle, S., Cox, C., Cuevas-Agulló, E., Denn, F. M., Duprat, T., Fukuda, M., Grobe, H., Haeffelin, M., Hodges, G., Hyett, N., Ijima, O., Kallis, A., Knap, W., Kustov, V., Long, C. N., Longenecker, D., Lupi, A., Maturilli, M., Mimouni, M., Ntsangwane, L., Ogihara, H., Olano, X., Olefs, M., Omori, M., Passamani, L., Pereira, E. B., Schmithüsen, H., Schumacher, S., Sieger, R., Tamlyn, J., Vogt, R., Vuilleumier, L., Xia, X., Ohmura, A., and König-Langlo, G.: Baseline Surface Radiation Network (BSRN): structure and data description (1992–2017), Earth Syst. Sci. Data, 10, 1491–1501, https://doi.org/10.5194/essd-10-1491-2018, 2018. a
Durand, M., Murchie, E. H., Lindfors, A. V., Urban, O., Aphalo, P. J., and Robson, T. M.: Diffuse solar radiation and canopy photosynthesis in a changing environment, Agr. Forest Meteorol., 311, 108684, https://doi.org/10.1016/j.agrformet.2021.108684, 2021. a
Ehrlich, A. and Wendisch, M.: Reconstruction of high-resolution time series from slow-response broadband terrestrial irradiance measurements by deconvolution, Atmos. Meas. Tech., 8, 3671–3684, https://doi.org/10.5194/amt-8-3671-2015, 2015. a
Finkensieper, S., Meirink, J.-F., van Zadelhoff, G.-J., Hanschmann, T., Benas, N., Stengel, M., Fuchs, P., Hollmann, R., and Werscheck, M.: CLAAS-2: CM SAF CLoud property dAtAset using SEVIRI – Edition 2, Satellite Application Facility on Climate Monitoring [data set], https://doi.org/10.5676/EUM_SAF_CM/CLAAS/V002, 2016. a
Gristey, J. J., Feingold, G., Glenn, I. B., Schmidt, K. S., and Chen, H.: Surface Solar Irradiance in Continental Shallow Cumulus Fields: Observations and Large-Eddy Simulation, J. Atmos. Sci., 77, 1065–1080, https://doi.org/10.1175/JAS-D-19-0261.1, 2020. a, b
Gschwind, B., Wald, L., Blanc, P., Lefèvre, M., Schroedter-Homscheidt, M., and Arola, A.: Improving the McClear model estimating the downwelling solar radiation at ground level in cloud-free conditions – McClear-v3, metz, 28, 147–163, https://doi.org/10.1127/metz/2019/0946, 2019. a
Gueymard, C. A.: Cloud and albedo enhancement impacts on solar irradiance using high-frequency measurements from thermopile and photodiode radiometers. Part 1: Impacts on global horizontal irradiance, Sol. Energy, 153, 755–765, https://doi.org/10.1016/j.solener.2017.05.004, 2017. a, b, c, d
Helbig, M., Gerken, T., Beamesderfer, E. R., Baldocchi, D. D., Banerjee, T., Biraud, S. C., Brown, W. O. J., Brunsell, N. A., Burakowski, E. A., Burns, S. P., Butterworth, B. J., Chan, W. S., Davis, K. J., Desai, A. R., Fuentes, J. D., Hollinger, D. Y., Kljun, N., Mauder, M., Novick, K. A., Perkins, J. M., Rahn, D. A., Rey-Sanchez, C., Santanello, J. A., Scott, R. L., Seyednasrollah, B., Stoy, P. C., Sullivan, R. C., de Arellano, J. V.-G., Wharton, S., Yi, C., and Richardson, A. D.: Integrating continuous atmospheric boundary layer and tower-based flux measurements to advance understanding of land-atmosphere interactions, Agr. Forest Meteorol., 307, 108509, https://doi.org/10.1016/j.agrformet.2021.108509, 2021. a
Jakub, F. and Mayer, B.: A three-dimensional parallel radiative transfer model for atmospheric heating rates for use in cloud resolving models – The TenStream solver, J. Quant. Spectrosc. Ra., 163, 63–71, https://doi.org/10.1016/j.jqsrt.2015.05.003, 2015. a
Kipp & Zonen: CH1 Pyrheliometer Instruction Manual, https://www.kippzonen.com/Download/42/CH-1-Pyrheliometer-Manual-English (last access: 26 July 2022), 2001. a
Kipp & Zonen: CM22 precision pyranometer instruction manual, https://www.kippzonen.com/Download/55/CM-22-Pyranometer-Manual (last access: 26 July 2022), 2004. a
Kivalov, S. N. and Fitzjarrald, D. R.: Quantifying and Modelling the Effect of Cloud Shadows on the Surface Irradiance at Tropical and Midlatitude Forests, Bound.-Lay. Meteorol., 166, 165–198, https://doi.org/10.1007/s10546-017-0301-y, 2018. a, b
Knap, W.: Basic and other measurements of radiation at station Cabauw (2005-02 et seq), PANGAEA [data set], https://doi.org/10.1594/PANGAEA.940531, 2022. a, b
Knap, W. H. and Mol, W. B.: High resolution solar irradiance variability climatology dataset part 1: direct, diffuse, and global irradiance, Zenodo [data set], https://doi.org/10.5281/zenodo.7093164, 2022. a, b, c
KNMI: Cloud cover retrieved from infrared measurements at 10 minute intervals at CESAR observatory, KNMI [data set], https://dataplatform.knmi.nl/dataset/cesar-nubiscope-cldcov-la1-t10-v1-0, last access: 16 May 2023. a
Liang, X.: Emerging Power Quality Challenges Due to Integration of Renewable Energy Sources, IEEE T. Ind. Appl., 53, 855–866, https://doi.org/10.1109/TIA.2016.2626253, 2017. a
Lohmann, G. M.: Irradiance Variability Quantification and Small-Scale Averaging in Space and Time: A Short Review, Atmosphere, 9, 264, https://doi.org/10.3390/atmos9070264, 2018. a
Lohmann, G. M., Monahan, A. H., and Heinemann, D.: Local short-term variability in solar irradiance, Atmos. Chem. Phys., 16, 6365–6379, https://doi.org/10.5194/acp-16-6365-2016, 2016. a
Mercado, L. M., Bellouin, N., Sitch, S., Boucher, O., Huntingford, C., Wild, M., and Cox, P. M.: Impact of changes in diffuse radiation on the global land carbon sink, Nature, 458, 1014–1017, https://doi.org/10.1038/nature07949, 2009. a
Mol, W.: Code for 1 Hz solar irradiance processing and variability analyses, Zenodo [code], https://doi.org/10.5281/zenodo.7851741, 2023. a
Mol, W. and Heusinkveld, B.: Radiometer grid at Falkenberg and surroundings, downwelling shortwave radiation, FESSTVaL campaign, Universität Hamburg [data set], https://doi.org/10.25592/uhhfdm.10273, 2022. a
Mol, W. B., Knap, W. H., and van Heerwaarden, C. C.: High resolution solar irradiance variability climatology dataset part 2: classifications, supplementary data, and statistics, Zenodo [data set], https://doi.org/10.5281/zenodo.7462362, 2022. a, b, c, d, e, f
Mol, W. B., van Stratum, B. J. H., Knap, W. H., and van Heerwaarden, C. C.: Reconciling Observations of Solar Irradiance Variability With Cloud Size Distributions, 128, e2022JD037894, https://doi.org/10.1029/2022JD037894, 2023. a, b, c, d, e
NOAA: Climate Algorithm Theoretical Basis Document, Tech. Rep., https://ncei.noaa.gov/pub/data/sds/cdr/CDRs/Cloud_Properties-ISCCP/AlgorithmDescription_01B-29.pdf (last access: 16 May 2023), 2022. a
Pearcy, R. W. and Way, D. A.: Two decades of sunfleck research: looking back to move forward, Tree Physiol., 32, 1059–1061, https://doi.org/10.1093/treephys/tps084, 2012. a
Tabar, M. R. R., Anvari, M., Lohmann, G., Heinemann, D., Wächter, M., Milan, P., Lorenz, E., and Peinke, J.: Kolmogorov spectrum of renewable wind and solar power fluctuations, Eur. Phys. J. Spec. Top., 223, 2637–2644, https://doi.org/10.1140/epjst/e2014-02217-8, 2014. a, b, c
Tijhuis, M., van Stratum, B., van Heerwaarden, C., and Veerman, M.: An Efficient Parameterization for Surface Shortwave 3D Radiative Effects in Large-Eddy Simulations of Shallow Cumulus Clouds, ESS Open Archive [preprint], https://doi.org/10.1002/essoar.10511758.2, 2022.  a
van Heerwaarden, C. C., Mol, W. B., Veerman, M. A., Benedict, I., Heusinkveld, B. G., Knap, W. H., Kazadzis, S., Kouremeti, N., and Fiedler, S.: Record high solar irradiance in Western Europe during first COVID-19 lockdown largely due to unusual weather, Communications Earth & Environment, 2, 37, https://doi.org/10.1038/s43247-021-00110-0, 2021. a
van Stratum, B., van Heerwaarden, C. C., and Vilà-Guerau de Arellano, J.: The Benefits and Challenges of Downscaling a Global Reanalysis with Doubly-Periodic Large-Eddy Simulations, ESS Open Archive [preprint], https://doi.org/10.22541/essoar.168167362.25141062/v1, 2023. a
Veerman, M. A., van Stratum, B. J. H., and van Heerwaarden, C. C.: A case study of cumulus convection over land in cloud-resolving simulations with a coupled ray tracer, Geophys. Res. Lett., 49, e2022GL100808, https://doi.org/10.1029/2022GL100808, 2022. a, b, c
Wauben, W., Bosveld, F., and Baltink, H. K.: Laboratory and Field Evaluation of the NubiScope Conference: WMO Technical Conference on Meteorological and Environmental Instruments and Methods of Observation, TECO-2010, WMO, Helsinki, https://library.wmo.int/pmb_ged/wmo-td_1546_en/1_7_Waubenetal_Netherlands.pdf (last access: 16 May 2023), 2010. a, b, c
WMO: Chapter 8 – Measurement of sunshine duration, https://library.wmo.int/index.php?lvl=notice_display&id=19664 (last access: 6 July 2022), 2014. a
Yang, D., Wang, W., Gueymard, C. A., Hong, T., Kleissl, J., Huang, J., Perez, M. J., Perez, R., Bright, J. M., Xia, X., van der Meer, D., and Peters, I. M.: A review of solar forecasting, its dependence on atmospheric sciences and implications for grid integration: Towards carbon neutrality, Renew. Sust. Energ. Rev., 161, 112348, https://doi.org/10.1016/j.rser.2022.112348, 2022. a
Yordanov, G. H.: A study of extreme overirradiance events for solar energy applications using NASA's I3RC Monte Carlo radiative transfer model, Sol. Energy, 122, 954–965, https://doi.org/10.1016/j.solener.2015.10.014, 2015. a
Yordanov, G. H., Saetre, T. O., and Midtgård, O.: 100-millisecond Resolution for Accurate Overirradiance Measurements, IEEE J. Photovolt., 3, 1354–1360, https://doi.org/10.1109/JPHOTOV.2013.2264621, 2013. a
Yordanov, G. H., Saetre, T. O., and Midtgård, O.-M.: Extreme overirradiance events in Norway: 1.6 suns measured close to 60∘ N, Sol. Energy, 115, 68–73, https://doi.org/10.1016/j.solener.2015.02.020, 2015. a