Data description paper | 22 Dec 2022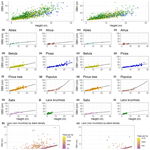 1

Alfred Wegener Institute (AWI) Helmholtz Centre for Polar and Marine Research, Research Unit Potsdam, Potsdam, Germany

2

Institute of Environmental Sciences and Geography, University of Potsdam, Potsdam-Golm, Germany

3

Institute of Biochemistry and Biology, University of Potsdam, Potsdam-Golm, Germany

4

Institute of Natural Sciences, North-Eastern Federal University, Yakutsk, Russia

5

Institute for Biological Problems of Cryolithozone, Russian Academy of Sciences, Siberian Branch, Yakutsk, Russia
Correspondence: Timon Miesner (timon.miesner@awi.de)
Received: 16 May 2022 – Discussion started: 24 May 2022 – Revised: 02 Nov 2022 – Accepted: 17 Nov 2022 – Published: 22 Dec 2022
We compile a data set of forest surveys from expeditions to the northeast of the Russian Federation, in Krasnoyarsk Krai, the Republic of Sakha (Yakutia), and the Chukotka Autonomous Okrug (59–73∘ N, 97–169∘ E), performed between the years 2011 and 2021. The region is characterized by permafrost soils and forests dominated by larch (Larix gmelinii Rupr. and Larix cajanderi Mayr).
Our data set consists of a plot database describing 226 georeferenced vegetation survey plots and a tree database with information about all the trees on these plots. The tree database, consisting of two tables with the same column names, contains information on the height, species, and vitality of 40 289 trees. A subset of the trees was subject to a more detailed inventory, which recorded the stem diameter at base and at breast height, crown diameter, and height of the beginning of the crown.
We recorded heights up to 28.5 m (median 2.5 m) and stand densities up to 120 000 trees per hectare (median 1197 ha−1), with both values tending to be higher in the more southerly areas. Observed taxa include Larix Mill., Pinus L., Picea A. Dietr., Abies Mill., Salix L., Betula L., Populus L., Alnus Mill., and Ulmus L.
In this study, we present the forest inventory data aggregated per plot. Additionally, we connect the data with different remote sensing data products to find out how accurately forest structure can be predicted from such products. Allometries were calculated to obtain the diameter from height measurements for every species group. For Larix, the most frequent of 10 species groups, allometries depended also on the stand density, as denser stands are characterized by thinner trees, relative to height. The remote sensing products used to compare against the inventory data include climate, forest biomass, canopy height, and forest loss or disturbance. We find that the forest metrics measured in the field can only be reconstructed from the remote sensing data to a limited extent, as they depend on local properties. This illustrates the need for ground inventories like those data we present here.
The data can be used for studying the forest structure of northeastern Siberia and for the calibration and validation of remotely sensed data. They are available at https://doi.org/10.1594/PANGAEA.943547 (Miesner et al., 2022).
In total, 20 % of the world's forests are located in Russia (FAO, 2020), with the majority of these forests located in the sparsely populated north and east of the country. As the high latitudes are warming at a much faster rate than the global average, these forests are experiencing, and will face, further massive, abrupt changes (Scheffer et al., 2012). The threat of feedback loops to the global climate system (Bonan, 2008), possibly through the thawing of permafrost (Schuur et al., 2015) or changes in biosphere and soil carbon stocks (Walker et al., 2019), make it crucial to understand these ecosystems.
While the major portion of the world's boreal forests are made up of evergreen coniferous forest, northeastern Asia is dominated by summergreen coniferous trees of the species Larix gmelinii and Larix cajanderi (Abaimov, 2010). This vegetation type covers an area of several million square kilometres and stretches from the northern China in the south and the central Siberian Plateau in the west, where mixed stands occur with evergreen coniferous trees, to the northern treeline near the Arctic Ocean, where sparse forest tundra and stunted growth forms prevail (Wieczorek et al., 2017; Kruse et al., 2020a). Much of the geographical range is underlain by continuous permafrost (Osawa and Zyryanova, 2010). Recurrent forest fires also play a vital role in the ecosystem (Payette, 1992).
There has been no comprehensive forest inventory and planning in Russia in the post-Soviet era, and thus estimations on the volume of wood in the nation's forests vary widely (Schepaschenko et al., 2021). A national forest inventory, conducted between 2006 and 2020, aimed to shed light on this, but no definite results have been published as of May 2022. There are several studies that deal explicitly with larch-dominated ecosystems in Russia, for example, Kharuk et al. (2019) and Dolman et al. (2004) and the comprehensive volume by Osawa and Zyryanova (2010), but there are only a few that come with forest inventory data. The range of Larix gmelinii extends into the northernmost provinces of China, where it is used for afforestation. In this area, there has been much research on this species, e.g. Jia and Zhou (2018), Widagdo et al. (2020), and Xiao et al. (2020), but the properties of the species – and thus the ecosystems formed – vary widely, depending on growing conditions, which are a lot harsher in the northern parts of its range (Wang et al., 2005).
Remote sensing data can give insight into many forest-related parameters, such as aboveground biomass, growing stock volume, or canopy height (Simard et al., 2011; Santoro et al., 2018), and in the past decade, there has been a massive increase in detailed, freely available remote sensing data products. The ground-truthing that is necessary for such products tends to have a bias towards more accessible forest areas where previous forest surveys have been conducted (e.g. Yang and Kondoh, 2020). Another issue is that sparsely forested ecosystems at the tundra–taiga ecotone are often not understood as forests, e.g. by the influential Food and Agriculture Organization (FAO) definition (FAO, 2000), and therefore, they may be excluded from such data. Other aspects, such as the compositional complexity of forest in terms of height, age, and species distribution, are still difficult to capture from space, meaning that it is necessary to take on-site measurements in order to understand these ecosystems.
To meet this demand, joint Russian–German expeditions to Siberia have been conducted since 2011 to the Russian Federation subjects of Krasnoyarsk Krai, the Republic of Sakha (Yakutia), and the Chukotka Autonomous Okrug. In this study, we present the collected forest measurement data of the combined expeditions, both at the level of single trees and at the plot level, which can potentially be further upscaled. The central questions that motivate this study are as follows: what are the patterns of forest composition in northeast Asian larch ecosystems? How much growing stock of wood do they hold? How strong is the role of climate as a driver for these variables? How well do available remote sensing products describe what we see on the ground?
3.1

 Description of the data
3.1.1

 Descriptive statistics

The tree database comprises 42 675 entries, describing 40 289 trees. This is due to the fact that, on circular plots, the trees that were subject to detailed inventory are also recorded again in the height-only inventory. Of these, 33 513 individuals were used for aggregation at the plot level. The rest were excluded for being smaller than 40 cm, because such trees were not recorded on every plot, or for being located outside of the vegetation plots listed in the plot database.

The plot database includes 226 vegetation plots, of which 162 contain trees taller or equal to 40 cm. Of the 40 289 trees, 4660 (11.6 %) were dead and 35 629 (88.4 %) living at the time of recording. All entries in the tree database have a recorded height, which ranges up to 28.5 m. The species is recorded for all but 31 entries. The most frequent species are Larix cajanderi (44.4 % of database) and Larix gmelinii (25.7 %). The two Larix species never occur together on the same plot. Other frequent taxa are Betula pendula Roth (13.9 %), Picea obovata Ledeb. (5.8 %), Pinus sylvestris L. (5.0%), and the genus Salix spec. (3.2 %). Among the less frequent taxa are Populus tremula L., Alnus spec., Pinus pumila Regel, Pinus sibirica Du Tour, and Abies sibirica Ledeb.

Values for basal diameter are present for 2583 entries. They range from 0 to 97.7 cm, with the median at 6.99 cm and mean at 11.08 cm. For diameter at breast height (DBH), there are 2095 values in the data set, almost all of which are trees for which the basal diameter is also given. DBH is almost always lower than basal diameter, on average by the factor 0.628. DBH ranges up to 71.6 cm, with the median at 6.4 cm and mean at 9.02 cm. Maximum crown diameter and smaller crown diameter (measured perpendicular to maximum) are given for 2079 entries and range from 0 to 16 m. The quotient of the two diameters is, on average, 0.81. Tree crown area, which is the product of the two values and the factor is, on average, 4.77 m2, with a median of 1.43 m2.
3.1.2

 Diameter–height allometry

The power function allometries for the different species differ notably, as can be seen in Fig. 3. The basal diameter of birches (Betula), for example, is obtained from height with an exponent of a1 = 1.15 and a factor of a2 = 0.91, while for Abies, the exponent is a1 = 0.66 and the factor is a2 = 2.69. The genus Populus differs strongly from the other species groups, with an exponent of a1 = 2.29 and a factor of a2 = 0.06. In the DBH-model Populus differs remarkably from the others, too, even if not that strongly. All factors and exponents are displayed in Appendix C.

The graphs in Fig. 3k and u show the diameter–height allometries for the genus Larix when taking into account the number of trees per hectare. When tree measurements are grouped by stand density, the resulting power functions differ by more than the respective standard errors for the coefficients, especially for heights between 4 and 12 m, where a higher number of trees on the plot have smaller diameters.
3.1.3

 Height distributions

Tree heights show a nearly exponential distribution, with the exception that values from approximately 15 m upward occur slightly more frequently than expected under an exponential distribution (Fig. 4). However, at the level of individual plots, the distribution patterns vary widely. This can be seen in Fig. 5. Although the tree heights on plot EN21-260 are close to an exponential distribution, suggesting a continuous recruitment rate, in EN21-253 the larger trees are overrepresented. Plot EN21-230 is missing the smallest cohort, and plot EN21-246 is an example of dense regrowth after a stand-replacing fire, where older trees taller than 7 m are absent. Plot EN21-226 is dominated by a cohort of middle-sized trees, lacking both small and very large ones. In EN21-219, some large and many small individuals are present, while medium-sized ones are missing.

The Gini coefficient is normally distributed with a mean of 0.363 and standard deviation of 0.123. Plot EN21-258 is an example of a plot with a high Gini value (0.679), and plot EN21-226 is at the lower end, with a Gini coefficient of 0.166. The Gini coefficients are negatively correlated with the geographic latitude of the plot (Fig. 5). The linear regression has a p value of 0.021, and R2 = 0.33.
3.1.4

 Species distribution

In accordance with the known ranges of the different species, we observe that species diversity tends to be higher on the plots in central and western Yakutia, which experience warmer summers and longer growing seasons than the plots near the northern treeline. All plots north of 70∘ N have only one species (larch), while, for the plots south of 65∘ N, there are, on average, 3.11 species, with a maximum of 9 tree species from 7 species groups.

The species Pinus sylvestris, Picea obovata, Abies sibirica, Ulmus spec., and Populus tremula only occur on the plots south of 65∘ N, with a July temperature of at least 17 ∘C. More predominant among the southerly plots are Betula pendula and Alnus spec., but they are also found at one and three plots, respectively, in Chukotka. The taxa Pinus pumila and Salix spec. occur frequently between 65 and 70∘ N. Of the plots with trees, all but one have Larix individuals. For the plots to the west of 130∘ E, it is L. gmelinii, and for the plots east thereof, it is L. cajanderi.
3.2

 Remote sensing products as predictors
We presented and analysed a data set resulting from forest inventories in various regions of northeast Siberia. A subset of the entries includes diameter measurements and height measurements, whereas the majority only includes height. Therefore, we computed diameter–height allometries, which are reasonably accurate overall but show a bias for some plots. It proved difficult to predict forest metrics at the plot level, for example, stem volume and basal area, from a selection of remote sensing products, as these were not strongly correlated. Among the climatic variables taken from the CHELSA data set, the mean July temperature is one of the best predictors, along with GDD0 and length of growing season, while the mean January temperature and precipitation proved almost insignificant. The GlobBiomass data set and the Simard et al. (2011) forest height product are correlated with the volume and height measurements on the survey plots but unsuitable for predicting the latter on a small scale. The data sets used for forest age and disturbance often differ from both each other and the observations made in the field. This leads us to conclude that, even in our time of widely available global remote sensing data sets, field measurements like the ones presented here are still vital for the understanding of remote ecosystems such as the larch-dominated forests of northeast Siberia.
Appendix A:
 Overview over all vegetation plots
Appendix B:
 Overview over all variables
Appendix C:
 Coefficients of diameter–height allometries
Allometries were calculated to obtain the diameter from the height of the tree with the following formula:
where D is the diameter in centimetres. H is the height, and S is the stand density, which is obtained from the number of trees per hectare (Tha) as follows:
The coefficients a1, a2, a3, and a4 resulting from fitting with the least squares method are shown in Tables B1 and B2.
Appendix D:
 Correlation matrix of climate variables
Appendix E:
 Correlation coefficients for forest canopy height
In Sect. 3.2.3, linear correlations were calculated between the Simard et al. (2011) forest height product and different forest metrics (heights in metres), with the results shown in Table E1.
TM and UH conceptualized the paper and did the analysis. TM drafted the paper and performed the analysis. SK revised the data. TM, UH, LAP, MW, ESZ, AIK, PVD and SK did fieldwork and revised the paper.
The contact author has declared that none of the authors has any competing interests.
Publisher's note: Copernicus Publications remains neutral with regard to jurisdictional claims in published maps and institutional affiliations.
Many people of the logistic and scientific staff at the Alfred Wegener Institute (AWI) and North-Eastern Federal University Yakutsk (NEFU) contributed to the success of the expeditions. We thank Cathy Jenks, for the English language proofreading. And, finally, we are grateful to Elizabeth Webb and two anonymous reviewers, whose comments helped to improve the paper.
The study has been supported by the ERC consolidator (grant no. 772852). Parts of the fieldwork have been funded by the Russian Foundation for Basic Research (grant no. 20-35-90081) and the Ministry of Science and Higher Education of Russia (grant no. FSRG-2020-0019). Publisher's note: Copernicus Publications has not received any payments from Russian or Belarusian institutions for this paper.
This paper was edited by Hanqin Tian and reviewed by Elizabeth Webb and two anonymous referees.
Abaimov, A. P.: Geographical Distribution and Genetics of Siberian Larch Species, in: Permafrost Ecosystems: Siberian Larch Forests, edited by: Osawa, A., Zyranova, O. A., Matsuura, Y., Kajimoto, T., and Wein, R. W., Springer, 41–58, https://doi.org/10.1007/978-1-4020-9693-8_2, 2010. a
Alexander, H. D., Mack, M. C., Goetz, S., Loranty, M. M., Beck, P. S. A., Earl, K., Zimov, S., Davydov, S., and Thompson, C. C.: Carbon Accumulation Patterns During Post-Fire Succession in Cajander Larch (Larix cajanderi) Forests of Siberia, Ecosystems 15, 1065–1082, https://doi.org/10.1007/s10021-012-9567-6, 2012. a
Bonan, G. B.: Forests and Climate Change: Forcings, Feedbacks, and the Climate Benefits of Forests, Science, 320, 1444–1449, https://doi.org/10.1126/science.1155121, 2008. a
Cailliez, F. and Alder, D.: Forest volume estimation and yield prediction (Vol. 1), Food and agriculture Organization of the United Nations, Rome, ISBN 92-5-100923-6, https://www.fao.org/3/ap354e/ap354e00.pdf (last access: 29 November 2022), 1980. a
Chen, D., Loboda, T. V., Krylov, A., and Potapov, P.: Distribution of Estimated Stand Age Across Siberian Larch Forests, 1989–2012, ORNL DAAC [data set], https://doi.org/10.3334/ORNLDAAC/1364, 2017. a, b
Collow, A. B. M., Thomas, N. P., Bosilovich, M. G., Lim, Y.-K., Schubert, S. D., and Koster, R. D.: Seasonal Variability in the Mechanisms Behind the 2020 Siberian Heatwaves, J. Climate, 35, 3075–3090, https://doi.org/10.1175/JCLI-D-21-0432.1, 2022. a
Delcourt, C. J. F. and Veraverbeke, S.: Allometric equations and wood density parameters for estimating aboveground and woody debris biomass in Cajander larch (Larix cajanderi) forests of northeast Siberia, Biogeosciences, 19, 4499–4520, https://doi.org/10.5194/bg-19-4499-2022, 2022. a
Dolman, A. J., Maximov, T. C., Moors, E. J., Maximov, A. P., Elbers, J. A., Kononov, A. V., Waterloo, M. J., and van der Molen, M. K.: Net ecosystem exchange of carbon dioxide and water of far eastern Siberian Larch (Larix cajanderii) on permafrost, Biogeosciences, 1, 133–146, https://doi.org/10.5194/bg-1-133-2004, 2004. a
FAO: On definitions of forest and forest change, FRA Working Paper No. 33, Rome, https://www.fao.org/3/ad665e/ad665e03.htm#P199_9473 (last access: 19 December 2022), 2000. a
FAO: Global Forest Resources Assessment 2020 – Key findings, Rome, https://doi.org/10.4060/ca8753en, 2020. a
Gini, C.: Variabilità e mutabilità – contributo allo studio delle distribuzioni e delle relazioni statistiche, Bologna, 1912. a
Hansen, M. C., Potapov, P. V., Moore, R., Hancher, M., Turubanova, S. A., Tyukavina, A., Thau, D., Stehman, S. V., Goetz, S. J., Loveland, T. R., Kommareddy, A., Egorov, A., Chini, L., Justice, C. O., and Townshend, J. R. G.: High-Resolution Global Maps of 21st-Century Forest Cover Change, Science, 342, 850–53, https://doi.org/10.1126/science.1244693, 2013. a, b, c
Houghton, R. A., Butman, D., Bunn, A. G., Krankina, O. N., Schlesinger, P., and Stone, T. A.: Mapping Russian forest biomass with data from satellites and forest inventories, Environ. Res. Lett. 2, 045032, https://doi.org/10.1088/1748-9326/2/4/045032, 2007. a
Jia, B. and Zhou, G.: Growth characteristics of natural and planted Dahurian larch in northeast China, Earth Syst. Sci. Data, 10, 893–898, https://doi.org/10.5194/essd-10-893-2018, 2018. a
Kajimoto, T., Matsuura, Y., Sofronov, M. A., Voloktina, A. V., Mori, S., Osawa, A., and Abaimov, A. P.: Above- and belowground biomass and net primary productivity of a Larix gmelinii stand near Tura, central Siberia, Tree Physiol., 19, 815–822, https://doi.org/10.1093/treephys/19.12.815, 1999. a, b
Kajimoto, T., Osawa, A., Usoltsev, V. A., and Abaimov, A. P.: Biomass and Productivity of Siberian Larch Forest Ecosystems, in: Permafrost Ecosystems: Siberian Larch Forests, edited by: Osawa, A., Zyranova, O. A., Matsuura, Y., Kajimoto, T., and Wein, R. W., Springer, 41–58, https://doi.org/10.1007/978-1-4020-9693-8_6, 2010. a
Karger, D. N., Conrad, O., Böhner, J., Kawohl, T., Kreft, H., Soria-Auza, R. W., Zimmermann, N. E., Linder, P., and Kessler, M.: Climatologies at high resolution for the Earth land surface areas, Scientific Data, 4, 170122, https://doi.org/10.1038/sdata.2017.122, 2017. a
Karger, D. N., Conrad, O., Böhner, J., Kawohl, T., Kreft, H., Soria-Auza, R. W., Zimmermann, N. E., Linder, H. P., and Kessler, M.: Climatologies at high resolution for the earth's land surface areas, EnviDat [data set], https://doi.org/10.16904/envidat.228.v2.1, 2021. a
Kharuk, V. I., Ranson, K. J., Dvinskaya, M. L., and Im, S. T.: Wildfires in northern Siberian larch dominated communities, Environ. Res. Lett., 6, 045208, https://doi.org/10.1088/1748-9326/6/4/045208, 2011. a, b
Kharuk, V. I., Ranson, K. J., Petrov, I. A., Dvinskaya, M. L., Im, S. T., and Golyukov, A. S.: Larch (Larix dahurica Turcz) growth response to climate change in the Siberian permafrost zone, Reg. Environ. Change, 19, 233–243 https://doi.org/10.1007/s10113-018-1401-z, 2019. a, b
Kropp, H., Loranty, M., Alexander, H. D., Berner, L. T., Natali, S. M., and Spawn, S. A.: Environmental constraints on transpiration and stomatal conductance in a Siberian Arctic boreal forest, J. Geophys. Res-Biogeo., 122, 487–497, https://doi.org/10.1002/2016JG003709, 2017. a
Kruse, S., Bolshiyanov, D., Grigoriev, M., Morgenstern, A., Pestryakova, L., Tsibizov, L., and Udke, A.: Russian-German Cooperation: Expeditions to Siberia in 2018, Berichte zur Polar- und Meeresforschung, 734, 136–153, https://doi.org/10.2312/BzPM_0734_2019, 2019. a
Kruse, S., Herzschuh, U., Schulte, L., Stuenzi, S. M., Brieger, F., Zakharov, E. S., and Pestryakova, L. A.: Forest inventories on circular plots on the expedition Chukotka 2018, NE Russia, PANGAEA [data set], https://doi.org/10.1594/PANGAEA.923638, 2020a. a, b
Kruse, S., Kolmogorov, A. I., Pestryakova, L. A., and Herzschuh, U.: Long-lived larch clones may conserve adaptations that could restrict treeline migration in northern Siberia, Ecol. Evol., 10, 10017–10030, https://doi.org/10.1002/ece3.6660, 2020b. a
Kuznetsova, L. V., Zakharova, V. I., Sosina,, N. K., Nikolin, E. G., Ivanova, E. I., Sofronova, E. V., Poryadina, L. N., Mikhailyova, L. G., Vasilyeva, I. I., Remigailo, P. A., Gabyshev, A. P., Ivanova, A. P., and Kopyrina, L. I.: Flora of Yakutia: Composition and Ecological Structure, in: The far North, edited by: Kuznetsova, L. V., Zakharova, V. I., Sosina, N. K., Nikolin, E. G., Ivanova, E. I., Sofronova, E. V., Poryadina, L. N., Mikhalyova, L. G., Vasilyeva, I. I., Remigalio, P. A., Gabyshev, V. A., Ivanova, A. P., and Kopyrina, L. I., Plant and Vegetation, 3, Springer, Dordrecht, 24–140, https://doi.org/10.1007/978-90-481-3774-9_2, 2010. a
Lin, H., Yang, K., Hiseh, T., and Hiseh, C.: Species Composition and Structure of a Montane Rainforest of Mt. Lopei in Northern Taiwan, Taiwania, 50, 234–249, 2005. a
Miesner, T., Herzschuh, U., Pestryakova, L. A., Wieczorek, M., Kolmogorov, A., Heim, B., Zakharov, E. S., Shevtsova, I., Epp, L. S., Niemeyer, B., Jacobsen, I., Schröder, J., Trense., D., Schnabel, E., Schreiber, X., Bernhardt, N., Stuenzi, S. M., Brieger, F., Schulte, L., Smirnikov, V., Gloy, J., von Hippel, B., Jackisch, R., and Kruse, S.: Tree data set from forest inventories in north-eastern Siberia, PANGAEA [data set], https://doi.org/10.1594/PANGAEA.943547, 2022. a, b
Montesano, P. M., Sun, G., Dubayah, R. O., and Ranson, K. J.: Spaceborne potential for examining taiga–tundra ecotone form and vulnerability, Biogeosciences, 13, 3847–3861, https://doi.org/10.5194/bg-13-3847-2016, 2016. a
Osawa, A. and Zyryanova, O. A.: Introduction, in: Permafrost Ecosystems: Siberian Larch Forests, edited by: Osawa, A., Zyranova, O. A., Matsuura, Y., Kajimoto, T., Wein, R. W., Springer, 3–15, https://doi.org/10.1007/978-1-4020-9693-8_1, 2010. a, b
Overduin, P. P., Blender, F., Bolshiyanov, D. Y., Grigoriev, M. N., Morgenstern, A., and Meyer, H.: Russian-German Cooperation: Expeditions to Siberia in 2016, Berichte zur Polar- und Meeresforschung, 709, 130–137, https://doi.org/10.2312/BzPM_0709_2017, 2017. a
Payette, S.: Fire as a controlling process in the North American boreal forest, in: A Systems Analysis of the Global Boreal Forest, edited by: Bonan, G. B., Shugart, H. H., and Leemans, R., Cambridge University Press, Cambridge, 144–169, https://doi.org/10.1017/CBO9780511565489.006, 1992. a
Picard, N., Boyemba Bosela, F., and Rossi, V.: Reducing the error in biomass estimates strongly depends on model selection, Ann. For. Sci., 72, 811–823, https://doi.org/10.1007/s13595-014-0434-9, 2015. a
Ponomarev, E., Zabrodin, A., and Ponomareva, T.: Classification of Fire Damage to Boreal Forests of Siberia in 2021 Based on the dNBR Index, Fire, 5, 19, https://doi.org/10.3390/fire5010019, 2022. a
Potapov, P., Li, X., Hernandez-Serna, A., Tyukavina, A., Hansen, M. C., Kommareddy, A., Pickens, A., Turubanova, S., Tang, H., Silva, C. E., Armston, J., Dubayah, R., Blair J. B., and Hofton, M.: Mapping and monitoring global forest canopy height through integration of GEDI and Landsat data, Remote Sens. Environ., 253, 112165, https://doi.org/10.1016/j.rse.2020.112165, 2020. a
QGIS Geographic Information System, QGIS Association [software], http://www.qgis.org, last access: 10 October 2021. a
R Core Team: R: A language and environment for statistical computing, R Foundation for Statistical Computing [software], Vienna, Austria, https://www.R-project.org/, last access: 16 June 2021. a
Ranson, K. J., Sun, G., Kharuk, V. I., and Kovacs, K.: Assesing tundra-taiga boundary with multi-sensor satellite data, Remote Sens. Environ., 93, 283–295, https://doi.org/10.1016/j.rse.2004.06.019, 2004. a
Santoro, M., Cartus, O., Mermoz, S., Bouvet, A., Le Toan, T., Carvalhais, N., Rozendaal, D., Herold, M., Avitabile, V., Quegan, S., Carreiras, J., Rauste, Y., Balzter, H., Schmullius, C., and Seifert, F. M.: GlobBiomass global above-ground biomass and growing stock volume datasets, GlobBiomass [data set], http://globbiomass.org/products/global-mapping (last access: 11 November 2021), 2018. a, b, c
Santoro, M., Cartus, O., Carvalhais, N., Rozendaal, D. M. A., Avitabile, V., Araza, A., de Bruin, S., Herold, M., Quegan, S., Rodríguez-Veiga, P., Balzter, H., Carreiras, J., Schepaschenko, D., Korets, M., Shimada, M., Itoh, T., Moreno Martínez, Á., Cavlovic, J., Cazzolla Gatti, R., da Conceição Bispo, P., Dewnath, N., Labrière, N., Liang, J., Lindsell, J., Mitchard, E. T. A., Morel, A., Pacheco Pascagaza, A. M., Ryan, C. M., Slik, F., Vaglio Laurin, G., Verbeeck, H., Wijaya, A., and Willcock, S.: The global forest above-ground biomass pool for 2010 estimated from high-resolution satellite observations, Earth Syst. Sci. Data, 13, 3927–3950, https://doi.org/10.5194/essd-13-3927-2021, 2021. a, b
Scheffer, M., Hirota M., Holmgren, M., Van Nes, E. H., and Chapin, F. S.: Thresholds for boreal biome transitions, P. Natl. Acad. Sci. USA, 109, 21384–21389, https://doi.org/10.1073/pnas.1219844110, 2012. a
Schepaschenko, D., Shvidenko, A., Usoltsev, V., Lakyda, P., Yunjian L., Vasylyshyn, R., Lakyda, I., Myklush, Y., See, L., McCallum, I., Fritz, S., Kraxner, F., and Obersteiner, M.: A dataset of forest biomass structure for Eurasia, Sci. Data, 4, 170070, https://doi.org/10.1038/sdata.2017.70, 2017. a
Schepaschenko, D., Moltchanova, E., Fedorov, S., Karminov, V., Ontikov, P., Santoro, M., See, L., Kositsyn, V., Shivdenko, A., Romanovskaya, A., Korotkov, V., Lesiv, M., Bartalev, S., Fritz, S., Shchepashchenko, M., and Kraxner, F.: Russian forest sequesters substantially more carbon than previously reported, Sci. Rep., 11, 12825, https://doi.org/10.1038/s41598-021-92152-9, 2021.  a
Schuur, E., McGuire, A., Schädel, C., Grosse, G., Harden, J., Hayes, D., Hugelius, G., Koven, C., Kuhry, P., Lawrence, D., Natali, S., Olefeldt, D., Romanovsky, V. E., Schaefer, K., Turetsky, M., Treat, C., and Vonk, J.: Climate change and the permafrost carbon feedback, Nature, 520, 171–179, https://doi.org/10.1038/nature14338, 2015. a
Simard, M., Pinto, N., Fisher, J. B., and Baccini, A.: Mapping forest canopy height globally with spaceborne lidar, J. Geophys. Res., 116, G04021, https://doi.org/10.1029/2011JG001708, 2011. a, b, c, d, e, f, g, h, i
Sugimoto, A., Yanagisawa, N., Naito, D., Fujita, N., and Maximov, T. C.: Importance of permafrost as a source of water for plants in east Siberian taiga, Ecol. Res., 17, 493–503, https://doi.org/10.1046/j.1440-1703.2002.00506.x, 2002. a
van Geffen, F., Schulte, L., Geng, R., Heim, B., Pestryakova, L. A., Herzschuh, U., and Kruse, S.: SiDroForest: Individual-labelled trees acquired during the fieldwork expeditions that took place in 2018 in Central Yakutia and Chukotka, Siberia, PANGAEA [data set], https://doi.org/10.1594/PANGAEA.932821, 2021. a
Walker, X. J., Baltzer, J. L., Cumming, S. G., Day, N. J., Ebert, C., Goetz, S., Johnstone, J. F., Potter, S., Rogers, B. M., Schuur, E. A., Turetsky, M. R., and Mack, M. C.: Increasing wildfires threaten historic carbon sink of boreal forest soils, Nature, 572, 520–523, https://doi.org/10.1038/s41586-019-1474-y, 2019. a
Walker, X., Alexander, H. D., Berner, L., Boyd, M. A., Loranty, M. M., Natali, S., and Mack, M. C.: Positive response of tree productivity to warming is reversed by increased tree density at the Arctic tundra-taiga ecotone, Can. J. For. Res. 51, 1323–1338, https://doi.org/10.1139/cjfr-2020-0466, 2021. a
Wang, W., Zu, Y., Wang, H., Matsuuta, Y., Sasa, K., and Koike, T.: Plant Biomass and Productivity of Larix gmelinii Forest Ecosystems in Northeast China: Intra- and Inter- species Comparison, Eurasian J. For. Res., 8, 21–41, 2005. a
Widagdo, F. R. A., Xie, L., Dong, L., and Li, F.: Origin-based biomass allometric equations, biomass partitioning, and carbon concentration variations of planted and natural Larix gmelinii in northeast China, Global Ecology and Conservation, 23, e01111, https://doi.org/10.1016/j.gecco.2020.e01111, 2020. a
Wieczorek, M., Kruse, S., Epp, L. S., Kolmogorov, A., Nikolaev, A. N., Heinrich, I., Jeltsch, F., Pestryakova, L. A., Zibulski, R., and Herzschuh, U.: Field and simulation data for larches growing in the Taimyr treeline ecotone, PANGAEA [data set], https://doi.org/10.1594/PANGAEA.874615, 2017. a, b
Xiao, R., Man, X., and Duan, B.: Carbon and Nitrogen Stocks in Three Types of Larix gmelinii Forests in Daxing'an Mountains, Northeast China. Forests, 11, 305, https://doi.org/10.3390/f11030305, 2020. a
Yang, W. and Kondoh, A.: Evaluation of the Simard et al. 2011 Global Canopy Height Map in Boreal Forests, Remote Sens., 12, 1114, https://doi.org/10.3390/rs12071114, 2020. a, b, c
Zhang, Y., Liang, S., and Yang, L.: A Review of Regional and Global Gridded Forest Biomass Datasets, Remote Sens., 11, 2744, https://doi.org/10.3390/rs11232744, 2019. a