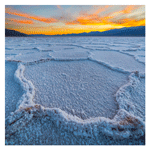 1

Max Planck Institute for Dynamics and Self-Organization, Am Fassberg 17, 37077 Göttingen, Germany

2

Complexity Science Hub Vienna, Josefstädterstrasse 39, 1080 Vienna, Austria

3

School of Geography and Environmental Science, University of Southampton, Highfield, Southampton SO17 1BJ, UK

4

School of Science and Technology, Nottingham Trent University, Nottingham NG11 8NS, UK
Correspondence: Jana Lasser (lasser@csh.ac.at)
Received: 06 Apr 2020 – Discussion started: 28 May 2020 – Revised: 09 Sep 2020 – Accepted: 21 Sep 2020 – Published: 14 Nov 2020
The data set described here contains information about the surface, subsurface, and environmental conditions of salt pans that express polygonal patterns in their surface salt crust (Lasser et al., 2020b; https://doi.org/10.5880/fidgeo.2020.037). Information stems from 5 field sites at Badwater Basin and 21 field sites at Owens Lake – both in central California. All data were recorded during two field campaigns from between November and December 2016 and in January 2018. Crust surfaces, including the mean diameter and fluctuations in the height of the polygonal patterns, were characterised by a terrestrial laser scanner (TLS). The data contain the resulting three-dimensional point clouds that describe these surfaces. The subsurface is characterised by grain size distributions of samples taken from depths between 5 and 100 cm below the salt crust and measured with a laser particle size analyser. Subsurface salinity profiles were recorded, and the groundwater density was also measured. Additionally, the salts present in the crust and pore water were analysed to determine their composition. To characterise the environmental conditions at Owens Lake, including the differences between nearby crust features, records were made of the temperature and relative humidity during 1 week in November 2016. The field sites are characterised by images showing the general context of each site, such as pictures of selected salt polygons, including any which were sampled, a typical core from each site at which core samples were taken, and close-ups of the salt crust morphology. Finally, two videos of salt crust growth over the course of spring 2018 and reconstructed from time lapse images are included.
Salt pans play an important role in climate–surface interactions (e.g. Gill, 1996; Prospero, 2002; Nield et al., 2015). Occurring around the world, they are often covered by a salt crust expressing polygonal ridge patterns with diameters of roughly 1 to 3 m and ridge heights up to 0.4 m (e.g. Christiansen, 1963; Krinsley, 1970; Nield et al., 2015; Lasser et al., 2019). These iconic patterned surfaces annually draw millions of tourists to sites like Salar de Uyuni or Death Valley (Service, 2019), and some examples are shown in Fig. 1. The salt crusts themselves are dynamic over months to years (Lowenstein and Hardie, 1985; Lokier, 2012; Nield et al., 2013, 2015), and the ridges interact with the often strong winds blowing over the surface. The wind erodes the surface and carries sand and small salt particles into the atmosphere. As such, salt pans are amongst the largest sources of atmospheric dust on the globe (Gill, 1996; Prospero, 2002).
The data summarised here were collected during a project to investigate the mechanisms underlying the formation of salt polygons in salt playas. To date, crust patterns have been attributed to buckling or wrinkling as expanding areas of crust collide  (Christiansen, 1963; Fryberger et al., 1983; Lowenstein and Hardie, 1985) or to surface cracks  (Krinsley, 1970; Dixon, 2009; Tucker, 1981; Deckker, 1988; Lokier, 2012). Both of these explanations have so far involved only the salt crust in the pattern formation process and a mechanical response in that crust. It is difficult to reconcile the spacing of such a response, which would depend on the thickness of the crust, with the remarkably consistent spacing of salt polygon patterns seen in playas with what can be otherwise very different conditions. For example, salt polygons have been reported in crusts with thicknesses ranging from less than a centimetre to several metres (Krinsley, 1970; Lowenstein and Hardie, 1985; Lokier, 2012; Lasser et al., 2019). It has been known for some time, however, that the pore water in the soil beneath a salt lake, tidal flat, or sabkha can express salinity-driven convective dynamics (Wooding et al., 1997; Sanford and Wood, 2001; Van Dam et al., 2009; Stevens et al., 2009). We have developed a model which couples the growth of polygonal salt ridges at the surface to the dynamics of porous-media convection cells below them (Lasser et al., 2019; Ernst et al., 2020). The data presented in this publication were gathered during research to test predictions arising from this hypothesis. To this end, a characterisation of the surface relief at various sites (Nield et al., 2020b) – along with the general site conditions (Lasser et al., 2020a), minerals present in the crusts (Lasser and Karius, 2020), the subsurface soil composition (Lasser and Goehring, 2020b), the spatial salt distribution below the patterns (Lasser and Goehring, 2020a), groundwater density (Lasser and Goehring, 2020a), and the temperature and relative humidity at various crust features (Nield et al., 2020a) – was made. These characterisations are described in greater detail in the present data publication, along with the study methodology. The associated data sets are freely available at the PANGAEA data repository.
To our knowledge, there is no data set that combines the types of measurements (temperature and humidity, geochemistry, grain size distributions, and terrestrial laser scan – TLS – surface scans) that we present in this publication. Grain size characterisations are commonly used to characterise the sea floor (see for example Michel et al., 2009; Sirocko et al., 2000). For other arid regions, there are a few data sets containing grain size distributions (Mischke et al., 2017; Arz et al., 2003; Nottebaum et al., 2020) and one other data set that combines a characterisation of both the grain size distribution and the geochemistry (Schwamborn et al., 2019). TLS data sets are published for example at https://tls.unavco.org/projects/ (last access: 5 November 2020), with one data set originating from Death Valley – one of our field sites – which focuses on larger topographic features (Pavlis, 2014).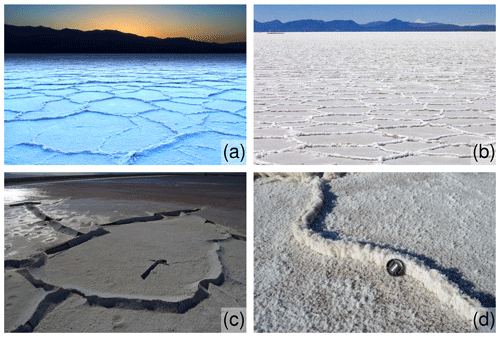 Six data sets were presented which characterise the surface, subsurface, and environmental conditions of two dry salt lakes – Owens Lake and Badwater Basin – in central California. The data sets include grain size distribution measurements of sand samples taken at these locations (Lasser and Goehring, 2020b), subsurface cross-sectional salt concentration profiles and pore water density measurements (Lasser and Goehring, 2020a), a chemical characterisation of the various salts present in the salt crust and pore water (Lasser and Karius, 2020), temperature and relative-humidity measurements from within salt ridges and polygon centres (Nield et al., 2020a), high-resolution surface scans measured using a terrestrial laser scanner (Nield et al., 2020b), and images characterising the field sites and time lapse videos capturing the growth of salt polygons (Lasser et al., 2020a).
Grain size distributions, surface scans, and images cover all 26 sites at Badwater Basin and Owens Lake that were visited and allow for an in-depth characterisation of surface and subsurface conditions at these salt pans. Temperature and relative-humidity recordings are only available for three sites at Owens Lake but allow for an estimation of the impact of the presence of salt ridges on temperature and humidity and therefore evaporation of water from the crust. Videos were compiled at two sites at Owens Lake and are direct evidence of salt ridges growing on a very short timescale. The analysis of salt species only covers two sites at Badwater Basin and six at Owens Lake. Nevertheless it is to be expected that other sites in the area have a similar mineral composition since they are connected to the same groundwater reservoirs.
For future research, the environmental conditions at the salt polygons and inside the salt ridges could be better described since they are closely linked to evaporative processes in these landscapes. Evaporation is important both for the water and energy balance of salt pans and as a driver of potential dynamical processes below the crust. Measurements of temperature and relative humidity could also be accompanied by direct measurements of the evaporation rate.
Furthermore, properties of the salt crust itself, such as crust thickness, would likely be of interest to investigate. This is important since theories about the origin of salt polygons make statements about the preferential deposition of salt in certain parts of polygons. Data about the crust thickness at salt ridges as compared to the centres of polygons could help confirm these theories.
JL was responsible for the conduction of the two field campaigns, laser particle size measurements, laboratory analysis of all samples, and preparation of the manuscript. LG was responsible for the conception of the project, performed the pore water density measurements, participated in both field campaigns, and contributed to the writing of the manuscript. JMN participated in both field campaigns and was responsible for the conduction and post-processing of TLS measurements. All authors contributed to proofreading of the manuscript.
The authors declare that they have no conflict of interest.
We thank Grace Holder (Great Basin Unified Air Pollution Control District) for support at Owens Lake and the US National Park Service for access to Death Valley (permit DEVA-2016-SCI-0034). TLS processing used the Iridis Southampton computing facility. We thank Volker Karius of the Geowissenschaftliches Zentrum, Georg-August-Universität Göttingen, for help with the conduction of the quantitative XRD and ICP-OES measurements.
This paper was edited by Kirsten Elger and reviewed by Honghe Xu and Kevin Perry.
This research has been supported by the Volkswagen and Wikimedia Foundation through the fellowship "Freies Wissen" 2019/20 for Jana Lasser.
Arz, H. W., Lamy, F., Pätzold, J., Müller, P. J., and Prins, M. A.: Age determination and clay content of sediment core GeoB5804-4, supplement to: Arz, H. W., Lamy, F., Pätzold, J., Müller, P. J., Prins, M. A. (2003): Mediterranean Moisture Source for an Early-Holocene Humid Period in the Northern Red Sea, Science, 300, 118–121, https://doi.org/10.1594/PANGAEA.736624, 2003. a
Chesworth, W.: Wentworth scale, in: Encyclopedia of Soil Science, 830–830, Springer Netherlands, Heidelberg, 2008. a, b
Christiansen, F. W.: Polygonal fracture and fold systems in the salt crust, Great Salt Lake Desert, Utah, Science, 139, 607–609, 1963. a, b
Deckker, P. D.: Biological and sedimentary facies of Australian salt lakes, Palaeogeogr. Palaeocl., 62, 237–270, 1988. a
Dixon, J. C.: Aridic Soils, Patterned Ground, and Desert Pavements, 101–122, Springer Netherlands, Dordrecht, 2009. a
Earle, S.: Physical Geology, BCcampus, Victoria, B.C., 2015. a
Ernst, M., Lasser, J., and Goehring, L.: Stability of convection in dry salt lakes, arXiv [preprint], arXiv:2004.10578, 2020. a
Fryberger, S. G., Al-Sari, A. M., and Clisham, T. J.: Eolian Dune, Interdune, Sand Sheet, and Siliciclastic Sabkha Sediments of an Offshore Prograding Sand Sea, Dhahran Area, Saudi Arabia, AAPG Bulletin, 67, 280–312, 1983. a
Gill, T. E.: Eolian sediments generated by anthropogenic disturbance of playas: Human impacts on the geomorphic system and geomorphic impacts on the human system, Geomorphology, 17, 207–228, 1996. a, b
Gill, T. E., Gillette, D. A., Niemeyer, T., and Winn, R. T.: Elemental geochemistry of wind-erodible playa sediments, Owens Lake, California, Nuclear Instruments and Methods in Physics, 189, 209–213, 2002. a
Groeneveld, D., Huntington, J., and Barz, D.: Floating brine crusts, reduction of evaporation and possible replacement of fresh water to control dust from Owens Lake bed, California, J. Hydrol., 392, 211–218, 2010. a
Groeneveld, D. P. and Barz, D. D.: Remote Monitoring of surfaces wetted for dust control on the dry Owens lakebed, California, Open J. Mod. Hydro., 3, 241–252, 2013. a
Hahn, D. W.: Light scattering theory, Tech. rep., University of Florida, Department of Mechanical and Aerospace Engineering, 2009. a
Handford, C. R.: Estimated ground-water discharge by evapotranspiration from Death Valley, California, 1997–2001, U.S. Geol. Survey, 3, Reston, Virginia, 2003. a
Hollet, K. J., Danskin, W. R., McCaffrey, W. F., and Waiti, C. L.: Geology and water resources of Owens Valley California, U.S. Geol. Survey, Reston, Virginia, 1991. a, b, c, d, e
Hunt, C. B., Robinson, T., Bowles, W., and Washburn, A.: Hydrologic basin, Death Valley, California, U.S. Geol. Survey, Reston, Virginia, 1966. a, b, c
Krinsley, D.: A geomorphological and paleoclimatological study of the playas of Iran. Part 1, U.S. Geol. Survey, CP 70-800, Reston, Virginia, 1970. a, b, c
Krumbein, W. C.: Size Frequency Distributions of Sediments, SEPM Journal of Sedimentary Research, 4, https://doi.org/10.1306/D4268EB9-2B26-11D7-8648000102C1865D, 1934. a
LADWP: Owens Lake habitat management plan, 2010. a
Lasser, J. and Goehring, L.: Subsurface salt concentration profiles and pore water density measurements from Owens Lake, central California, measured in 2018, https://doi.org/10.1594/PANGAEA.922264, 2020a. a, b, c, d, e, f, g, h, i
Lasser, J. and Goehring, L.: Grain size distributions of sand samples from Owens Lake and Badwater Basin in central California, collected in 2016 and 2018, https://doi.org/10.1594/PANGAEA.910996, 2020b. a, b, c, d, e, f, g
Lasser, J. and Karius, V.: Chemical characterization of salt samples from Owens Lake and Badwater Basin, central California, collected in 2016 and 2018, https://doi.org/10.1594/PANGAEA.911239, 2020. a, b, c, d, e, f, g, h, i
Lasser, J., Nield, J. M., Ernst, M., Karius, V., Wiggs, G. F., and Goehring, L.: Salt Polygons are Caused by Convection, arXiv [preprint], arxiv:1902.03600, 2019. a, b, c, d, e
Lasser, J., Goehring, L., and Nield, J. M.: Images and Videos from Owens Lake and Badwater Basin in central California, taken in 2016 and 2018, https://doi.org/10.1594/PANGAEA.911054, 2020a. a, b, c, d, e, f, g
Lasser, J., Nield, J. M., Karius, V., and Goehring, L.: Surface and subsurface characterisation of salt pans, https://doi.org/10.5880/fidgeo.2020.037, 2020b. a, b
Lokier, S.: Development and evolution of subaerial halite crust morphologies in a coastal Sabkha setting, J. Arid Environ., 79, 32–47, 2012. a, b, c
Lowenstein, T. K. and Hardie, L. A.: Criteria for the recognition of salt-pan evaporites, Sedimentology, 32, 627–644, 1985. a, b, c
Michel, J., Westphal, H., and Hanebuth, T. J. J.: (Table 1) Silt grain-size analysis of sediment surface samples in the Golfe d'Arguin, supplement to: Michel, J., Westphal, H., and Hanebuth, T. J. J. (2009): Sediment partitioning and winnowing in a mixed eolian-marine system (Mauritanian shelf), Geo-Mar. Lett., 29, 221–232, https://doi.org/10.1594/PANGAEA.746830, 2009. a
Mischke, S., Liu, C., Zhang, C., Zhang, H., Jiao, P., and Plessen, B.: Stable oxygen isotope record and grain size distribution of a sediment section in the Tarim Basin, supplement to: Mischke, S., Liu, C., Zhang, C., Zhang, H., Jiao, P., and Plessen, B. (2017): The world's earliest Aral-Sea type disaster: the decline of the Loulan Kingdom in the Tarim Basin, Sci. Rep., 7, 43102, https://doi.org/10.1594/PANGAEA.871173, 2017. a
Nicholas, L. and Andy, B.: Influence of vegetation cover on sand transport by wind: field studies at Owens Lake, California, Earth Surf. Proc. Land., 23, 69–82, 1997. a
Nield, J. M., King, J., Wiggs, G. F. S., Leyland, J., Bryant, R. G., Chiverrell, R. C., Darby, S. E., Eckardt, F. D., Thomas, D. S. G., Vircavs, L. H., and Washington, R.: Estimating aerodynamic roughness over complex surface terrain, J. Geophys. Res.-Atmos., 118, 12948–12961, 2013. a, b
Nield, J. M., Bryant, R. G., Wiggs, G. F., King, J., Thomas, D. S., Eckardt, F. D., and Washington, R.: The dynamism of salt crust patterns on playas, Geology, 43, 31, https://doi.org/10.1130/G36175.1, 2015. a, b, c, d
Nield, J. M., Lasser, J., and Goehring, L.: Temperature and humidity time-series from Owens Lake, central California, measured during one week in November 2016, https://doi.org/10.1594/PANGAEA.922231, 2020a. a, b, c, d, e, f
Nield, J. M., Lasser, J., and Goehring, L.: TLS surface scans from Owens Lake and Badwater Basin, central California, measured in 2016 and 2018, https://doi.org/10.1594/PANGAEA.911233, 2020b. a, b, c, d, e, f
Nottebaum, V., Stauch, G., van der Wal, J. L. N., Zander, A., Reicherter, K., Batkhishig, O., and Lehmkuhl, F.: Grain size and luminescence data from the Orog Nuur Basin (Mongolia), available at: https://doi.pangaea.de/10.1594/PANGAEA.913754, last access: 5 November 2020. a
Pavlis, T.: 3D Mapping Techniques for Metamorphic Terranes, available at: https://tls.unavco.org/projects/U-062/ (last access: 5 November 2020.), 2014. a
Photographersnature: Death Valley's Badwater Salt Flats at Twilight, available at: https://en.wikipedia.org/wiki/Badwater_Basin#/media/File:Badwater_Salt_Flats_at_Twilight.jpg, last access: 20 December 2019. a
Prospero, J. M.: Environmental characterization of global sources of atmospheric soil dust identified with the NIMBUS 7 Total Ozone Mapping Spectrometer (TOMS) absorbing aerosol product, Rev. Geophys., 40, https://doi.org/10.1029/2000RG000095, 2002. a, b
Ryu, J., Gao, S., Dahlgren, R. A., and Zierenberg, R. A.: Arsenic distribution, speciation and solubility in shallow groundwater of Owens Dry Lake, California, Geochim. Cosmochim. Ac., 66, 2981–2994, 2002. a
Sanford, W. E. and Wood, W. W.: Hydrology of the coastal sabkhas of Abu Dhabi, United Arab Emirates, Hydrogeol. J., 9, 358–366, 2001. a
Schwamborn, G., Hartmann, K., Wünnemann, B., Rösler, W., Wefer-Roehl, A., Pross, J., and Diekmann, B.: Sedimentology, geochemistry and mineralogy of sediment core GN200 from the Gaxun Nur basin (Ejina basin), NW China, https://doi.org/10.1594/PANGAEA.906582, 2019. a
Service, N. P.: NPS Stats: National Park Service Visitor Use Statistics, available at: https://irma.nps.gov/Stats/Reports/Park/DEVA (5 November 2020), 2019. a
Sharp, R. P. and Glazner, A. F.: Geology Underfoot in Death Valley and Owens Valley, Mountain Press, Missoula, Montana, 1997. a, b
Sirocko, F., Garbe-Schönberg, C.-D., and Devey, C. W.: Composition of sediments from the Arabian Sea, supplement to: Sirocko, F., Garbe-Schönberg, C.-D. and Devey, C. W. (2000): Processes controlling trace element geochemistry of Arabian Sea sediments during the last 25,000 years, Global Planet. Change, 26, 217–303, https://doi.org/10.1594/PANGAEA.728741, 2000.  a
Stevens, J. D., Sharp, J. M. Jr, Simmons, C. T., and Fenstemaker, T. R.: Evidence of free convection in groundwater: Field-based measurements beneath wind-tidal flats, J. Hydrol., 375, 394–409, 2009. a
Tucker, R. M.: Giant polygons in the Triassic salt of Cheshire, England; a thermal contraction model for their origin, J. of Sediment. Res., 51, 779, https://doi.org/10.1306/212F7DA6-2B24-11D7-8648000102C1865D, 1981. a
Tyler, S., Kranz, S., Parlange, M., Albertson, J., Katul, G., Cochran, G., Lyles, B., and Holder, G.: Estimation of groundwater evaporation and salt flux from Owens Lake, California, USA, J. Hydrol., 200, 110–135, 1997. a
Unel, A.: Salar de Uyuni, Bolivia, available at: https://de.wikipedia.org/wiki/Salar_de_Uyuni#/media/Datei:Salar_Uyuni_au01.jpg, last access: 20 December 2019. a
Van Dam, R. L., Simmons, C. T., Hyndman, D. W., and Wood, W. W.: Natural free convection in porous media: First field documentation in groundwater, Geophys. Res. Lett., 36, L11403, https://doi.org/10.1029/2008GL036906, 2009. a
Wilkerson, G., Milliken, M., Pierre, S.-A., and David, S.-A.: Roadside Geology and Mining History: Owens Valley and Mono Basin, Buena Vista Museum of Natural History, Bakersfield, California, 2007. a
Wooding, R. A., Tyler, S. W., White, I., and Anderson, P. A.: Convection in groundwater below an evaporating Salt Lake: 2. Evolution of fingers or plumes, Water Resour. Res., 33, 1219–1228, 1997. a, b