Articles | Volume 15, issue 7
https://doi.org/10.5194/essd-15-3243-2023
© Author(s) 2023. This work is distributed under
the Creative Commons Attribution 4.0 License.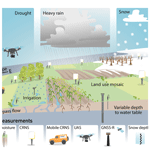 Three years of soil moisture observations by a dense cosmic-ray neutron sensing cluster at an agricultural research site in north-east Germany
Cosmic-ray neutron sensing (CRNS) allows for the estimation of root-zone soil water content (SWC) at the scale of several hectares. In this paper, we present the data recorded by a dense CRNS network operated from 2019 to 2022 at an agricultural research site in Marquardt, Germany – the first multi-year CRNS cluster. Consisting, at its core, of eight permanently installed CRNS sensors, the cluster was supplemented by a wealth of complementary measurements: data from seven additional temporary CRNS sensors, partly co-located with the permanent ones; 27 SWC profiles (mostly permanent); two groundwater observation wells; meteorological records; and Global Navigation Satellite System reflectometry (GNSS-R). Complementary to these continuous measurements, numerous campaign-based activities provided data by mobile CRNS roving, hyperspectral imagery via UASs, intensive manual sampling of soil properties (SWC, bulk density, organic matter, texture, soil hydraulic properties), and observations of biomass and snow (cover, depth, and density). The unique temporal coverage of 3 years entails a broad spectrum of hydro-meteorological conditions, including exceptional drought periods and extreme rainfall but also episodes of snow coverage, as well as a dedicated irrigation experiment. Apart from serving to advance CRNS-related retrieval methods, this data set is expected to be useful for various disciplines, for example, soil and groundwater hydrology, agriculture, or remote sensing. Hence, we show exemplary features of the data set in order to highlight the potential for such subsequent studies. The data are available at doi.org/10.23728/b2share.551095325d74431881185fba1eb09c95 (Heistermann et al., 2022b).
Received: 11 Jan 2023 – Discussion started: 22 Mar 2023 – Revised: 22 May 2023 – Accepted: 29 Jun 2023 – Published: 27 Jul 2023
1.1

 Towards closing the scale gap in soil moisture observation

A large body of literature highlights the significance of soil moisture as a key state variable of the earth system. Yet, soil moisture appears to elude our attempts to obtain representative observations: point-based measurements lack both representativeness and coverage (Blöschl and Grayson, 2000), while remote sensing struggles with issues such as small penetration depth and low overpass frequencies (Peng et al., 2021). Since Zreda et al. (2008), cosmic-ray neutron sensing (CRNS) has emerged as a promising option to address these issues and hence to close the scale gap between point measurements and large-scale soil moisture retrievals. The advantage of the CRNS sensor is its considerable horizontal (100–200 m) and vertical (20–50 cm) footprint (Schrön et al., 2017). It is hence considered to efficiently average across small-scale heterogeneity, allowing users to obtain continuous estimates of "root-zone" soil moisture at the scale of several hectares (see, for example, Zreda et al., 2008; Desilets et al., 2010; Köhli et al., 2020, for further details). To that end, soil moisture is estimated from the epithermal neutron intensity by means of a conversion function. This typically involves the calibration of one parameter, N0, on the basis of a sufficient number of soil moisture measurements in the sensor footprint (Schrön et al., 2017; Köhli et al., 2020).

Furthermore, different application scenarios of the CRNS technology have been developed in order to obtain spatial soil moisture estimates beyond the isolated footprint of a single, stationary CRNS sensor. The application of CRNS roving, for instance, involves a mobile neutron detector that is moved within a study area (Desilets et al., 2010; Schrön et al., 2018). That way, the spatial distribution of soil moisture along the roving transect can be inferred in terms of a snapshot in time, given that potential sources of bias (e.g. from road material or biomass effects) are sufficiently addressed (Fersch et al., 2018; Schrön et al., 2021).

As an alternative, dense clusters of stationary CRNS sensors were proposed as an option to retrieve the spatial and temporal distribution of soil moisture. While also employing a number of detectors, they differ from CRNS networks (e.g. COSMOS, COSMOS UK, and COSMOS Europe; see Zreda et al., 2012; Evans et al., 2016; Bogena et al., 2022) by having adjacent or even overlapping footprints. So far, data from two campaigns have been published which implemented dense clusters for a period of 2 months: the first, in the early summer of 2019, took place in a pre-alpine, mainly pastoral headwater catchment in southern Germany, where 24 CRNS sensors were placed within an area of 1 km2 (Fersch et al., 2020; Heistermann et al., 2021). The second, in the autumn of 2020, took place in the Eifel mountains, western Germany, where 15 CRNS sensors were operated in the forested 0.4 km2 Wüstebach catchment for 3 months (Heistermann et al., 2022a).
1.2

 Three years of dense CRNS observations: the Marquardt cluster

In August 2019, the research unit "Cosmic Sense", funded by the German Research Foundation (DFG), launched a dense CRNS cluster at an agricultural research site in Marquardt (about 10 km north-west of Potsdam, Germany) – the first of its kind designed for long-term operation. This effort will be referred to as the "Marquardt cluster" (MqC). As of today, MqC is still operational, and its core consists of eight CRNS sensors operated in an area of around 10 ha. As in the CRNS clusters previously presented by Fersch et al. (2020) and Heistermann et al. (2022a), MqC was integrated in existing research infrastructure, here provided by the Leibniz Institute for Agricultural Engineering and Bioeconomy (ATB) and complemented by various observations, for example, conventional reference measurements of soil moisture ("ground truth"), mapping of soil and biomass, groundwater observations, and CRNS roving, as well as alternative soil moisture retrieval techniques based on UAS-based remote sensing and GNSS-R (Global Navigation Satellite System reflectometry). The underlying motivation of the dense CRNS cluster was, on the one hand, to obtain representative soil moisture estimates for an area beyond the footprint of a single CRNS sensor and, on the other hand, to obtain information about the spatial variability of soil moisture at a length scale that is smaller than the diameter of a single CRNS footprint.

Figure 1 provides a graphical overview of the MqC. There are various features which are specific to this endeavour and which make it unique in comparison to both previous CRNS clusters, hence allowing for new research opportunities:
With a density of eight CRNS sensors per 10 ha, MqC features a significant leap in density compared to previous clusters (3 and 2.4 sensors per 10 ha in Heistermann et al., 2022a, and Fersch et al., 2020, respectively) and hence a considerable overlap of footprints; this aims for an improved identification of heterogeneity at the sub-footprint scale.

The two aforementioned clusters span a few months each; the MqC is the first dense CRNS cluster operated over several years, spanning all seasons and providing observations across more diverse conditions and processes, including periods of drought and snow cover, as well as a set of heavy rainfall events at different durations.

The focus is on an agro-ecosystem with very diverse management types: the site comprises traditional field crops, meadows, biomass crops and orchards, irrigated as well as rainfed management, and adjacent forests.

A large number of vertical soil moisture profile probes not only allows for the study of the effect of the vertical soil moisture distribution on the CRNS signal but also, together with groundwater observations, facilitates investigation of the processes of infiltration and groundwater recharge.

The data set includes a dedicated irrigation experiment: a selected plot was intensively irrigated while being monitored with a cross-scale combination of sensors, including hyperspectral UAS-based remote sensing and CRNS roving.

On-site muon monitoring allows for the study of novel methods for the local correction of the incoming neutron flux.

MqC is a typical lowland site in the transition from maritime to continental climate, thus representing a landscape typical for large parts of northern central Europe.
1.3

 Structure of this paper

This paper presents the MqC data acquired between August 2019 and November 2022. The study area is introduced in Sect. 2; the acquisition and, partly, the processing of different subsets of the data are documented in Sect. 3. Other relevant data from third parties are addressed in Sect. 4. In Sect. 5, we highlight selected features of the obtained data with regard to various event types (snow, drought, heavy rainfall, irrigation), while the conclusions in Sect. 7 outline research perspectives with regard to the published data set.
The study area in Marquardt is a lowland agricultural site in the north-east of Germany. Various practical features made it a suitable candidate location for MqC, for example, the vicinity to the participating institutions, the integration in an existing research context, and the security provided by a complete fencing of the perimeter. The diversity of agricultural land use and management types, together with its high-level documentation, was a desirable feature with regard to the investigation of a heterogeneous landscape.
On-site meteorological monitoring has been available since 2009. The closest long-term climate station is located in Potsdam (at 12 km distance), operated by the German national meteorological service (Deutscher Wetterdienst, denoted DWD hereafter). At this DWD station, the average annual precipitation is 584 mm (1981–2010), and the average annual temperature is 9.3 ∘C (Cfb according to Köppen's climate classification). The Marquardt site is located at about 40  It sits on a gentle hillslope sloping westwards, with distances to the unconfined groundwater table ranging from around 1.5 to 10 m. The soils are dominated by periglacial sand deposits over glacial till. The sand content ranges between 68 % and 91 %, silt content is 8 %–27 %, and clay content is 0.6 %–4.4 %. The soil organic matter content ranges between 0.4 % and 17.3 %.
The Marquardt site comprises approx. 20 field plots, which host annual and permanent crops. In the observation period of 2019–2022, the core area covered by the MqC was dominated by orchards (cherry, apple), field crops (cereals, alfalfa, sugar beets, maize), meadows, and a biomass plantation stocked with young poplars. Details are contained in the data repository.
4
 Relevant data provided by third parties
The following subsections highlight relevant data sets which have been published already or are provided by other organizations or channels but which we consider as potentially helpful for users of the data presented in Sect. 3.
5
 Exemplary views of the data
A comprehensive presentation and discussion of this large and diverse data set is beyond the scope of this paper. Still, this section provides an overview and also highlights selected details. This involves some level of data processing, specifically with regard to the correction of neutron counts from stationary sensors and CRNS roving, as well as the calibration of the relationship between neutron count rates and volumetric soil moisture. The correction of neutron count rates accounts for the differences in sensor sensitivity and for the dynamics of the incoming cosmic-ray neutron flux, barometric pressure, and air humidity, as well as for the spatial variability of vegetation biomass. With this level of standardization, it is possible to establish a harmonized calibration of the transfer function from neutron count rates to SWC (Desilets et al., 2010) for all locations, based on the data collected during the two soil sampling campaigns (Sect. 3.11). Comprehensive details with regard to the corresponding processing steps are available, for example, in Heistermann et al. (2021, 2022a). The data subset for the stationary CRNS (see Table 4) contains an exemplary daily soil moisture product retrieved from observed neutron counts.
5.1

 An overview of the entire study period

Figure 3 provides a summary of the time series recorded from 2019 to 2022. It illustrates both temporal dynamics and data availability for the various locations and sensors.

The study period coincided with 3 major drought years (2019, 2020 and 2022). This becomes apparent from the cumulative difference of precipitation and reference evapotranspiration (Fig. 3a) as well as the soil moisture obtained from the CRNS (Fig. 3b) and the soil moisture profiles (Fig. 3c). While the 2019 drought period was only captured in late summer with the launch of MqC, the droughts in 2020 and 2022 were covered in their full extent, starting already in May and ending in September.

The dynamics of the groundwater level data (Fig. 3d) are consistent with both the cumulative sum of P − ET0 and the soil moisture estimates. Specifically, the groundwater level at the foot of the hill (ID 2) shows distinct seasonal dynamics, with groundwater recharge typically starting in September. In August 2022, an exceptionally heavy rainfall event caused an immediate groundwater level response, which is discussed in Sect. 5.3 in further detail.

In February 2021, the CRNS-based soil moisture estimates (Fig. 3b) exhibited exceptionally high values. This was caused by a period of substantial snow cover, the only such episode in the study period. The effects of snow have not yet been corrected for in the CRNS-based soil moisture estimation. However, independent snow measurements (see Sect. 3.13) in space and time are available to explore options for estimating both soil moisture and snow water equivalent from CRNS data, for example, by exploiting thermal neutron counts.
5.2

 Irrigation experiment

Figure 4 highlights the irrigation experiment that took place in July and August 2020. The upper four panels contrast snapshots of spatial soil moisture estimates from CRNS roving, UAS-based hyperspectral remote sensing, profile probes, and surface measurements. The different data density in space and time is apparent; however, in-depth intercomparisons of the different approaches could lead to more insights into their strengths and weaknesses.

Figure 4q and r show the continuous records obtained from the closest three CRNS probes and one selected profile probe in the irrigated field (ID B9). The profile probe shows a clear response to the first and second irrigation pulse. As the third pulse only covered the southernmost third of the test area, it is not reflected in the profile probe. The irrigated volume of 40–50 mm affects soils moisture in the upper 30–40 cm, while it remains constant below 60 cm. The effects of the smaller rainfall events are merely captured by the uppermost sensor (15 cm).

In contrast, even small rainfall events caused remarkable rise in the CRNS-based soil moisture, demonstrating its pronounced sensitivity to changes in shallow soil depths. The neutron response to the irrigation, in turn, remains relatively small: even for the first irrigation event, the irrigated plot only constitutes a small fraction of the entire CRNS footprint. This becomes even more evident for the second and third irrigation events. Prospective research will show whether it is, despite this low signal-to-noise ratio, possible to resolve the sub-footprint heterogeneity introduced by irrigation (see also Brogi et al., 2022).
5.3

 Heavy rainfall

The observation period comprised six heavy rainfall events with daily totals over 30 mm (Fig. 5a–f), including an extreme event with almost 100 mm per day and a maximum hourly depth of 60 mm in August 2022 (Fig. 5f). Not surprisingly, all events are clearly shown in the signal of the CRNS sensors (Fig. 5g–l). The change in CRNS-based soil moisture not only depends on the total precipitation depth of the event but also on the effective event duration; for example, the short event on 4 August 2021 causes a smaller soil moisture change than the event on 30 June 2021, although the total depth of 53 mm is the same. Interestingly, the soil moisture differences between some CRNS locations can be subject to considerable intra-event dynamics. While sensor 2 tends to be the wettest location before the event, it often ranks closer to the median of the ensemble after the rainfall, while sensor 22 shows the opposite behaviour. It remains to be shown whether these changes are in fact caused by location-specific hydrological processes or whether they could also result from specific parameter constellations along the conversion from neutron count rates to volumetric soil moisture.

Figure 5m–r show the soil moisture profiles, averaged per measurement depth from 10 to 100 cm. Below 40 cm, there is usually no remarkable response of soil moisture during or immediately after a rain event. The event on 26 August 2022, however, shows a remarkable signal over all monitored depths. Furthermore, all depths from 10 to 100 cm respond almost immediately, which suggests fundamentally different processes of the vertical flow (similarly, but less pronounced, on 4 August 2021). The exceptional event on 26 August 2022 even propagates down to the groundwater table for both the uphill and the downhill groundwater level observations (Fig. 5x). Rainfall events of this magnitude could produce surface runoff at MqC; however, only sporadic visual evidence is available, for example, for the 26 August event.
5.4

 Snow

Figure 6 summarizes the data acquired during the snow monitoring phase in 2021. The snow cover formed when temperatures had dropped below zero, and precipitation started after 7 February. While the weighing-based pluviometer (rain gauge 1 in Fig 6a) recorded 5 mm, the permanent precipitation gauge (rain gauge 2) recorded significantly less, probably because of insufficient or malfunctioning heating and resulting from wind drift from the device (Fig. 6a). The resulting snow cover at the snow gauge peaked at around 10 cm (Fig. 6d), while the maxima at the snow stakes varied between 8 and 27 cm. The snow cover caused a marked decrease in the CRNS count rates (Fig. 6b). In contrast, the prior rainfall event (4 February), which yielded almost 4 times the precipitation height, resulted in a much lower reduction in the neutron counts. During the approximately 10 d of snow cover, snow depth, soil moisture (Fig. 6c), and neutron counts remained comparatively stable (except CRNS 2). This phase ended with a rapid thawing: the snow melted almost completely within less than 2 d (except for the western margins of the MqC and some leeward structures), resulting in another increase in soil moisture by melt water, very similar to the response of the prior rainfall event. The spatial heterogeneity of snow depth in the thawing phase is represented not only by manual measurements but also by two UAS-borne acquisitions of optical imagery on 17 and 18 February (Fig. 6e and f). Altogether, the comprehensive monitoring of a complete buildup and thawing cycle should provide an excellent research opportunity to investigate the interplay of vertical soil moisture distribution and snow cover on the CRNS signal.
From August 2019 to November 2022, eight CRNS sensors, 23 permanent and 4 temporary SWC profiles, two groundwater gauges, and one climate station were almost continuously operated in an area of 10 ha at an agricultural research site in Marquardt, Germany. If aggregated, the eight CRNS core sensors – some among the most sensitive ones available for stationary CRNS detectors – provide a neutron count rate about 37 times higher than the one of a conventional Hydroinnova CRS-1000 and hence a unique signal-to-noise ratio for continuous measurements at this spatial scale.
The core series were supplemented by a wide range of additional measurements:
Additional CRNS sensors and SWC profile measurements were implemented for shorter time periods (weeks to months). Some of these additional measurements aimed to cover, at least temporarily, additional locations or soil depths (e.g. during the irrigation experiment). Others were co-located with the core sensors in order to allow for instrument comparisons.

There were various intensive snapshot campaigns, including a large number of manual soil moisture measurements for ground truthing and soil mapping; CRNS roving and UAS-based hyperspectral remote sensing as part of an irrigation experiment; intensive monitoring and mapping of snow depth, density, and coverage; and biomass mapping in areas with an above-ground biomass density substantially higher than observed for field crops (orchards, poplar plantation, adjacent forests).

There were complementary time series of additional variables and sensor systems, including GNSS-R, tensiometers, and soil temperature sensors.

As part of the agricultural operations, there were detailed records of land use and irrigation management.
We extensively documented this data set and exemplarily highlighted various interesting features, including the representation of soil moisture from CRNS and profile probes during highly contrasting conditions such as drought, irrigation, heavy rainfall, and snow coverage. The long monitoring period of 3 years is a prerequisite to explore the sensor response to and the impact of such contrasting conditions with statistical significance.
This comprehensive data set provides the opportunity to investigate a diverse set of research problems, such as the following:
the effects of vertical and horizontal soil moisture on the CRNS signal, in combination with the effects of biomass heterogeneity and snow cover;

the retrieval of spatial soil moisture patterns from dense CRNS observations under consideration of different governing processes (irrigation, soil variability, cropping patterns) and with different levels of auxiliary data (e.g. CRNS roving, hyperspectral remote sensing, soil water modelling);

the response of different CRNS sensor types that were directly co-located (e.g. at location 11);

preferential and bypass flow as well as surface to groundwater connectivity under heavy rainfall conditions;

the potential of different sensor combinations to produce representative soil moisture estimates for heterogeneous landscapes, which could serve as a reference for remote sensing or hydrological modelling.
Consequently, the application of this data set is not limited to the CRNS community; it can also serve as a valuable resource to various neighbouring disciplines, including soil and groundwater hydrology, agriculture, remote sensing, and hydrological modelling. Currently, MqC is in the process of being extended: in addition to the dense core network of eight CRNS sensors, positions are being re-arranged, and up to eight additional sensors are in the process of being added to achieve a coverage of a total area of at least 0.5 km2. This modification also implies that November 2022 is a natural endpoint of the MqC data set in the configuration presented here.
TF, MH, LS, and SO designed the study and coordinated the instrumentation; TF and MH coordinated the data management and led the writing of the manuscript; TF processed the soil moisture and snow measurements; MH processed the CRNS data and prepared Figs. 2–6; LS processed the groundwater and soil hydraulic data; KDP processed the tensiometer profiles and quantified the biomass; CB was responsible for setting up and maintaining the instrumentation and supported the data management; MS designed the rover campaign and processed the rover data; BT co-designed the instrument network and provided data on land use, yields, and irrigation water use; DR and AG provided the data for the TDR-based soil moisture profiles; VD and MF provided the UAS-based hyperspectral data and related soil moisture products and LAI measurements; MK processed the data from the StyX sensors and supported their maintenance; LA developed the concept and implemented Fig. 1; NA processed the GNSS data; MZS supported the biomass quantification in the cherry and apple plantation; SO headed the MqC effort and is the principal investigator of this study; and all authors contributed to the writing and proofreading of the manuscript.
Markus Köhli holds a CEO position at Styx Neutronica GmbH.
Publisher's note: Copernicus Publications remains neutral with regard to jurisdictional claims in published maps and institutional affiliations.
We thank Marie-Therese Schmehl for helping with the processing of the snow cover imagery and a number of student assistants for acquiring field data. We gratefully acknowledge the support from Finapp S.r.l., Padova, Italy, for providing a FINAPP3 CRNS muon sensor for operation at the site.
This research has been supported by the Deutsche Forschungsgemeinschaft (research unit FOR 2694 "Cosmic Sense", project number 357874777).
This paper was edited by Conrad Jackisch and reviewed by two anonymous referees.
Albert, K., Annighöfer, P., Schumacher, J., and Ammer, C.: Biomass equations for seven different tree species growing in coppice-with-standards forests in Central Germany, Scand. J. Forest Res., 29, 210–221, 2014. a
Annighöfer, P., Mölder, I., Zerbe, S., Kawaletz, H., Terwei, A., and Ammer, C.: Biomass functions for the two alien tree species Prunus serotina Ehrh. and Robinia pseudoacacia L. in floodplain forests of Northern Italy, Eur. J. For. Res., 131, 1619–1635, 2012. a
Baatz, R., Bogena, H. R., Hendricks-Franssen, H.-J., Huisman, J. A., Montzka, C., and Vereecken, H.: An empirical vegetation correction for soil water content quantification using cosmic ray probes, Water Resour. Res., 51, 2030–2046, https://doi.org/10.1002/2014WR016443, 2015. a
Baroni, G., Scheiffele, L. M., Schrön, M., Ingwersen, J., and Oswald, S. E.: Uncertainty, sensitivity and improvements in soil moisture estimation with cosmic-ray neutron sensing, J. Hydrol., 564, 873–887, https://doi.org/10.1016/j.jhydrol.2018.07.053, 2018. a, b
Blöschl, G. and Grayson, R.: Spatial Observations and Interpolation, in: Spatial Patterns in Catchment Hydrology – Observations and Modelling, chap. 2, edited by: Blöschl, G. and Grayson, R., Cambridge University Press, Cambridge, 17–50, ISBN 9780521633161, 2000. a
Bogena, H. R., Schrön, M., Jakobi, J., Ney, P., Zacharias, S., Andreasen, M., Baatz, R., Boorman, D., Duygu, M. B., Eguibar-Galán, M. A., Fersch, B., Franke, T., Geris, J., González Sanchis, M., Kerr, Y., Korf, T., Mengistu, Z., Mialon, A., Nasta, P., Nitychoruk, J., Pisinaras, V., Rasche, D., Rosolem, R., Said, H., Schattan, P., Zreda, M., Achleitner, S., Albentosa-Hernández, E., Akyürek, Z., Blume, T., del Campo, A., Canone, D., Dimitrova-Petrova, K., Evans, J. G., Ferraris, S., Frances, F., Gisolo, D., Güntner, A., Herrmann, F., Iwema, J., Jensen, K. H., Kunstmann, H., Lidón, A., Looms, M. C., Oswald, S., Panagopoulos, A., Patil, A., Power, D., Rebmann, C., Romano, N., Scheiffele, L., Seneviratne, S., Weltin, G., and Vereecken, H.: COSMOS-Europe: a European network of cosmic-ray neutron soil moisture sensors, Earth Syst. Sci. Data, 14, 1125–1151, https://doi.org/10.5194/essd-14-1125-2022, 2022. a
Brogi, C., Bogena, H. R., Köhli, M., Huisman, J. A., Hendricks Franssen, H.-J., and Dombrowski, O.: Feasibility of irrigation monitoring with cosmic-ray neutron sensors, Geosci. Instrum. Method. Data Syst., 11, 451–469, https://doi.org/10.5194/gi-11-451-2022, 2022. a
Brooks, R. H. and Corey, A. T.: Hydraulic properties of porous media, Hydrology Paper No. 3, Civil Engineering Department, Colorado State University, Fort Collins, CO, 1964. a
Chew, C. C., Small, E. E., Larson, K. M., and Zavorotny, V. U.: Effects of Near-Surface Soil Moisture on GPS SNR Data: Development of a Retrieval Algorithm for Soil Moisture, IEEE T. Geosci. Remote, 52, 537–543, https://doi.org/10.1109/TGRS.2013.2242332, 2014. a
Delta-T: User Manual for the Profile Probe type PR2 (PR2-UM-5.0), Tech. rep., Delta-T Devices Ltd., https://delta-t.co.uk/wp-content/uploads/2016/09/PR2_SDI-12-_User_Manual_version_4_1.pdf (last access: 30 June 2023), 2016. a
Desilets, D., Zreda, M., and Ferré, T. P. A.: Nature's neutron probe: Land surface hydrology at an elusive scale with cosmic rays, Water Resour. Res., 46, W11505, https://doi.org/10.1029/2009WR008726, 2010. a, b, c
Döpper, V., Rocha, A. D., Berger, K., Gränzig, T., Verrelst, J., Kleinschmit, B., and Förster, M.: Estimating soil moisture content under grassland with hyperspectral data using radiative transfer modelling and machine learning, Int. J. Appl. Earth Obs., 110, 102817, https://doi.org/10.1016/j.jag.2022.102817, 2022. a, b, c
Evans, J. G., Ward, H. C., Blake, J. R., Hewitt, E. J., Morrison, R., Fry, M., Ball, L. A., Doughty, L. C., Libre, J. W., Hitt, O. E., Rylett, D., Ellis, R. J., Warwick, A. C., Brooks, M., Parkes, M. A., Wright, G. M. H., Singer, A. C., Boorman, D. B., and Jenkins, A.: Soil water content in southern England derived from a cosmic-ray soil moisture observing system – COSMOS-UK, Hydrol. Process., 30, 4987–4999, https://doi.org/10.1002/hyp.10929, 2016. a
Fersch, B., Jagdhuber, T., Schrön, M., Völksch, I., and Jäger, M.: Synergies for Soil Moisture Retrieval Across Scales From Airborne Polarimetric SAR, Cosmic Ray Neutron Roving, and an In Situ Sensor Network, Water Resour. Res., 54, 9364–9383, https://doi.org/10.1029/2018wr023337, 2018. a
Fersch, B., Francke, T., Heistermann, M., Schrön, M., Döpper, V., Jakobi, J., Baroni, G., Blume, T., Bogena, H., Budach, C., Gränzig, T., Förster, M., Güntner, A., Hendricks Franssen, H.-J., Kasner, M., Köhli, M., Kleinschmit, B., Kunstmann, H., Patil, A., Rasche, D., Scheiffele, L., Schmidt, U., Szulc-Seyfried, S., Weimar, J., Zacharias, S., Zreda, M., Heber, B., Kiese, R., Mares, V., Mollenhauer, H., Völksch, I., and Oswald, S.: A dense network of cosmic-ray neutron sensors for soil moisture observation in a highly instrumented pre-Alpine headwater catchment in Germany, Earth Syst. Sci. Data, 12, 2289–2309, https://doi.org/10.5194/essd-12-2289-2020, 2020. a, b, c, d, e, f, g
Francke, T., Heistermann, M., Köhli, M., Budach, C., Schrön, M., and Oswald, S. E.: Assessing the feasibility of a directional cosmic-ray neutron sensing sensor for estimating soil moisture, Geosci. Instrum. Method. Data Syst., 11, 75–92, https://doi.org/10.5194/gi-11-75-2022, 2022. a
Gianessi, S., Polo, M., Stevanato, L., Lunardon, M., Francke, T., Oswald, S., Ahmed, H., Tolosa, A., Weltin, G., Dercon, G., Fulajtar, E., Heng, L., and Baroni, G.: Testing a novel sensor design to jointly measure cosmic-ray neutrons, muons and gamma rays for non-invasive soil moisture estimation, Geosci. Instrum. Method. Data Syst. Discuss. [preprint], https://doi.org/10.5194/gi-2022-20, in review, 2022. a, b, c
Hawdon, A., McJannet, D., and Wallace, J.: Calibration and correction procedures for cosmic-ray neutron soil moisture probes located across Australia, Water Resour. Res., 50, 5029–5043, https://doi.org/10.1002/2013WR015138, 2014. a
Heistermann, M., Francke, T., Schrön, M., and Oswald, S. E.: Spatio-temporal soil moisture retrieval at the catchment scale using a dense network of cosmic-ray neutron sensors, Hydrol. Earth Syst. Sci., 25, 4807–4824, https://doi.org/10.5194/hess-25-4807-2021, 2021. a, b
Heistermann, M., Bogena, H., Francke, T., Güntner, A., Jakobi, J., Rasche, D., Schrön, M., Döpper, V., Fersch, B., Groh, J., Patil, A., Pütz, T., Reich, M., Zacharias, S., Zengerle, C., and Oswald, S.: Soil moisture observation in a forested headwater catchment: combining a dense cosmic-ray neutron sensor network with roving and hydrogravimetry at the TERENO site Wüstebach, Earth Syst. Sci. Data, 14, 2501–2519, https://doi.org/10.5194/essd-14-2501-2022, 2022a. a, b, c, d, e, f, g, h, i, j, k
Heistermann, M., Francke, T., Scheiffele, L., Dimitrova Petrova, K., Budach, C., Schrön, M., Trost, B., Rasche, D., Güntner, A., Döpper, V., Förster, M., Köhli, M., Antonoglou, N., Angermann, L., Zude-Sasse, M., and Oswald, S. E.: Three years of observations from a dense CRNS cluster at an agricultural research site in north-east Germany), b2share EUDAT [data set], https://doi.org/10.23728/b2share.551095325d74431881185fba1eb09c95, 2022b. a, b
Iwema, J., Schrön, M., Koltermann Da Silva, J., Schweiser De Paiva Lopes, R., and Rosolem, R.: Accuracy and precision of the cosmic-ray neutron sensor for soil moisture estimation at humid environments, Hydrol. Process., 35, e14419, https://doi.org/10.1002/hyp.14419, 2021. a
Jackisch, C., Germer, K., Graeff, T., Andrä, I., Schulz, K., Schiedung, M., Haller-Jans, J., Schneider, J., Jaquemotte, J., Helmer, P., Lotz, L., Bauer, A., Hahn, I., Šanda, M., Kumpan, M., Dorner, J., de Rooij, G., Wessel-Bothe, S., Kottmann, L., Schittenhelm, S., and Durner, W.: Soil moisture and matric potential – an open field comparison of sensor systems, Earth Syst. Sci. Data, 12, 683–697, https://doi.org/10.5194/essd-12-683-2020, 2020. a
Jakobi, J., Huisman, J. A., Vereecken, H., Diekkrueger, B., and Bogena, H. R.: Cosmic Ray Neutron Sensing for Simultaneous Soil Water Content and Biomass Quantification in Drought Conditions, Water Resour. Res., 54, 7383–7402, https://doi.org/10.1029/2018WR022692, 2018. a, b
Jakobi, J., Huisman, J. A., Schrön, M., Fiedler, J., Brogi, C., Vereecken, H., and Bogena, H. R.: Error Estimation for Soil Moisture Measurements With Cosmic Ray Neutron Sensing and Implications for Rover Surveys, Frontiers in Water, 2, https://doi.org/10.3389/frwa.2020.00010, 2020. a, b
Klute, A. (Ed.): Water Retention: Laboratory Methods, in: Methods of Soil Analysis, section: 26, edited by: John Wiley & Sons, Ltd, 635–662, https://doi.org/10.2136/sssabookser5.1.2ed.c26, 1986. a
Klute, A. and Dirksen, C.: Hydraulic Conductivity and Diffusivity: Laboratory Methods, in: Methods of Soil Analysis, section: 28, John Wiley & Sons, Ltd, 687–734, https://doi.org/10.2136/sssabookser5.1.2ed.c28, 1986. a
Köhli, M., Schrön, M., and Schmidt, U.: Response functions for detectors in cosmic ray neutron sensing, Nucl. Instrum. Meth. A, 902, 184–189, https://doi.org/10.1016/j.nima.2018.06.052, 2018. a
Köhli, M., Weimar, J., Schrön, M., and Schmidt, U.: Moisture and humidity dependence of the above-ground cosmic-ray neutron intensity, Frontiers in Water, 2, 66, https://doi.org/10.3389/frwa.2020.544847, 2020. a, b
Kuai, J., Sun, Y., Zuo, Q., Huang, H., Liao, Q., Wu, C., Lu, J., Wu, J., and Zhou, G.: The yield of mechanically harvested rapeseed (Brassica napus L.) can be increased by optimum plant density and row spacing, Sci. Rep.-UK, 5, 18835, https://doi.org/10.1038/srep18835, 2015. a
Larson, K. M., Small, E. E., Gutmann, E., Bilich, A., Axelrad, P., and Braun, J.: Using GPS multipath to measure soil moisture fluctuations: initial results, GPS Solut., 12, 173–177, https://doi.org/10.1007/s10291-007-0076-6, 2008a. a, b
Larson, K. M., Small, E. E., Gutmann, E. D., Bilich, A. L., Braun, J. J., and Zavorotny, V. U.: Use of GPS receivers as a soil moisture network for water cycle studies, Geophys. Res. Lett., 35, L24405, https://doi.org/10.1029/2008GL036013, 2008b. a, b, c
Larson, K. M., Braun, J. J., Small, E. E., Zavorotny, V. U., Gutmann, E. D., and Bilich, A. L.: GPS multipath and its relation to near-surface soil moisture content, IEEE J. Sel. Top. Appl., 3, 91–99, https://doi.org/10.1109/JSTARS.2009.2033612, 2009. a, b
Larson, K. M., Braun, J. J., Small, E. E., Zavorotny, V. U., Gutmann, E. D., and Bilich, A. L.: GPS Multipath and Its Relation to Near-Surface Soil Moisture Content, IEEE J. Sel. Top. Appl., 3, 91–99, https://doi.org/10.1109/JSTARS.2009.2033612, 2010. a
McHale, M. R., Burke, I. C., Lefsky, M. A., Peper, P. J., and McPherson, E. G.: Urban forest biomass estimates: is it important to use allometric relationships developed specifically for urban trees?, Urban Ecosyst., 12, 95–113, 2009. a
Munns, R., Schmidt, S., Beveridge, C., and Mathesius, U.: Plants in Action, Edn. 2, Tech. rep., Australian Society of Plant Scientists, https://www.asps.org.au/plants-in-action-2nd-edition-pdf-files (last access: 24 July 2023), 2018. a
OpenStreetMap contributors: Planet dump retrieved from https://planet.osm.org, https://www.openstreetmap.org (last access: 9 January 2023), 2023. a, b
Patrignani, A., Ochsner, T. E., Montag, B., and Bellinger, S.: A Novel Lithium Foil Cosmic-Ray Neutron Detector for Measuring Field-Scale Soil Moisture, Frontiers in Water, 3, https://doi.org/10.3389/frwa.2021.673185, 2021. a
Peng, J., Albergel, C., Balenzano, A., Brocca, L., Cartus, O., Cosh, M. H., Crow, W. T., Dabrowska-Zielinska, K., Dadson, S., Davidson, M. W., de Rosnay, P., Dorigo, W., Gruber, A., Hagemann, S., Hirschi, M., Kerr, Y. H., Lovergine, F., Mahecha, M. D., Marzahn, P., Mattia, F., Musial, J. P., Preuschmann, S., Reichle, R. H., Satalino, G., Silgram, M., van Bodegom, P. M., Verhoest, N. E., Wagner, W., Walker, J. P., Wegmüller, U., and Loew, A.: A roadmap for high-resolution satellite soil moisture applications – confronting product characteristics with user requirements, Remote Sens. Environ., 252, 112162, https://doi.org/10.1016/j.rse.2020.112162, 2021. a
Peters, A. and Durner, W.: Simplified evaporation method for determining soil hydraulic properties, J. Hydrol., 356, 147–162, https://doi.org/10.1016/j.jhydrol.2008.04.016, 2008. a
Richter, W.: Einzelbaumbasierte Quantifizierung der oberirdischen Biomasse in zwei Obstkulturen (Prunus avium L. und Malus domestica Borkh.) am Standort Marquart, Bachelor's thesis, Universitaet Potsdam, Institut für Umweltwissenschaften und Geographie, https://doi.org/10.25932/publishup-50636, 2021. a
Rodriguez-Alvarez, N., Bosch-Lluis, X., Camps, A., Vall-Llossera, M., Valencia, E., Marchan-Hernández, J. F., and Ramos-Pérez, I.: Soil moisture retrieval using GNSS-R techniques: Experimental results over a bare soil field, IEEE T. Geosci. Remote, 47, 3616–3624, https://doi.org/10.1109/TGRS.2009.2030672, 2009a. a
Rodriguez-Alvarez, N., Monerris, A., Bosch-Lluis, X., Camps, A., Vall-Llossera, M., Marchan-Hernández, J. F., Ramos-Pérez, I., Valencia, E., Martínez-Fernández, J., Sanchez-Martin, N., Baroncini-Turricchid, G., and Pérez-Gutiérrez, C.: Soil moisture and vegetation height retrieval using GNSS-R techniques, in: 2009 IEEE International Geoscience and Remote Sensing Symposium, IEEE, 3, 869–872, https://doi.org/10.1109/IGARSS.2009.5417907, 2009b. a
Savitzky, A. and Golay, M. J. E.: Smoothing and differentiation of data by simplified least squares procedures, Anal. Chem., 36, 1627–1639, https://doi.org/10.1021/ac60214a047, 1964. a
Scheiffele, L. M., Baroni, G., Franz, T. E., Jakobi, J., and Oswald, S. E.: A profile shape correction to reduce the vertical sensitivity of cosmic-ray neutron sensing of soil moisture, Vadose Zone J., 19, e20083, https://doi.org/10.1002/vzj2.20083, 2020. a
Schindler, U. and Müller, L.: Simplifying the evaporation method for quantifying soil hydraulic properties, J. Plant Nutr. Soil Sc., 169, 623–629, https://doi.org/10.1002/jpln.200521895, 2006. a
Schrön, M., Zacharias, S., Köhli, M., Weimar, J., and Dietrich, P.: Monitoring Environmental Water with Ground Albedo Neutrons from Cosmic Rays, in: The 34th International Cosmic Ray Conference, SISSA Medialab, 236, p. 231, https://doi.org/10.22323/1.236.0231, 2016. a
Schrön, M., Köhli, M., Scheiffele, L., Iwema, J., Bogena, H. R., Lv, L., Martini, E., Baroni, G., Rosolem, R., Weimar, J., Mai, J., Cuntz, M., Rebmann, C., Oswald, S. E., Dietrich, P., Schmidt, U., and Zacharias, S.: Improving calibration and validation of cosmic-ray neutron sensors in the light of spatial sensitivity, Hydrol. Earth Syst. Sci., 21, 5009–5030, https://doi.org/10.5194/hess-21-5009-2017, 2017. a, b, c
Schrön, M., Rosolem, R., Köhli, M., Piussi, L., Schröter, I., Iwema, J., Kögler, S., Oswald, S. E., Wollschläger, U., Samaniego, L., Dietrich, P., and Zacharias, S.: Cosmic-ray Neutron Rover Surveys of Field Soil Moisture and the Influence of Roads, Water Resour. Res., 54, 6441–6459, https://doi.org/10.1029/2017WR021719, 2018. a, b, c, d
Schrön, M., Oswald, S. E., Zacharias, S., Kasner, M., Dietrich, P., and Attinger, S.: Neutrons on Rails: Transregional Monitoring of Soil Moisture and Snow Water Equivalent, Geophys. Res. Lett., 48, e2021GL093924, https://doi.org/10.1029/2021GL093924, 2021. a, b, c
Stevanato, L., Baroni, G., Oswald, S. E., Lunardon, M., Mares, V., Marinello, F., Moretto, S., Polo, M., Sartori, P., Schattan, P., and Rühm, W.: An Alternative Incoming Correction for Cosmic-Ray Neutron Sensing Observations Using Local Muon Measurement, Geophys. Res. Lett., 49, e2021GL095383, https://doi.org/10.1029/2021GL095383, 2022. a
Stöckle, C. O., Nelson, R., and Kemanian, A.: CropSyst, Tech. rep., Washington State University, http://modeling.bsyse.wsu.edu/CS_Suite_4/CropSyst/ (last access: 30 June 2023), 2022. a
Taes, D., Steduto, P., Hsiao, T. C., and Fereres, E.: FAO crop-water productivity model to simulate yield response to water, Annex 1: Crop parameters, Tech. rep., FAO, https://www.fao.org/aquacrop/resources/referencemanuals/en/ (last access: 30 June 2023), 2022. a
Tian, Z., Li, Z., Liu, G., Li, B., and Ren, T.: Soil water content determination with cosmic-ray neutron sensor: Correcting aboveground hydrogen effects with thermal/fast neutron ratio, J. Hydrol., 540, 923–933, https://doi.org/10.1016/j.jhydrol.2016.07.004, 2016. a
Topp, G. C., Davis, J. L., and Annan, A. P.: Electromagnetic determination of soil water content: Measurements in coaxial transmission lines, Water Resour. Res., 16, 574–582, https://doi.org/10.1029/WR016i003p00574, 1980. a
van de Koppel, J.: Accumulation of nutrients and biomass during primary succession and the effect of a shifting allocation pattern on a vegetation, PhD thesis, University of Groningen, the Netherlands, https://fse.studenttheses.ub.rug.nl/10009/ (last access: 30 June 2023), 1992. a
Vey, S., Güntner, A., Wickert, J., Blume, T., and Ramatschi, M.: Long-term soil moisture dynamics derived from GNSS interferometric reflectometry: a case study for Sutherland, South Africa, GPS Solut., 20, 641–654, https://doi.org/10.1007/s10291-015-0474-0, 2016. a
Virtanen, P., Gommers, R., Oliphant, T. E., Haberland, M., Reddy, T., Cournapeau, D., Burovski, E., Peterson, P., Weckesser, W., Bright, J., van der Walt, S. J., Brett, M., Wilson, J., Millman, K. J., Mayorov, N., Nelson, A. R. J., Jones, E., Kern, R., Larson, E., Carey, C. J., Polat, İ., Feng, Y., Moore, E. W., VanderPlas, J., Laxalde, D., Perktold, J., Cimrman, R., Henriksen, I., Quintero, E. A., Harris, C. R., Archibald, A. M., Ribeiro, A. H., Pedregosa, F., van Mulbregt, P., and SciPy 1.0 Contributors: SciPy 1.0: fundamental algorithms for scientific computing in Python, Nat. Methods, 17, 261–272, https://doi.org/10.1038/s41592-019-0686-2, 2020.  a
Weimar, J., Köhli, M., Budach, C., and Schmidt, U.: Large-Scale Boron-Lined Neutron Detection Systems as a 3He Alternative for Cosmic Ray Neutron Sensing, Frontiers in Water, 2, 16, https://doi.org/10.3389/frwa.2020.00016, 2020. a
Wind, G. P.: Capillary conductivity data estimated by a simple method, in: Proceedings of Wageningen Syposium, June 1966, vol. 1, edited by: Rijtema, P. E. and Wassink, H., IASAH, Gentbrugge, Belgium, 181–191, 1968. a
Zavorotny, V. U., Larson, K. M., Braun, J. J., Small, E. E., Gutmann, E. D., and Bilich, A. L.: A physical model for GPS multipath caused by land reflections: Toward bare soil moisture retrievals, IEEE J. Sel. Top. Appl., 3, 100–110, https://doi.org/10.1109/JSTARS.2009.2033608, 2009. a
Zell, J.: Abbauraten von Fichtenholz (Picea abies (L.) Karst.): Bohrwiderstandsmessungen als neuer Ansatz zur Bestimmung des Totholzabbaus, einer wichtigen Größe im Kohlenstoffhaushalt mitteleuropäischer Wälder, Master thesis, Albert-Ludwigs-Universität Freiburg, Germany, http://webdoc.sub.gwdg.de/ebook/dissts/Freiburg/Zell2008.pdf (last access: 30 June 2023), 2008. a
Zreda, M., Desilets, D., Ferré, T. P. A., and Scott, R. L.: Measuring soil moisture content non-invasively at intermediate spatial scale using cosmic-ray neutrons, Geophys. Res. Lett., 35, L21402, https://doi.org/10.1029/2008GL035655, 2008. a, b
Zreda, M., Shuttleworth, W. J., Zeng, X., Zweck, C., Desilets, D., Franz, T., and Rosolem, R.: COSMOS: the COsmic-ray Soil Moisture Observing System, Hydrol. Earth Syst. Sci., 16, 4079–4099, https://doi.org/10.5194/hess-16-4079-2012, 2012. a